A Victory Lap for Procore's 2018 Hard Hat Hero Winner
Our annual Hard Hat Hero Award celebrates those in the construction industry who go above and beyond - whether it's in their field or communities. These everyday heroes deserve recognition and we want to help tell their stories, which is why we host Hard Hat Hero. This year, our Hard Hat Hero is Chris Caricato.
We were so excited to host and honor Chris last weekend at the Procore sponsored NASCAR race at the Charlotte Motor Speedway. As our winner, Chris joined us in Charlotte, where he got to meet the drivers and watch the race from the pit. Best of all, his name was printed on the Procore 95 car!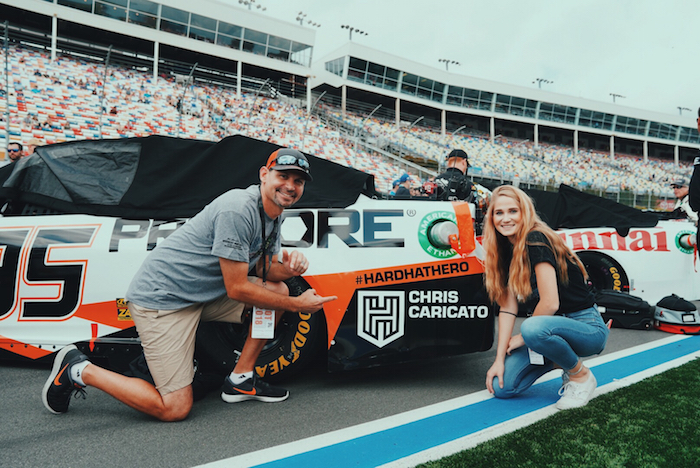 Hard Hat Hero winner, Chris, and his daughter pose in front of the Procore 95 NASCAR.
While there were many exceptional individuals who were nominated, Chris' story stood out and received the most votes. We had the chance to speak with Chris before the race to get the inside scoop on his experience in the field. Chris has contributed much in his 26 years as a construction professional, but perhaps one of the most interesting contributions is his involvement and leadership of the Sheet Metal Joint Apprenticeship Training Committee of San Diego.
The apprenticeship program works to empower and equip individuals who desire to build a sustainable career in the construction industry. In a field where the labor shortage is of concern, the free education the apprenticeship program provides is priceless as it opens the doors to sustainable living and long-term success in a field that is in need of more professionals.
Chris shed a light on the apprenticeship journey as he explained the different levels within the profession and the path most graduates from the program take. Someone interested in the construction profession would apply to the apprenticeship program and complete five years of apprenticeship. This process includes working with professionals who are skilled in the craft the apprentice is most interested in. For example, electrical, plumbing, framing, etc. Each student attends class at the Steel Metal Joint Apprenticeship once a week to spend time learning about safety on the jobsite, machine operation and any other in-class skills. Safety curriculum is borrowed from OSHA and includes: OSHA 30, CPR and first aid, fall protection and construction safety. Then, for the remainder of the week, individuals work in the field, using their hands and learning to master their craft. After the five year program, apprentices can move on to become journeyman, foreman, sr. foreman and so on.
This apprenticeship school resource doesn't just exist in San Diego. This program has been established nationwide. In total, there are approximately 50,000 registered apprentices throughout the country.
"This program is the best kept secret," says Caricato.
It is a free education, that comes with a network of professionals in your field of interest, providing hands-on training with skilled laborers. Upon graduation, the program assists in finding jobs and helping students build careers that include benefits, a fair salary and a career that can help sustain a lifestyle and a family.
"This program allows apprentices to support their lives and families while going to school and getting on-the-job training. The program opens doors for many people and provides job opportunities all over the country." -Chris Caricato
Congratulations to our 2018 Hard Hat Hero and thank you, Chris, for your work in propelling this industry forward!
---
Interested in learning more or finding an apprenticeship program near you? Visit this website. Click on "Contact" in the task bar and then "Find a Training Center."