Connecting Your Project Team to One Source of Truth: The Top Five Enhancements of Q3 2022
Our mission at Procore is to connect everyone in construction on a global platform. In Q3, we made large strides toward that goal by adding new enhancements that make Procore a centralized location for all project information. By leveraging the following product enhancements, users can remove silos and provide real-time access to critical project data more efficiently.
#1 Introducing Workforce Planning
It's finally here. Procore's newest product, Workforce Planning creates a single source of truth for contractors to manage their most important asset — their people. Unlike spreadsheets, whiteboards, or in-house-built solutions, Workforce Planning centralizes scheduling and communication with real-time insight into a workforce's availability and skill set. It also uses historical data to understand what resources are needed from one job to the next and integrates with human resources and enterprise resource planning.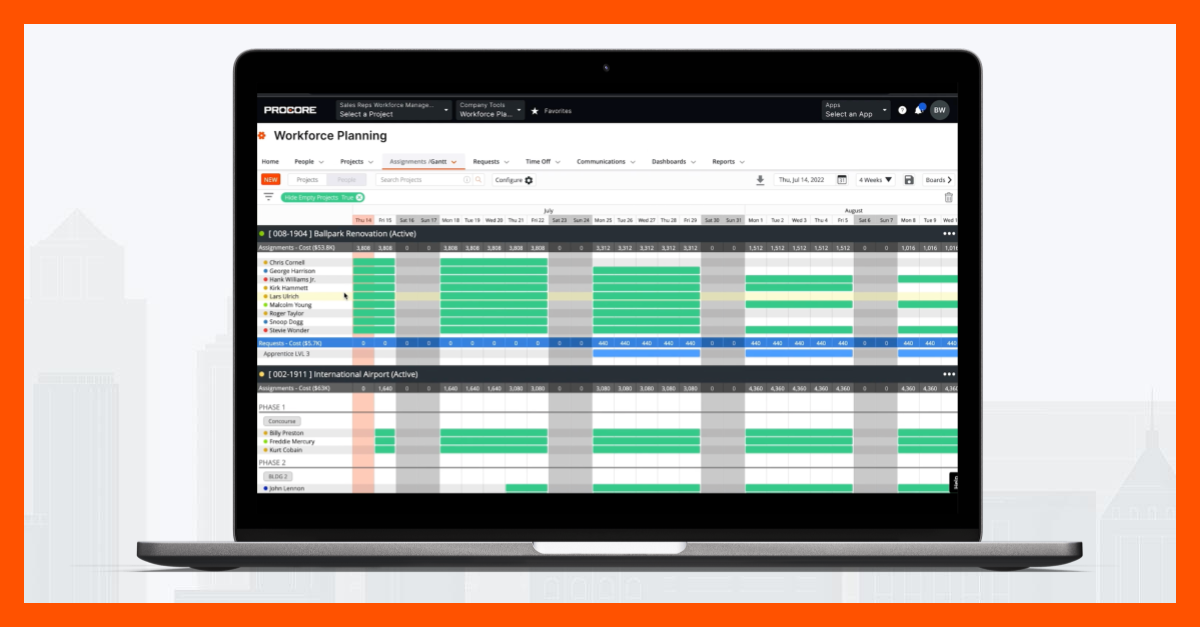 #2 Customize your Workflows with New Flexibility to Action Plans
Action Plans offer a controlled location for tracking and standardizing multi-step processes across teams, and are now even easier to customize. Users can add context, document collaboration, and assign statuses to plans. This added functionality gives project stakeholders new ways to provide clarity about the work being completed and a way to gain visibility into the details.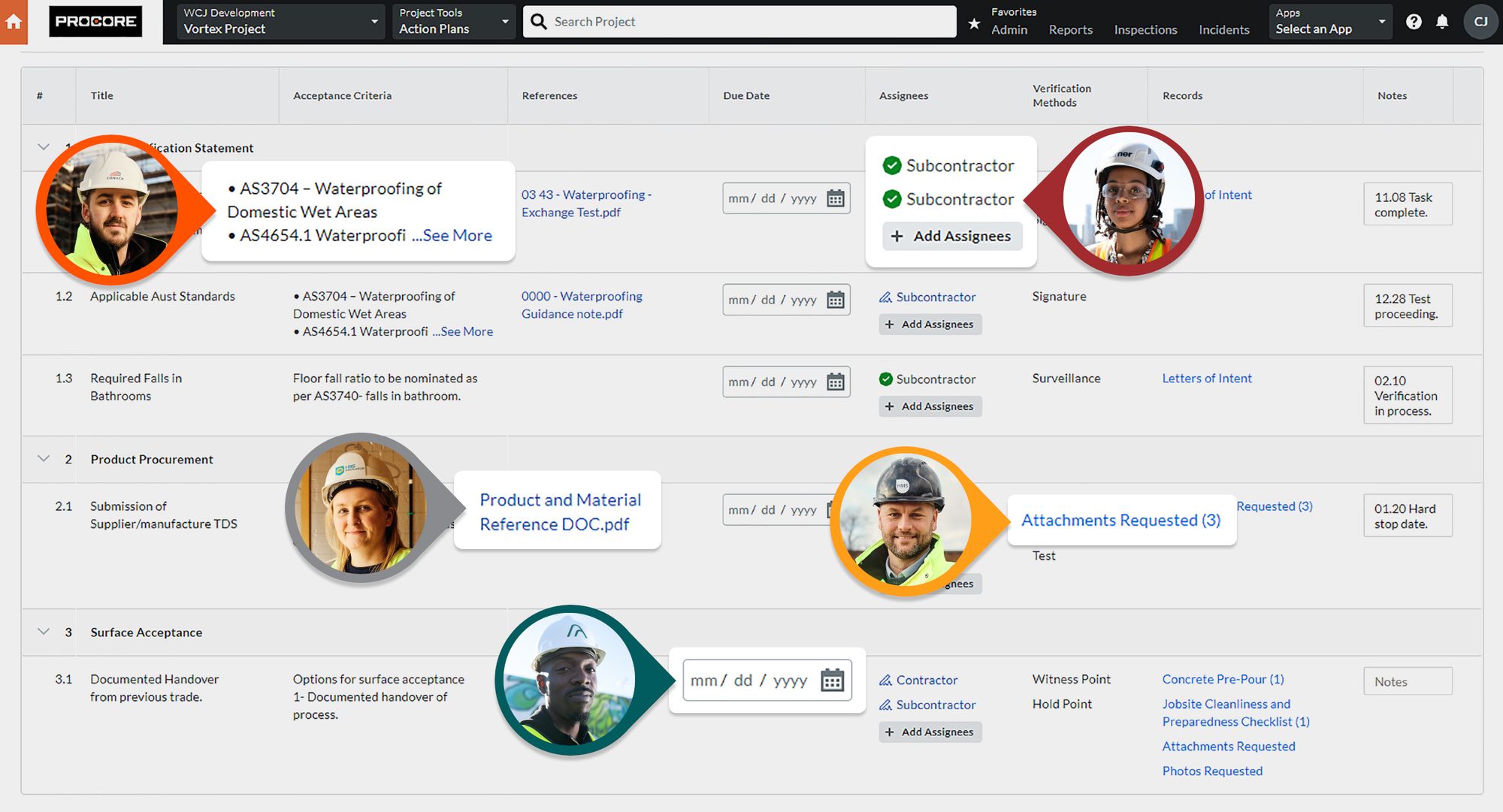 And if certain project information is sensitive, admins can now mark Action Plans as 'private' providing access to need-to-know collaborators, reducing unnecessary noise for team members that are not involved.

#3 Complete Fieldwork on Procore's Mobile App in Fewer Clicks
New functionality on Procore's mobile app reduces the amount of time needed to complete project tasks. For example, activities like onboarding new users in the field and quickly finding documentation are easier with bookmarks and peer-to-peer onboarding. We've also given users a better way to review and markup their most recent photos captured in the field.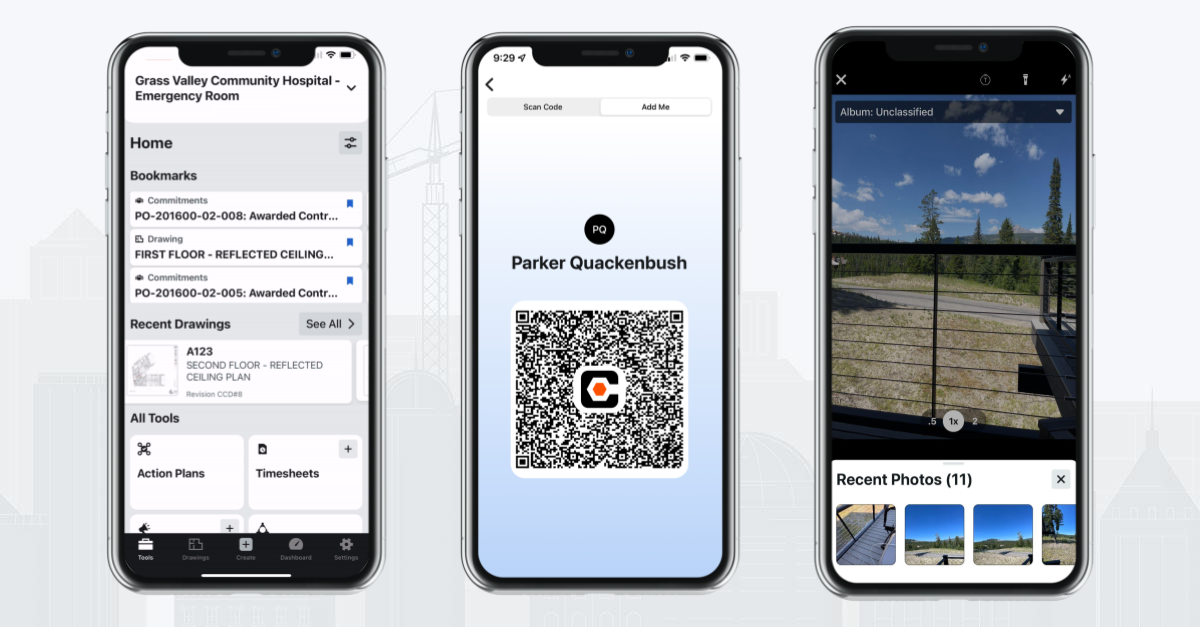 #4 Easily Manage Project Estimates
With the high demand for construction, it is crucial to have a bidding solution and framework in place. The new Procore Bid Board provides organizations the ability to manage both estimates and sales pipeline with an integrated takeoff and estimating workflow. Active Bid invites are displayed in one place and bids can be directly submitted back to the solicitor from the estimate. Once a bidder has been selected, the Bid Board centralizes and streamlines the project-creation process as the project enters the course of construction.
#5 New Integrations: Xero, Enhanced Integrations, Acumatica, MYOB, and CMIC
Connect accounting and project management in Procore to provide field teams with timely access to relevant financial data with Q3's newest integrations. Eliminate double-entry by giving project managers one-click access to accurate job costing information on the construction site.
These new integrations provide teams more confidence in their financial data to make the best in-the-field decisions while giving accounting peace of mind as they retain full control over data pushed into accounting.
What's Next?
The features above are just five of the 51 enhancements released this quarter. To learn more about these innovative new features, be sure to check out and subscribe to What's New in Procore.
Join Fred Mills, Drew Brees, Robin Roberts, and industry experts at the construction event of the year, Groundbreak 2022. Discuss new innovations, bring home actionable insights, and get a close look at the latest Procore solutions. Register now for the tickets that work best for you, with optional Procore Workshop add-ons.