Construction activity across the United States shows signs of recovering to pre-COVID-19 levels
In early May, in partnership with the Associated General Contractors of America (AGC), Procore released the Construction Activity Index – an effort to support the construction industry through the current pandemic by providing insights from construction activity data within Procore.
On a weekly basis, we've updated the percentage of construction activity, as measured by worker hours, compared to pre-COVID-19 levels across the United States. This data has helped industry organizations and economists analyze trends, debate potential courses of action, and decide on the best path forward.
"We're living in a time when change seems to be the new norm, but something that will never change is the resilience of the construction industry. I truly believe there is no other industry that can rise to the challenge better than construction." – Tooey Courtemanche, Procore Founder and CEO
Today we had the opportunity to once again present alongside AGC's chief economist, Ken Simonson, sharing the latest construction activity percentages we're seeing across the United States. We also took a closer look at the impact of COVID-19 at the metro-level, delivering insights for metropolitan areas, including Chicago, Dallas, Houston, Los Angeles, Miami, New York City, San Francisco, and Seattle.
"Many of the immediate economic impacts of the coronavirus have passed and, as a result, activity and hiring are up, a bit," said Ken Simonson, the association's chief economist. "Getting to March 1 levels is a sign of progress, but it doesn't mean things are back to normal."
Construction Activity by State: Week ending June 6
The majority of states are experiencing levels of construction activity equal to, or in some cases, much higher than they reported prior to COVID-19. As Ken Simonson noted in today's press conference, seasonality plays a role in the increase of construction activity — with warmer weather leading to an increase in demand for construction in the United States.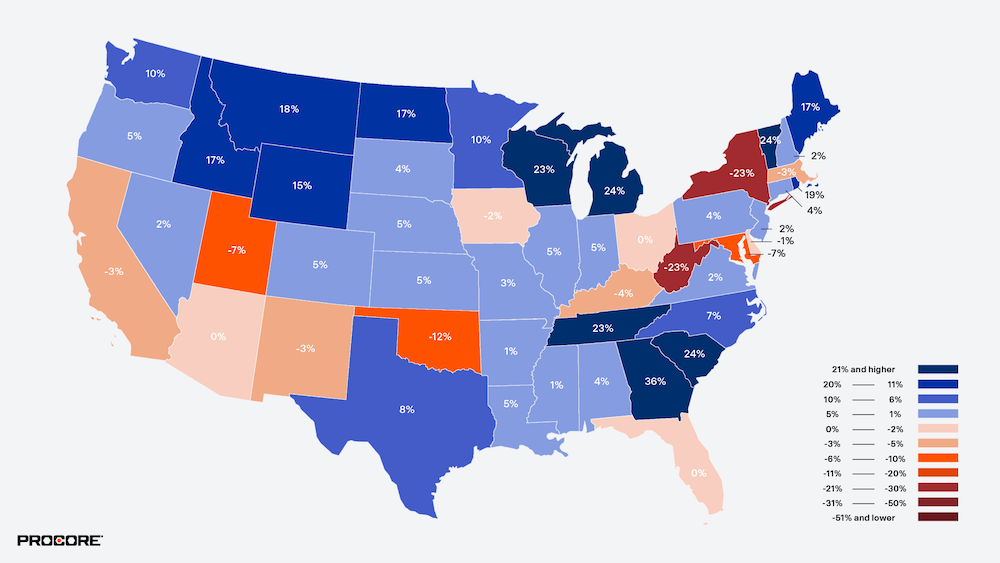 Construction Activity by Metropolitan Area
In collaboration with AGC, we identified eight major metropolitan areas (Chicago, Dallas, Houston, Los Angeles, Miami, New York City, San Francisco, and Seattle) where a more focused look at construction activity would present valuable insights based on population densities and levels of work restrictions due to COVID-19.
Keep in mind that the week of May 24 will show a somewhat larger decrease for most metro areas due to the Memorial Day holiday in the United States, which shortened the workweek to a four-day work week.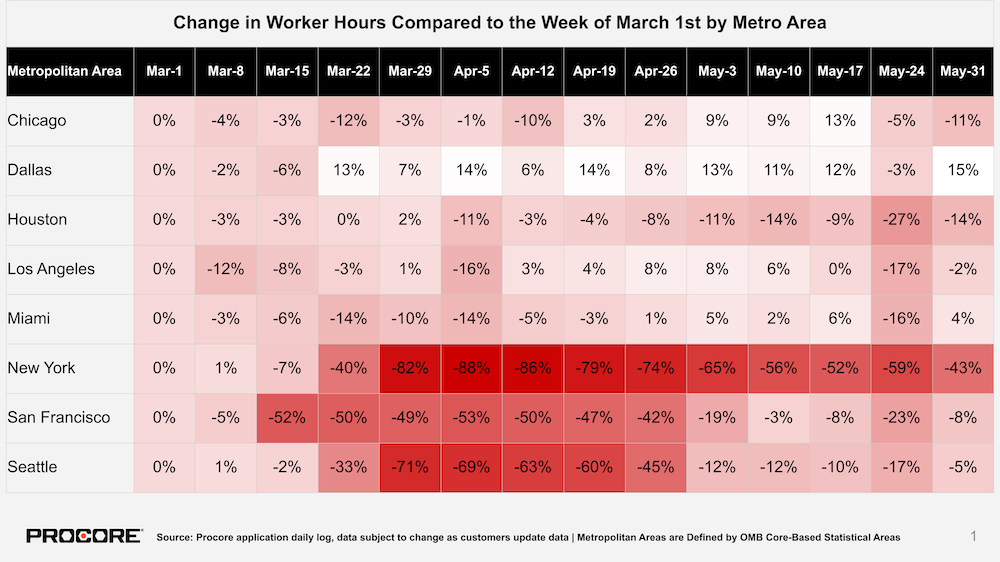 While New York City worker hours are still significantly down (-43%), the city is seeing a fairly large improvement from April when it experienced an 80% decrease in worker hours compared to pre-COVID-19 levels. This is a similar trend seen in both Seattle and San Francisco.
With construction in New York City opening this week for non-essential projects, we could see these numbers continuing to improve.
In contrast, Houston is currently at its low (disregarding the holiday week of May 24), while Miami, Los Angeles, and Dallas are all experiencing increases in worker hours.
For a comprehensive look at the impact of COVID-19 on construction activity across the United States, please visit the Construction Activity Index page on the Procore website, where you can download the full metro-level report.
We are interested in hearing from you, and understanding how you're putting the insights from our Construction Activity Index to work. Please feel free to give us feedback in the Comments section below. Let's build a better future together.