Construction-navia, Procore Goes to Iceland
I arrived in Iceland in the early morning. Nordic winds carried layers of snow across the lava-ridden landscape. The sun rose, shining a rainbow glare across the icy ground. After surveying the Reykjavik, I knew one thing––Iceland is unlike any place I've ever been.
A little over a year ago, an innovative and forward-thinking Icelandic contractor, Munck Íslandi, (formerly LNS Saga) was on a quest for software that could help them better share drawings and run their inspections. They found Procore. To test out Procore, they met once a week where they limited their time to a 15 minute period used to discuss things they liked, found useful, and ways to implement the software. Once the 15 minutes was over, they wrapped up the conversation. What was the point of the limitation of 15 minutes? They believed that anything that wasn't important enough to say during that duration wasn't important enough to bring up at all. In a place like Iceland, where the weather changes rapidly from rain to sun to snow––causing frequent delays in construction schedules––people don't waste time.
Procore helped them stay aligned with this "saving time" mentality. As a tech-savvy organization, Munck Íslandi found our mobile application and real time data to be what they needed to help them work faster, more efficiently, and improve communication between the field and the office. In particular, they found the Inspections and Observations feature helped them better maintain quality and safety on jobsites in the face of an ever-changing terrain. They decided to purchase Procore and implement the software company-wide.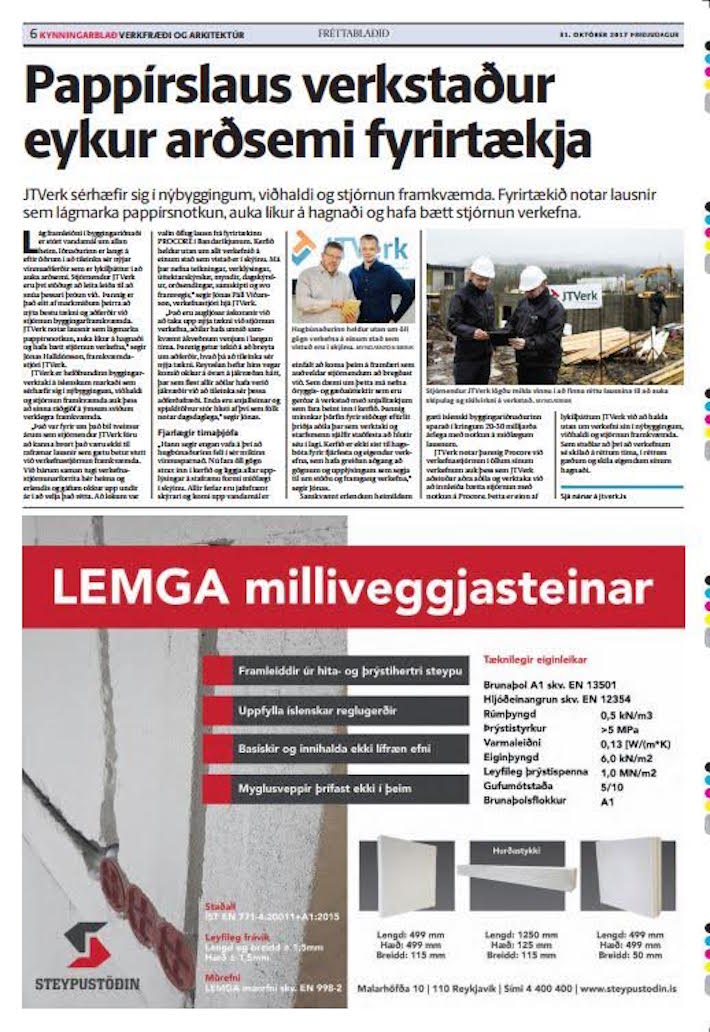 (JT Verk discussing how Procore helped them go paperless in Fréttablaðið - Iceland's largest newspaper.)
As Munck Íslandi expanded, two of the team members branched out to begin their own company, JT Verk, who is quickly making a name for themselves as an innovator in construction. Their goal is to be the first construction company in Iceland to go completely paperless. They were recently featured in Fréttablaðið, a local newspaper, for accomplishing their mission, with the help of Procore. Procore knew it was time to visit our clients including Munck, JT Verk, and now, Glerfell––who also purchased Procore after being founded by a former employee at Munck Íslandi. While in Iceland, JT Verk gave a lecture about innovation in construction at the Engineering Union in Reykjavik.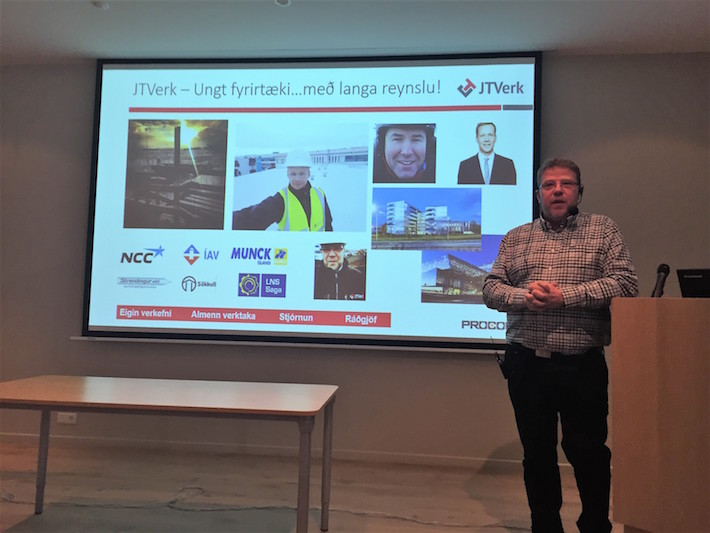 (Jonas Halldorsson of JT Verk speaking about using Procore to go paperless.)
While overseas, I learned about the conditions our clients have to face. The wind blows from all directions––including upwards––often carrying snow and rain along with it, so the waterproofing jobs on the buildings has to be tough. Since the weather changes quite frequently, on-site construction has to be drastically reduced leading to an uptick in modular building. I also learned about the stark difference in their outlook on business relationships. Before I left New York, our main point of contact at Munck Íslandi emailed me to ask if I needed anything, providing me with his direct contact information in case of an emergency. Since the country is small and isolated people, are collaborative, lean on one another, and have an overall very hospitable culture. They truly believe in innovation through opening doors and partnering.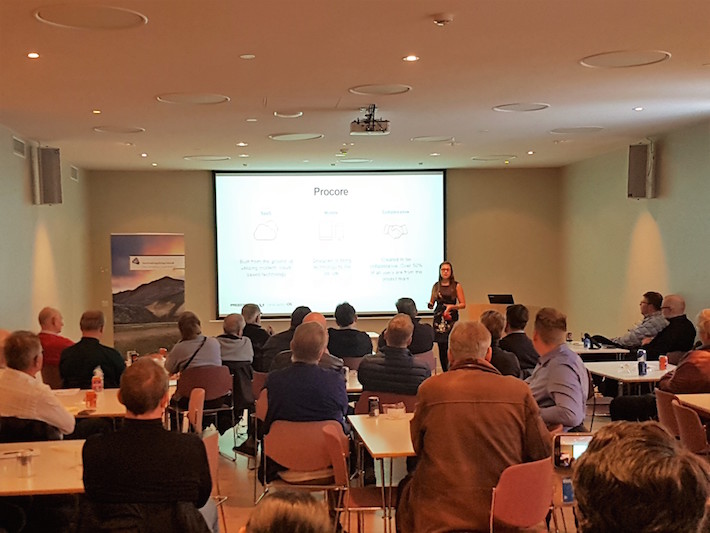 (Procore giving a talk at the Center for Engineering in Reykjavik, Iceland.)
At the lecture in Iceland, we were introduced to many more contractors from the construction industry who are also forward thinking and not afraid to pioneer new processes. We've since welcomed new companies such as IAV and Framkvæmdafélagið Arnarhvoll into our book of business. It became clear why the Icelandic construction industry and Procore seem to go hand-in-hand, leveraging partnership building and inclusion as foundational principles for innovative business. Just how Icelandic construction companies work collaboratively with each other, Procore partners with other software platforms in our App Marketplace to provide our clients with the flexibility and freedom they need, a core requirement for Construction OS to be ground-breaking in this industry.
It's now estimated that out of all vertical projects beginning in 2018 in Iceland, about 60% of them will be using Procore, a good indicator as to how far technology in construction can permeate.