Driving Preconstruction Success with Procore Document Management
In the past, many considered preconstruction to be a discrete phase between designing a project and building it. But this is no longer the case, because the way that we build is evolving and improving. The walls between design, bid and build are breaking down and becoming more intertwined.
To improve communication and drive success, construction projects are increasingly seeing more collaboration on documents during the preconstruction phase. On a typical project, tens of thousands of documents can be shared, monitored and modified before ground is even broken. For many companies, these documents are spread across disparate systems and locations, making it difficult to collaborate effectively.
As the industry embraces new integrated delivery methods, construction stakeholders must be able to efficiently manage, access and collaborate on documents from anywhere at any time. Early next year, Procore will be introducing Procore Document Management, which will offer a more flexible and configurable approach to managing project documents, streamlining collaboration.
To best serve the construction industry, Procore Document Management was developed by partnering with construction stakeholders across multiple countries and regions. Looking ahead, we are excited to continue partnering with the industry to identify future improvements for the way documents are managed. Benefits of an integrated document management solution are outlined below:
The ROI of Investing in Preconstruction
Construction data reveals what many in the industry have instinctively known for some time — there is a clear return on investment with better collaboration in preconstruction. Procore recently sponsored a report with FMI, The State of Global Preconstruction, which explores the current state of preconstruction and the characteristics of those who do it well, including what constitutes above-average preconstruction processes and the effects of efficient and digitized preconstruction.
The research found that respondents with above-average preconstruction processes experience higher client satisfaction, greater profits and fewer delays. Above-average organizations are 52% more likely to report higher profitability than below-average organizations. Overall, investing effort in preconstruction through aligning stakeholders, soliciting feedback, and avoiding redundancies can help prevent rework down the line.
The Risk Imperative
A document management solution can also reduce construction risk by communicating the right information to the right people at the right time. By gaining certainty and alignment over project information early in the preconstruction phase, contractors can improve productivity in the delivery phase as well.
With a single source of truth for all project stakeholders, Procore Document Management offers role-based, secure access to site and project teams, and facilitates communication across the entire supply chain. With a traditional seat-based licensing model, the additional user typically bears the brunt of any additional costs associated with document sharing. Fortunately, Procore's pricing model offers unlimited users on projects, making it well suited to support this kind of collaboration.
Designing for Ease of Use
Traditional document management systems remain quite challenging to use. In fact, The State of Global Preconstruction Report found that over 60% of respondents said they are dissatisfied with the preconstruction solutions in the market, which is why adoption of information management solutions is critical.
Procore Document Management offers general contractors, specialty contractors and owners the ability to easily share information and collaborate on a project. Making information management solutions easy to use and readily accessible can be a catalyst for wider adoption of information management. It can also lead to better aggregation and re-use of information as well as improved information sharing with the clients and supply chain.
Through our close work with the industry, we have identified existing workflows to streamline in the platform. For instance, by combining metadata with permission groups, users can automatically ensure that documents are distributed to the relevant trades.
Compliance with Industry Standards
Procore Document Management includes support for key information management concepts such as metadata and naming conventions, enabling customers to manage information in accordance with standard processes and governance, as specified by ISO 19650. Additionally, Procore can help teams stay compliant with international standards such as ISO 9001, ISO 16739 and ISO 19650.
Introducing Procore Document Management
With Procore Document Management, users can access a single destination to organize, access, collaborate and drive permissions on documents as part of a unified workflow on web and mobile devices.
Authors can upload any type of file into a single, streamlined holding area where a document controller can review for quality and accuracy of metadata. Machine learning can then assist the document controller to automatically fill in metadata, saving time and money. Once all required metadata is captured, the files can be submitted.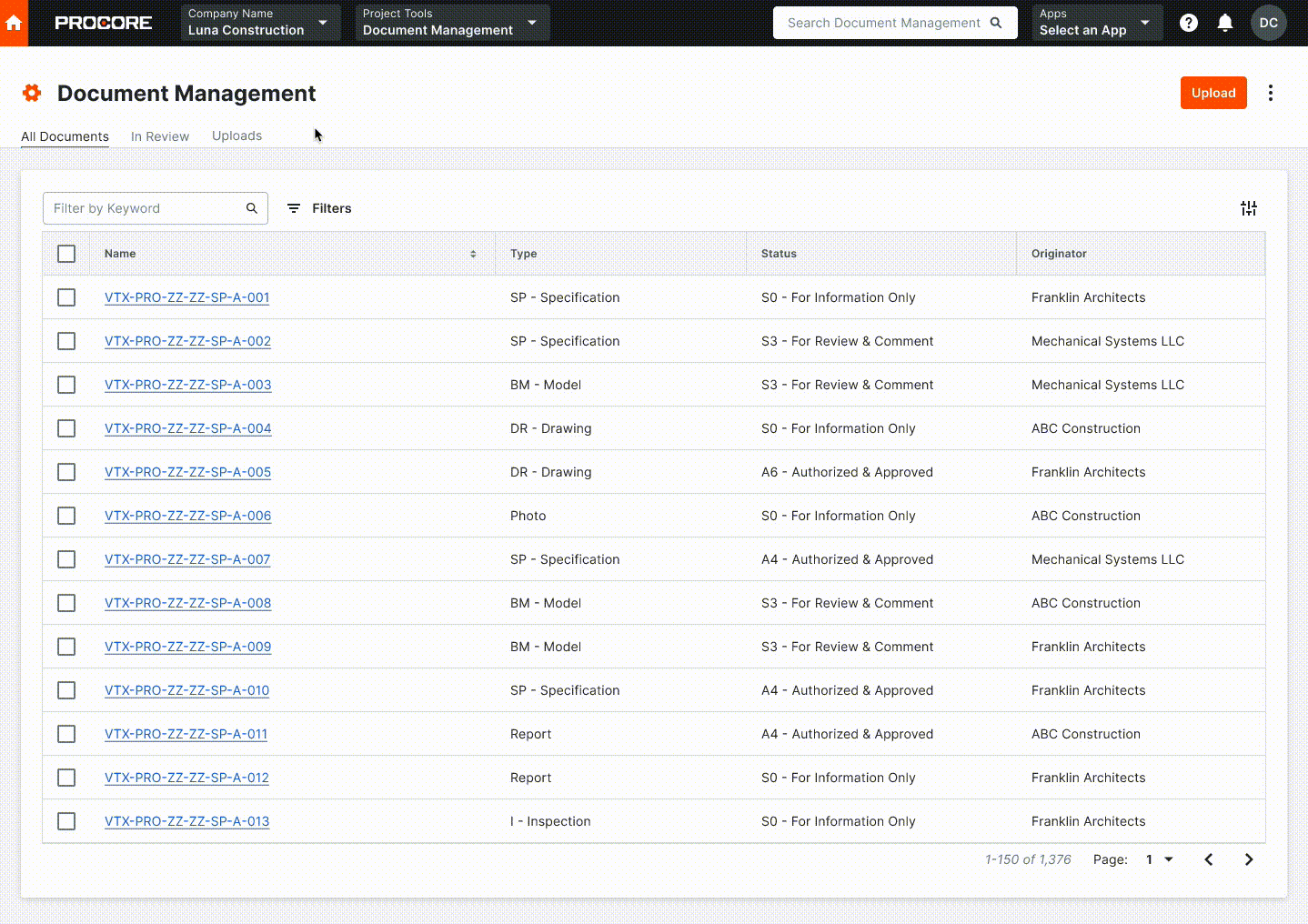 When the document is sent over for review, rules can also be set up to kick off workflows based on metadata. For example, when a drawing is submitted through a Design Review workflow, it can automatically be templated at the company level. Reviewers will be notified via email to enter the viewer where they can review, markup and provide an official response for the necessary files.
Procore Document Management will be rolling out first to customers in EMEA, LATAM, and Canada and APAC, with future plans to take the solution to the rest of the world. To register interest for the Limited Release, please visit Procore's Document Management page.