Global Report: How construction is using technology to improve performance
The past year accelerated the need for technology within the construction industry. What we are hearing now is that technology is factoring heavily into how our customers are approaching 2021 and beyond.
Today, we released the results of our annual customer technology report, Unlocking the ROI of Construction Technology, which provides insights into how leaders in the construction industry are using the Procore platform to drive positive results in their business during a year of unprecedented challenges.
"We saw and heard firsthand that contractors who already had technology in place were better able to weather the storms and unforeseen changes of last year. The greatest lesson learned is to prepare for what's next, by investing in the technology, systems and processes that make businesses more efficient and adaptable to future changes." – Tooey Courtemanche, CEO and Founder of Procore
Unlocking the ROI of Construction Technology is an in-depth look at the current state of construction technology and how the construction industry at large is accelerating into the next decade. The report is compiled from research conducted across thousands of construction professionals representing a broad range of company sizes, sectors, and regions to find out how technology can impact construction.
Here are just a few of the findings that were published in Unlocking the ROI of Construction Technology.
Technology is improving communication
Throughout the survey, respondents used one word over and over: communication. In fact, it was mentioned 548 times.
"The single platform allows us to manage all required functions and provide the same level of service with a smaller overall staffing. We can even support some functions remote from the jobsite." – Project Executive, Construction Manager as Agent, Oregon, USA.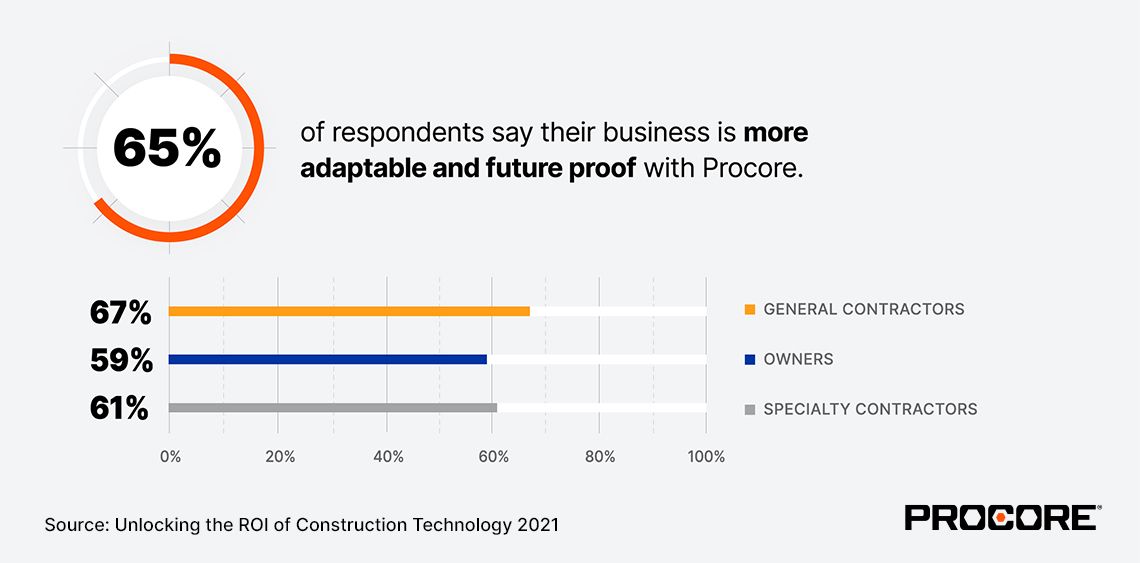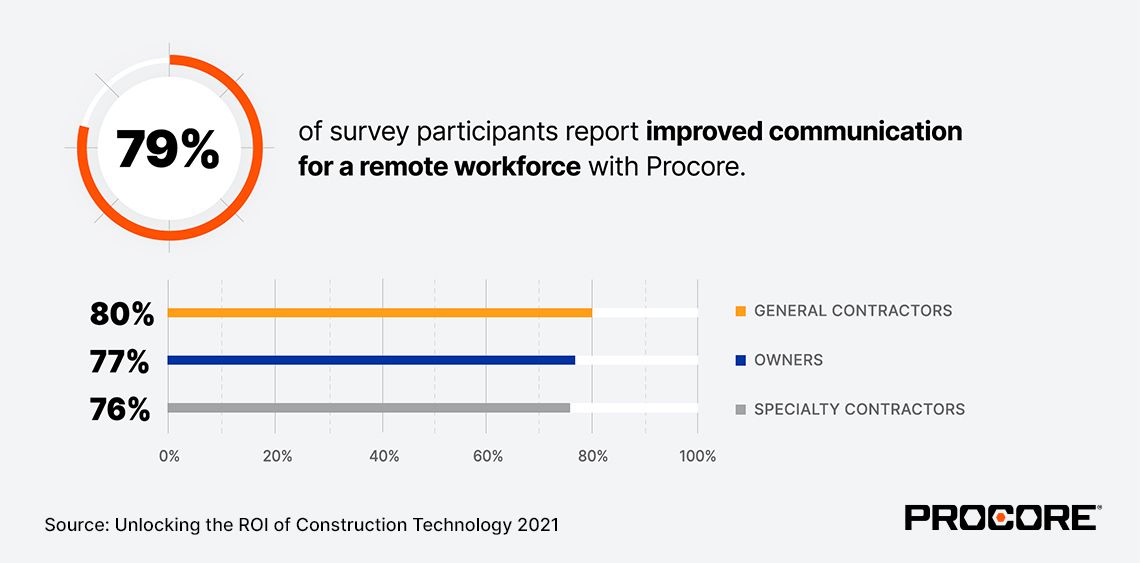 Procore Improves Field-to-Office Communications
Field crews and office teams have seen significant improvements in construction.
"Procore is an excellent tool to increase communications between the field team, the subcontractors, and the main office." – Project Manager, Multifamily Residential General Contractor, USA.
85% said Procore improves their field-to-office communication
85% said Procore improves their field crews ability to communicate site issues
84% said Procore improves their field crews' ability to document site issues
We cannot predict the future but we can help you prepare for what's next. Download the full report, Unlocking the ROI of Construction Technology, and get global insights from customers who are improving performance and transforming how we build.