Unlocking the Future of Construction: Procore's Groundbreak 2023 Showcases Digital Transformation
At its core, Procore is the only construction platform that unites the entire construction process, from preconstruction to closeout, across both mobile and web platforms. With a singular focus on the construction industry, every aspect of the Procore network is created to help stakeholders collaborate to get the job done.
Since its inception over twenty years ago, Procore has been building a connected platform and raising awareness on the importance and impact of the construction industry around the world. At Groundbreak 2023, Procore product leaders highlighted this sentiment, emphasizing important themes and advancements around digital transformation within the built environment.
Putting Construction on a Map
Procore is committed to connecting everyone in all types of construction – both vertical and horizontal – on a global platform. Horizontal or infrastructure project sites can be vast, such as airports that cover wide expanses of land or highways that stretch for miles. Additionally, managing locations on vertical mega projects can be a hassle without automated, map-based views.
To bolster Procore's support for horizontal projects and leverage best-in-class construction technologies across the Procore platform, we have acquired Unearth, a leader in geospatial information mapping for construction. Unearth brings geospatial information mapping (GIS) technology to Procore, providing stakeholders with access to all project data on a map, accessible anytime, anywhere. Unearth's technology introduces a new dimension to projects whereby customers can engage with RFIs, resources, and more, all within the context of geolocations. Additionally, Unearth's talent brings deep expertise in locations and GIS to Procore.
In the future, Unearth's technology will be integrated across the Procore Platform, starting with project execution to help make it easier to coordinate crews, track progress, and find the information fast.
Planning in More Accurate and Consistent Ways
The Procore platform breaks down silos, connects data and tools more seamlessly and transforms how teams collaborate and maximizes their success in the preconstruction phase. Here are two aspects we're especially excited about:
3D Takeoff. Now, without leaving the Procore app, users can leverage the quantities out of the model and connect them directly to Procore's cost catalog of construction assemblies for instant detailed estimates. In the near future, those linked costs will automatically update with new model revisions to provide a plus/delta both visually and in the estimate, making value analysis easier than ever.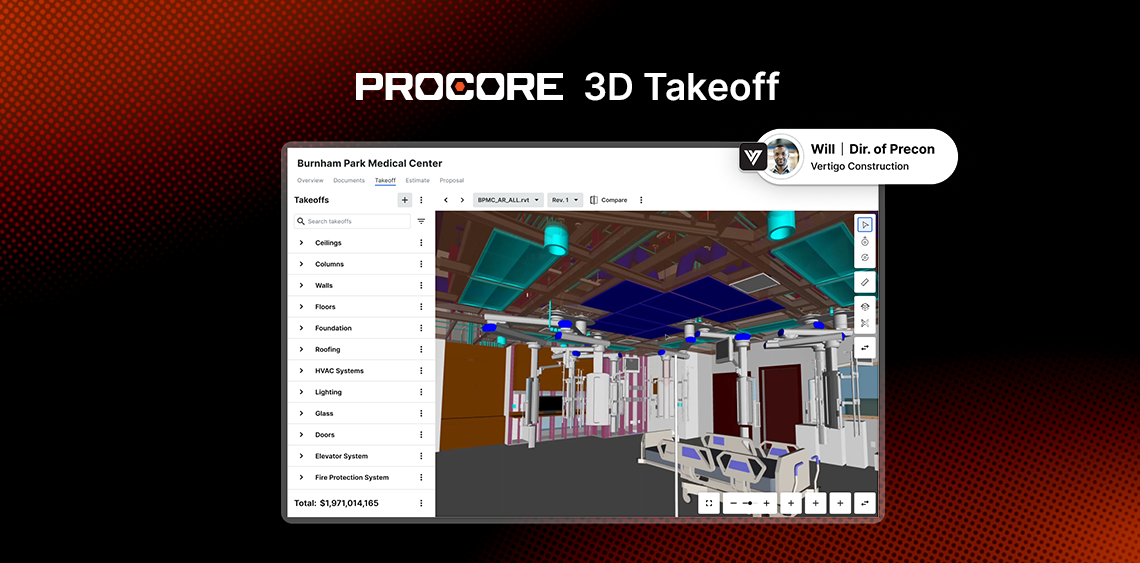 We've also made significant improvements to the bidder experience with the introduction of Bid Board. Now, specialty contractors interested in bidding on an opportunity can see all relevant opportunities in one place, access all the bid documents and can even do a takeoff and estimate right from within the Procore Construction Network using a free version of estimating tools.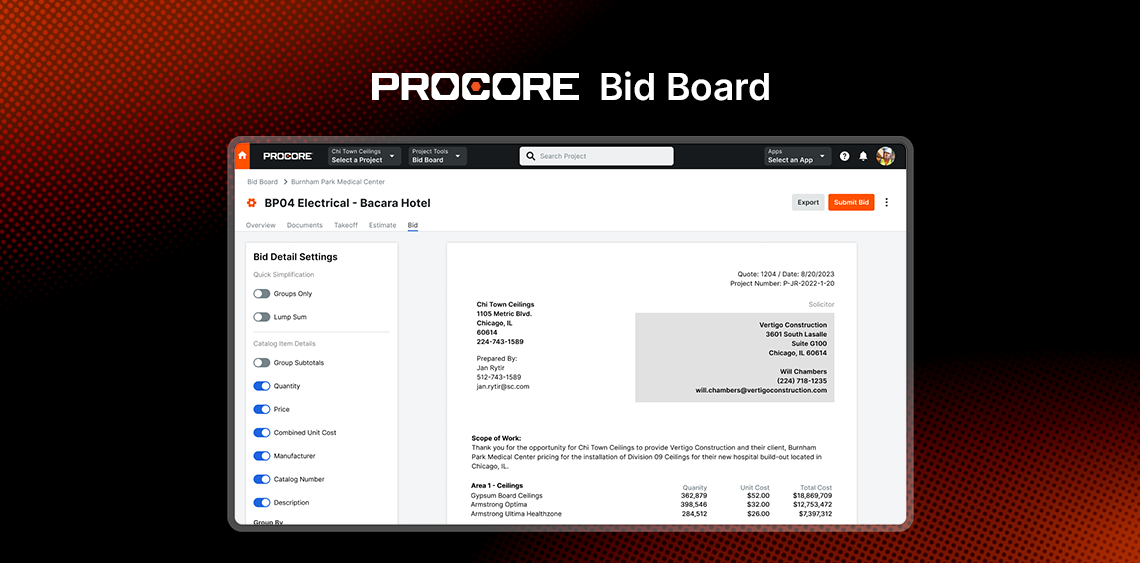 Building with a Greater Degree of Quality While Ensuring Safety
At Procore, we're committed to uniting all project stakeholders within the global construction network and providing them the information they need when they need it from as early as the documentation phase. It's what we call Procore Connectability.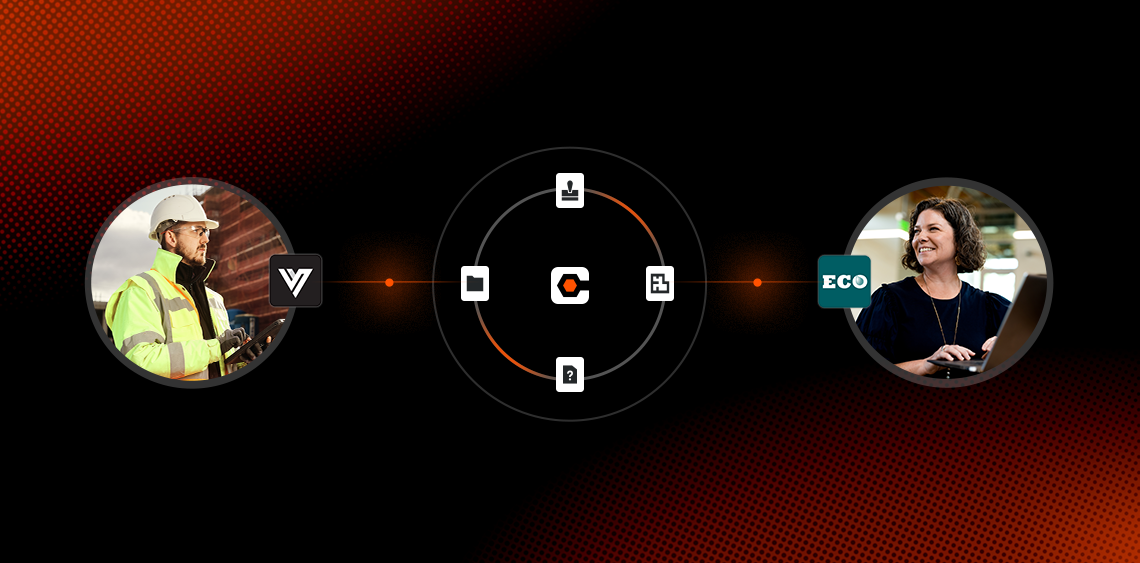 Customers can soon leverage the power of Procore Connectability to give their networks access to the latest drawings via Procore's Drawings tool. Keeping all project leaders and their teams on the same page with the most accurate drawings is critical to delivering a project on time. By leveraging the power of Procore's Drawings tool, customers can also empower associated collaborators and free users to engage at the earliest stages of a project. Coming up, customers will be able to connect RFIs, Submittals, BIM and documents all within the Procore platform.
Driving Better Decision Making By Incorporating AI into Procore
According to our How We Build Now Report, just 8% of respondents report using their project data as a competitive differentiator for their business. At Procore, we're on a mission to make that 100%. We've been working diligently to incorporate artificial intelligence (AI)-driven technology into the platform. Procore customers already leverage AI and machine learning-powered tools, like Automated Area Takeoff, Locations, Quick Capture, Insights for RFI's and General Conditions, to simplify manual tasks and provide benchmark analysis.
Procore is continuing to invest in AI by introducing Procore Copilot, a new artificial intelligence-powered conversational and predictive experience that will provide customers the ability to automate time intensive, manual processes across the Procore Platform. Procore Copilot serves as an extension of the project team, and will be able to search and surface information in real time all within the Procore platform on web or mobile.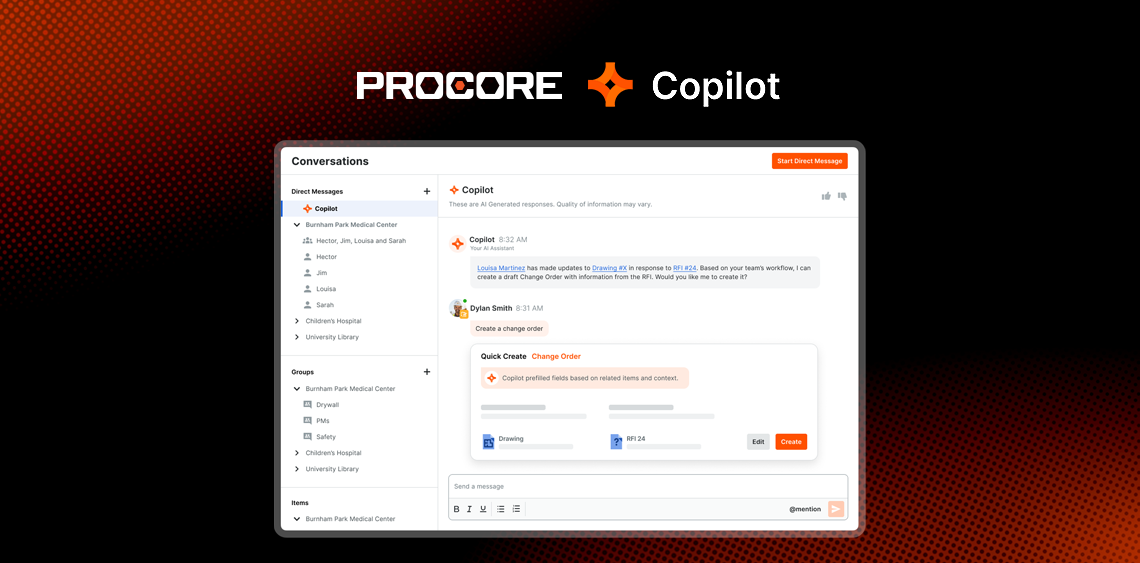 Procore Copilot is currently under development and functionality will be rolling out in beta over the coming year.
Beyond Procore Copilot, we've made a number of other investments in AI to serve the global construction industry. Procore Document Management uses AI to auto-detect the type of document that is being uploaded, as well as more specific attributes like a drawing's description and number. Procore Document Management is available today in select regions and will be rolling out globally soon.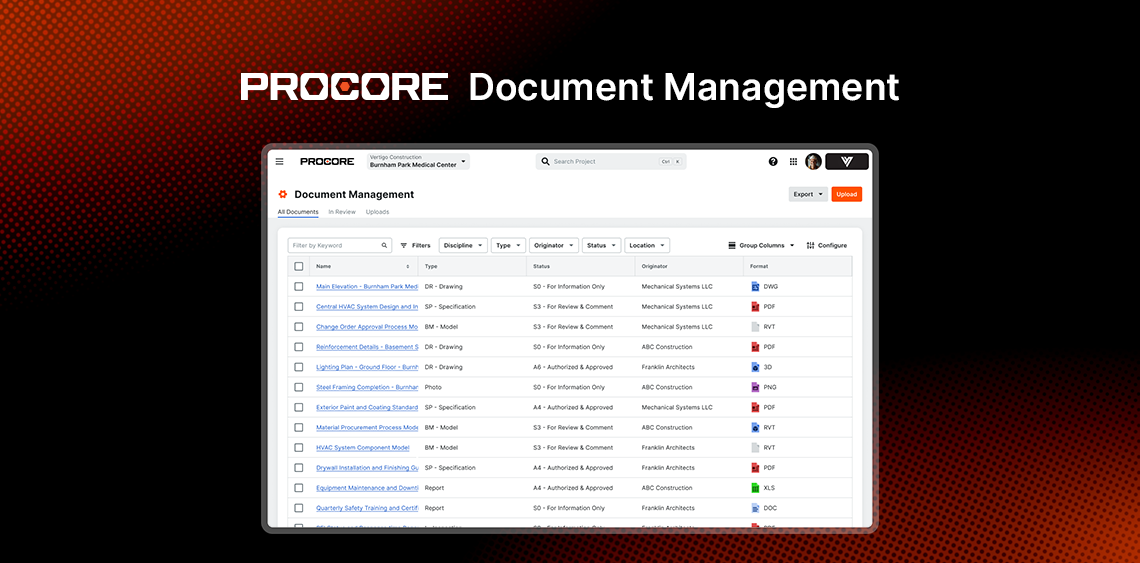 Delivering Projects and Commitments to Stakeholder Teams All Within the Platform
We have also introduced an array of new features aimed at assisting customers in successfully delivering projects on time and within budget. These enhancements further empower our customers, providing them the tools they need to navigate the challenges of the construction landscape.
In a market where labor is strained, the ability to pay workers quickly is a competitive advantage to our customers and greatly reinforces the value of the trades. Last year, Procore introduced Procore Pay, the only payment solution built on the Procore platform that handles all aspects of the payment process between general and specialty contractors. This month, Procore Pay is officially available to select general contractors in the United States.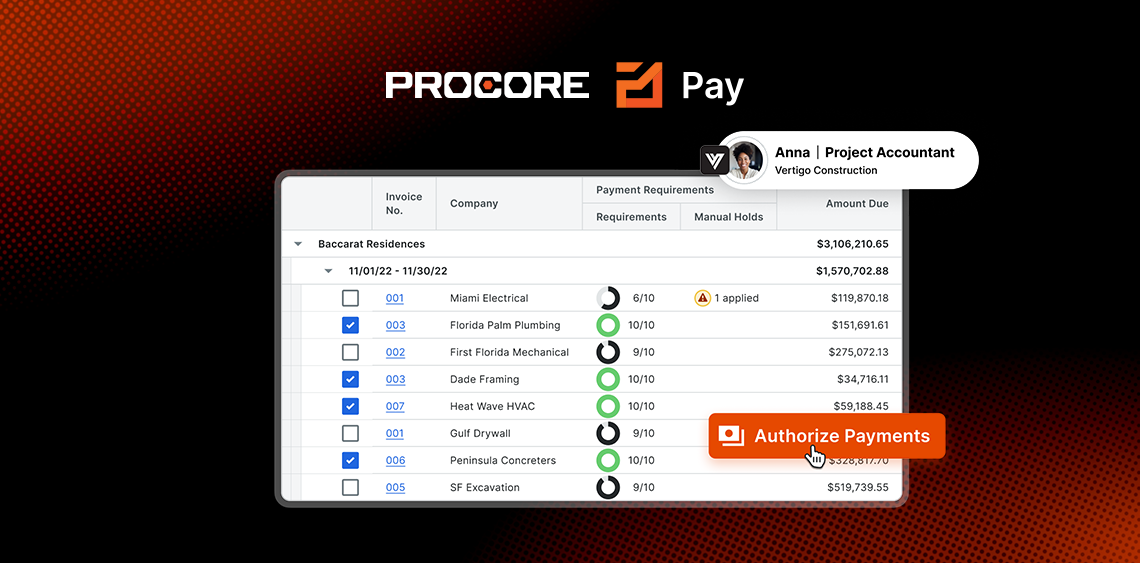 Want more?
To watch the opening day keynote and gain next-day access to more than 20 sessions, register for Groundbreak Live. If you would like to dive deeper into the product updates and enhancements available today, please visit our Groundbreak Release page.