Groundbreak: How Dustin Burns Missed His Own Coronation
Groundbreak is Procore Technologies' bold redefinition of the construction conference. In a nutshell: Rub Shoulders, Innovate, Educate, Dance Like a Fool (or however it is you dance). With thousands of your construction colleagues in attendance, 70 or so eyebrow-raising breakout sessions, face time with Procore's software engineers, and a chance to write tomorrow's construction tech headlines today, Groundbreak is singular, both as experience and opportunity. Have you been?
Name: Dustin Burns
Company: McCownGordon Construction
Where: Kansas City, MO
Title: IT Director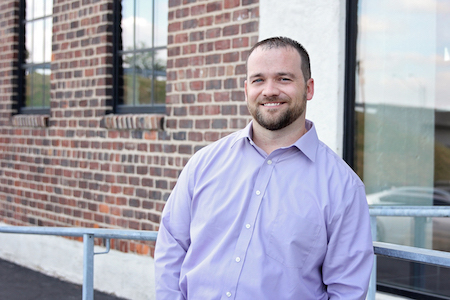 "While we may pour concrete and erect steel, our real asset isn't material at all – it's our people. At McCownGordon, we have created a culture based on trust, work ethic and a genuine passion for what we do. It won't take long to see why so many of our clients continue to work with us, time and time again." -Dustin Burns
Procore's Groundbreak: Dustin Burns and the Pricey Steak Dinner
Dustin Burns is an IT guy who doesn't necessarily present like one. He looks more like the tuxedoed bruiser who holds the velvet rope and decides who does and who doesn't get into the club. And, in a way, Burns has indeed played the IT gatekeeper for Kansas City's McCownGordon Construction, where for 12 years he has been Director of IT—lifting the velvet rope on certain IT initiatives and keeping others cooling their heels out on the stoop. Procore was an early IT entrant into Club McCownGordon, Burns giving them the nod in 2012. When 3 years later Procore launched its first Groundbreak, Burns was there. And he's been to every Groundbreak since.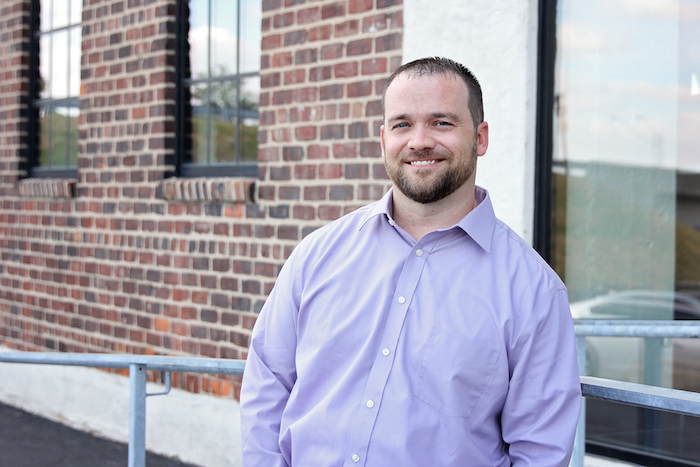 Burns is a relaxed guy with an easy laugh. He describes going to an early Groundbreak in Santa Barbara and being pleasantly surprised at the robust attendance of a conference about—you know—construction. "I was pretty impressed. People were talking about having a tough time finding a hotel room, and I thought 'Oh, wow. This is awesome'." He chuckles. "And then going last year…the conference was mind-blowing." Burns has been along for the whole of the Groundbreak ride.
And the big guy has personalized it.
"Look; Procore is like one of my friends' kids, you know?" Suddenly, Burns' voice rises in pitch as he rolls out his 'cooing parent' impression. 'Aww, look. She's so cute. Aw, she's drooling…'" Laughter. "Then it's 'Oh, now look at her go; she's growing up so fast!'" Another pause. "Now look at Procore," he says. "They're number one." Burns describes making the leap to Procore back in distant 2012. "I gambled my career," he says unequivocally. "I knew I was making a good decision--but I didn't guess how good. Now...not to compare Procore to Apple, but when you watch the live stream of an Apple launch event, that's what it feels like to be at Groundbreak." One recent Groundbreak speaker in particular rang his bell-a technology giant, an historical figure-an inspiration whose onstage demeanor was half the magic.
"Wozniak was phenomenal!" Burns says of the Apple co-founder and arguable architect of the personal computer revolution. "Watching the way his mind works…hearing his position on things." Yes, Burns' IT spirit was clearly fed by that encounter, as well as by another. "Being a Gen-Xer, walking in there and seeing Ton Loc? Vanilla Ice? I used to watch the guy on MTV, back when they played videos. Totally unexpected and super cool. We walked right up to the stage." And then there was the Faux Pas. Burns tells the story with a mordant laugh.
To tear this band-aid off as quickly as possible—Dustin Burns received the coveted Groundbreak Champion award in 2017 (a sort of Procore MVP nominated by colleagues and peers). His name was yelled into the mic, the place broke into thunderous applause and cheering, colored follow spots swept the packed hall. All eyes were riveted to the stage Dustin would momentarily take in two energetic bounds, waving his arms and graciously accepting the award. This pandemonium went unnoticed by Burns, who was at that moment dispatching a steak in another part of town, having a quiet dinner with his posse. Back at Groundbreak Central his grand entrance morphed into an awkward symphony of crickets. He'd taken the evening off with his team to discuss GBK. When he came in the next morning, Procore's Lauren Tuthill approached him and succinctly delivered the news.
"Dude."
People Who Need People
Burns has a word of advice for those hesitating to sign on to Groundbreak.
"Commit."
Okay…is there more?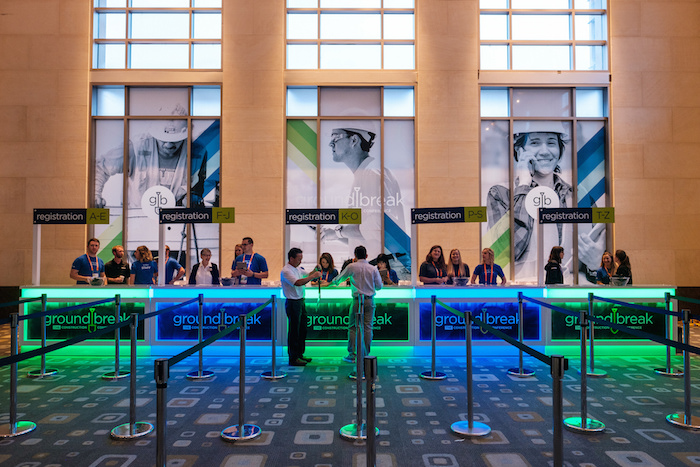 "Groundbreak is amazing, but the real value is the people that are there. And not even necessarily the Procore people. Groundbreak is an exchange of ideas." Burns brings a team with him, the McCownGordon internal Procore Group. "While we're at Groundbreak we have a shared notebook, and the team is required to seek out new ideas and get them into that notebook. And our project engineers love going into the innovation labs." Burns pauses to gather his thoughts.
"The innovation lab is really the heart of Procore," he says. "One of my major decisions early on in choosing Procore was the idea that they took the approach of 'Hey, let's only build what the user wants!' And so the Groundbreak innovation labs are a testament to that. When a guy like me walks into a Groundbreak Innovation Center, and one of those young developers whips out a notebook or whiteboard and starts writing down verbatim what I'm telling him, that's power."
"For example, think of those practitioners getting use out of the tools every day. One of them says 'Man, I'd really like a multiple choice item on this Inspections Tool instead of a Yes— No— N/A'. Well," Burns says, "what got released a couple months ago? Multiple choice on inspections. That's the Groundbreak sell to me. Seeing what's happening and being a part of it."