Groundbreak: How to Surprise a CFO
Groundbreak is Procore Technologies' bold redefinition of a construction conference. In a nutshell: Rub Shoulders, Innovate, Educate, Dance Like a Fool (or however it is you dance). With thousands of your construction colleagues in attendance, 70 or so eyebrow-raising breakout sessions, facetime with Procore's software engineers, and a chance to write tomorrow's construction-tech headlines today, Groundbreak is singular, both as experience and opportunity. Have you been?
Name: Leslie Dean
Company: Timberlake Construction
Where: Oklahoma City, OK
Title: Senior Contract Administrator/Operational Excellence Team Leader
Timberlake Construction is a family owned construction services firm founded in 1976. The Oklahoma City-based company is licensed and authorized to do business throughout the U.S. and provides pre-construction, construction management, and general contracting services to our clients.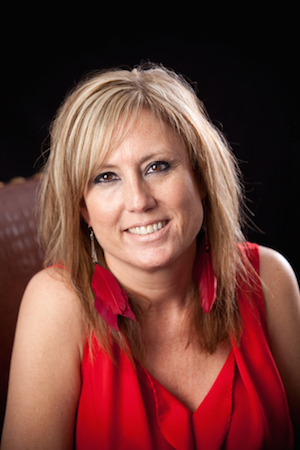 Leslie Dean: My Take on Groundbreak
Leslie Dean and her interviewer are comparing notes on the difficulties of recalling yesterday, the emotional toll of wandering through the misty byways of memory; and the way people's names can go in one ear and fly like frightened bats out the other. The name thing is a trait Ms. Dean and the interviewer have in common, though the interviewer cops to the fact that he'll struggle to recall someone's name even when it's dangling from a lanyard about the subject's neck.
Leslie is Senior Contract Administrator and Operational Excellence Team Leader at Oklahoma City's Timberlake Construction; a title that says "People Person" like nobody's business. Indeed, her demeanor during our chat is that of an immediately familiar and trusted pal, and a consummate Timberlake representative; a delicate balance, to say the least. Clearly, it's this potent combination of genuineness and professionalism that allows Leslie to continue knocking it out of the park for Timberlake, who couldn't hope for a better ambassador. To top it off, she's been to every one of Procore's Groundbreak Construction Technology Summits since the first one back in 2015.
Leslie starts in with something she remembers very succinctly from last year's 2017 Groundbreak conference.
Power: Channeled and Empaneled
"I went to Groundbreak's Women in Construction panel this past year, and some of the things that were said there stuck with me."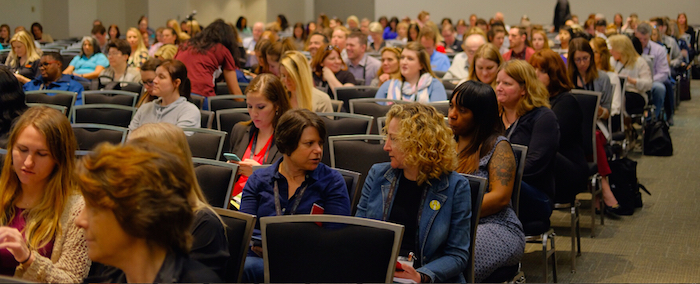 The panel consisted of Barbara Res (outspoken Construction Executive of the Trump Tower build, and an unvarnished advocate for women – in construction and otherwise), Nancy Novak (Senior VP of Construction at Compass Datacenters LLC), Ivette Vanas (Senior VP, Risk Management at Skanska USA Building Inc.), and Barbara Jackson (Director- Burns School of Real Estate and Construction Management at University of Denver). Project and Change Management Leader Ann Truair mediated the panel.
"One thing in particular I remember," Leslie says. "They were talking about how men tend to get promoted based on their future capabilities, their potential. Whereas women get promoted, when they are promoted, based on the results of the work they're currently doing."
"It was also mentioned—and this was very interesting—that construction's male-oriented culture just naturally caters more to male mentoring and bonding rituals. You know—golf tournaments and hunting, activities like that. And so men in the construction sector have these chances to helpfully bond with each other, with their mentors, with management. Women in construction just generally don't have those opportunities to connect. It was a panel discussion that absolutely switched on a light bulb over my head."
Calling All Women: Procore intends to foster more light bulbs this year; 75 more to be exact. Enter here to win a ticket to Groundbreak 2018.
Funktown and the Giraffes (this Is not a band name)
Leslie goes on to detail some of her earlier experiences of Groundbreak. "The first year, on the opening evening they had a cocktail party right there on the lawn at Carpinteria." The next night, Procore took over the after hours Santa Barbara Zoo—which as it happens is right across the street from the beach. "They had dinner and drinks, " Leslie says. "We got to feed the giraffes." We can only guess what the giraffes made of all this moonlit commotion; not to mention the already-bewildered Aardvarks.
Groundbreak the next year had already outgrown Procore's headquarters on the bluffs overlooking the Pacific, and was convened instead at Fess Parker's Doubletree Inn—the fancy Santa Barbara beachfront hotel Mr. Parker built on his Daniel Boone television series fortune. Interestingly, this is not an establishment whose guests are encouraged to sport coonskin caps.
"And then the first evening that year..." Leslie begins, then pauses. "There's this area in Santa Barbara called Funktown. F-U-N-K," she spells out genially. "Have you been out there?"
SB's "Funk Zone" is a gentrified former industrial park whose repurposed corrugated tin quonsets and brutalist concrete boxes now serve wine and cheese and craft beer in a cozily compact club district about a block up from the beach.
"You could just walk in and order whatever drinks or food you wanted," Leslie says, with something like wonder. "They had celebrity lookalikes, too. Marilyn Monroe and Jack Nicholson and people like that were just wandering around." [Sounds a little unnerving, but what do I know?]
How would Leslie counsel someone sitting on the fence about attending Procore's Groundbreak 2018? "You learn so much, and you meet so many people in construction. You make real connections. You hear all kinds of interesting stories from all kinds of professionals. It's amazing. And the innovation lab is awesome," she says, referencing the yearly opportunity
Leslie was accompanied last year by Timberlake's brand new CFO, who had been to Construction Financial Management Association (CFMA) conferences and other such confetti-drenched accounting riots.
"That first session at Groundbreak last year, we walked in and there was a band playing, and they were serving Bloody Marys." Leslie laughs. "And our CFO turns to me and says 'This is nothing like CFMA!'"