How Small Business Specialty Contractors Can Streamline Estimating To Increase Productivity
In June 2021, Procore attended the World of Concrete event in Las Vegas, NV. People stopped by our booth to share how they've been using technology to set their businesses up for success. With the majority of attendees being small and medium-sized business contractors, a hot topic of discussion was the estimating process; both in preconstruction and during construction when project teams are ensuring the field stays on track for the estimated schedule and budget.
The most common theme across all these discussions was the increasing need for better connection between the field, or project team, and the office, or estimating and accounting teams. Currently, the two business groups are divided not only physically—jobsite vs. office or trailer—but also figuratively, through the disparate systems that they use to manage the project. However, when teams are working together in a single system, effective communication and coordination are the benefits and increased productivity is the result.
One of the announcements at Procore's Innovation Summit, held virtually on June 10th, was our continued investment in preconstruction. What does this mean for small business specialty contractors? It means an even more connected system for both estimating and project management teams; streamlining the estimating process from faster digital takeoff to accurate estimates with historical rates, to complete schedules of value with inclusions and exclusions all in one place. With all your project data in one place, you can easily draw on historical data to improve your bidding on future projects. By seamlessly transferring the original estimate to the final budget with a single click, both teams are starting the project on the same page, and staying on the same page throughout the course of construction.
"Joining our estimating systems with our field management systems tore down a wall that blocked the flow of information that can now flow freely. No more transferring information from one system to the other. This streamlined and integrated process allows our employees to work better as a team. Smarter, faster employees equals more profit." – Brandon Lopez, Chief Operations Officer, ABLe Communications, Inc.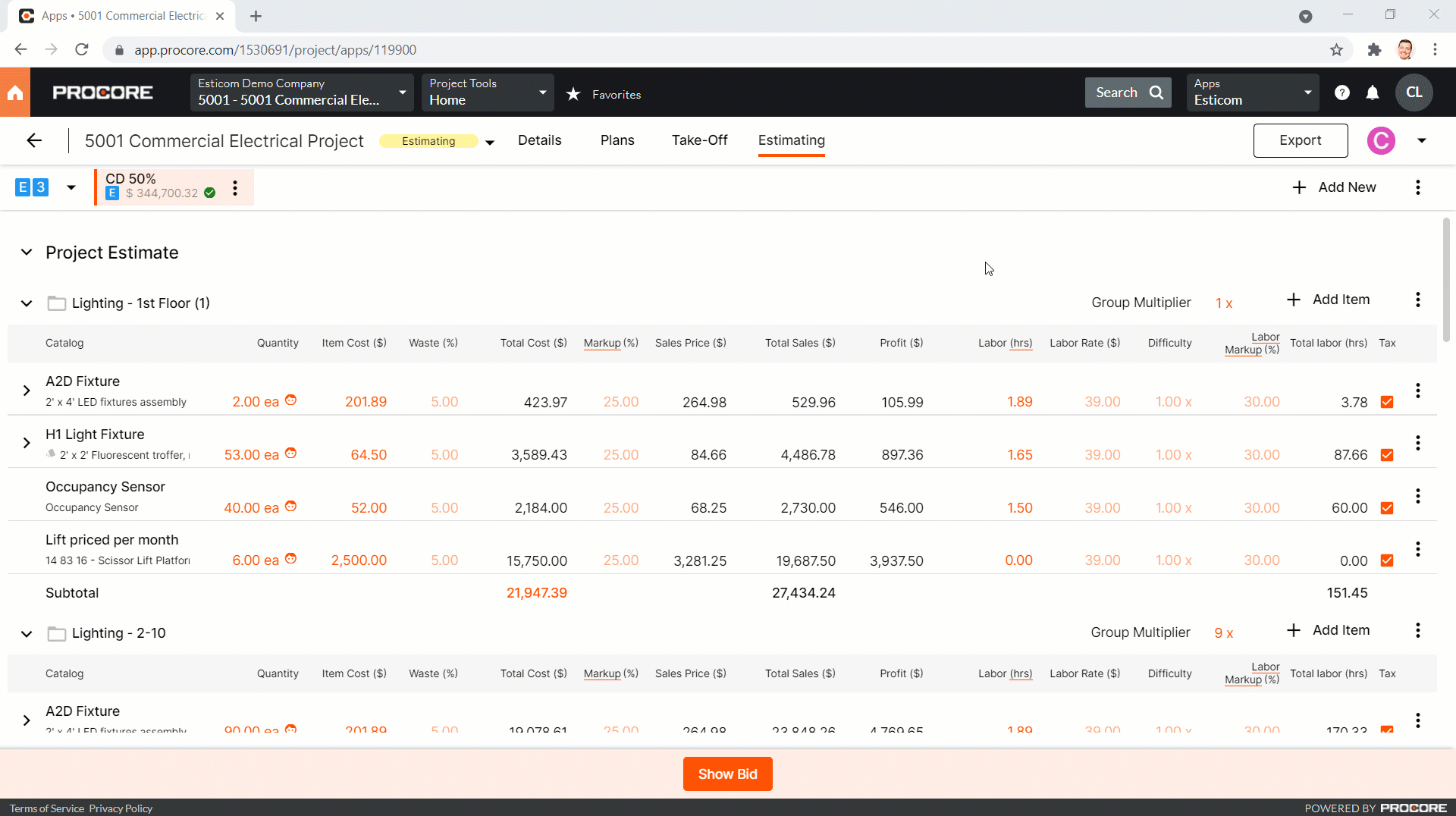 When it comes to investing in technology and streamlining processes, many small businesses think of time savings. What is often overlooked is the ability to leverage data throughout the lifecycle of the project. The magic doesn't come from the digitization of manual processes itself but rather the data and actionable insights that are gained in the switch. Data is only valuable when it helps you make better decisions, and that value is exponentially increased when it is shared with your team to drive productivity. Informed teams are efficient teams and, in construction, efficiency equals profit.
For Winchester Construction, a framing contractor in Kenmore, WA, their team was able to boost profits by maximizing the effectiveness of their team, leveraging the platform to gain better insights from project data, improve reporting, and build more competitive bids. What was their ROI? Procore led to a 30% jump in efficiency after migrating off outdated, paper-based systems, which meant they were able to save 25% of their time thanks to cost-code-based insights into productivity. All of which allowed them to dedicate more time to securing new business. Read their full case study here.
To learn more about Procore's solutions for specialty contractors that streamline the takeoff and estimating process in order to maximize productivity during the course of construction, sign up for a live demo here.