Leveraging the Procore platform for design and preconstruction
The power of Procore goes beyond the course of construction.
Emerson estimates that up to 30% of initial data created during design and construction phases is lost by project closeout - do you know how much information you're losing along the way? As a project owner, you need to be thinking about digitization and optimization across the project lifecycle, not only during construction but also during project development. After all, successful project execution depends on a successful setup.
Issues or misunderstandings arising during design and preconstruction are compounded in the construction phase, derailing your schedule or leading to costly changes and rework. And ultimately, as the project owner you bear the burden of quality issues, either directly through increased construction phase costs or, less obviously, through ongoing management of an asset's built-in problems. That's why it's important for you to stay ahead of quality by digitizing and optimizing projects from the start, including during design and preconstruction.
As a project owner, you probably already realize the value that Procore can provide for project execution during the construction phase - but did you know that Procore also helps mitigate risk before breaking ground? Procore's flexible and configurable documentation, communication, accountability, and workflow tools that can be applied to ensure smooth execution from design and preconstruction onward. With a single source of truth for key deliverables, communication, and accountability, potential quality issues can be identified and corrected before they become real problems. And the benefits are magnified by a streamlined, comprehensive handoff to the construction team which improves collaboration, increases visibility, and ultimately reduces risk across the project lifecycle.
Below, we discuss a few of the ways in which Procore can help you start early to proactively ensure successful project execution.
Assess quality at key milestones
During project development, myriad critical decisions are being made that determine the end result. Any potential issues or oversights that slip through the cracks will turn into costly surprises or expensive decisions later on. Over 50% of engineering and construction professionals report one or more underperforming projects in the previous year - are you going to leave it to chance? As the project owner, it's up to you to pause and assess the project at critical milestones: do you have all the key deliverables, have they been thoroughly reviewed, and are all stakeholders in the loop?
Procore's Action Plans tool can be used to implement a phased review process to ensure that project development is progressing according to expectations. Define quality control checkpoints, consolidate related documentation (such as Specifications, Drawings, Photos, and Documents), assign steps and tasks to stakeholders, define and validate success criteria (with a digital Inspection checklist), and get final signoff before moving onto the next phase.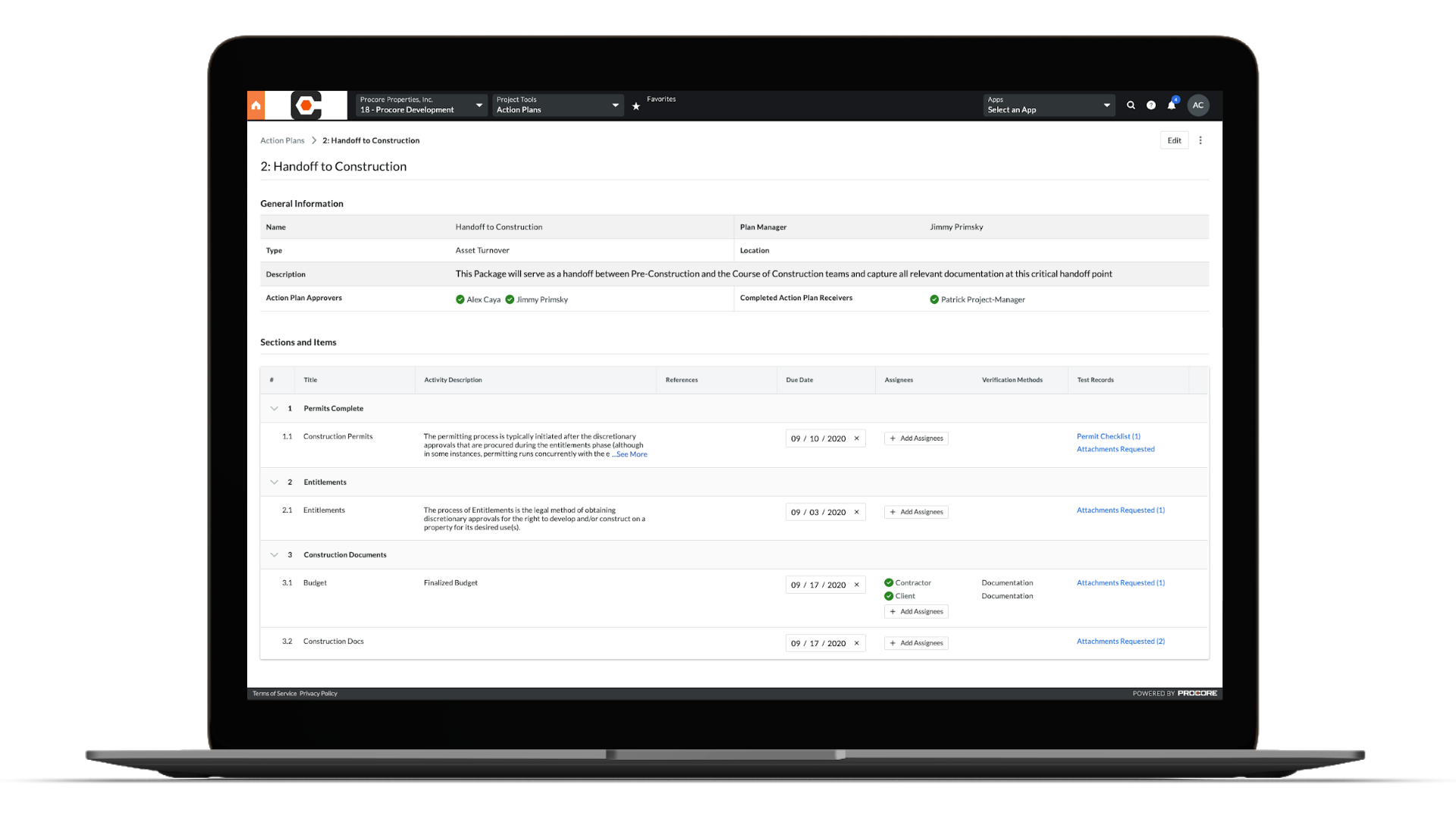 Action Plans is a new feature that is currently in open beta for customers who have Quality and Safety in their solution package. If you are interested in joining the open beta for Action Plans, reach out to your Procore point of contact, or request a demo of Quality and Safety here.
Organize stakeholders around a single source of truth
Stakeholder-wrangling begins as soon as the project idea is born. You're working with designers, engineers, regulators, lenders, landowners, potential vendors, and more - how are you keeping them clear on your direction? $31.3 billion in rework was caused by poor project data and miscommunication in the U.S. alone in 2018. The risk of keeping critical communications buried in emails is simply too high - you need everyone to be accountable for knowing what direction the team is moving in, or else your schedule and budget will start slipping early.
Procore's Correspondence tool enables you to maintain an official system of record for all communications related to planning and design development. With highly robust permissioning and flexible templatization, you can standardize information input and control who sees what. Correspondence enables you to manage and track private, internal communications, as well as communications with any other external stakeholders on your extended team, ensuring that everyone is in the loop on relevant decisions and milestones.
Correspondence is part of our Project Management Pro and Project Management Owners solutions. For more information, reach out to your Procore point of contact or request a demo here.
Keep design issues in the digital world
Buildings are complex, no two projects are the same, and designers are human, so design issues are only inevitable. Up to 70% of total rework experienced in construction and engineering products is a result of design-induced rework. As the project owner, it's in your best interest to make sure the team is proactively assessing the design and identifying issues throughout the design phase. After all, it's much simpler (and cheaper) to fix something on a drawing or in a model than it is to handle it on site, when the materials have been ordered and the crews are getting paid.
Procore's Design Coordination provides a method for your internal team and external consultants, designers, and contractors to identify, discuss, and resolve design issues on drawings or in 3D. By implementing a clear communication and accountability process up front, you can keep the design phase moving along smoothly and mitigate the risk of changes and delays during project execution.
For more information about Design Coordination, reach out to your Procore point of contact or request a demo here.
Set your project execution teams up for success
Now that the project is designed and planned, you want the execution team to get right down to business - but a lot has already happened to bring you to this point. If project managers or contractors inherit incomplete information, they are likely to have redundant questions that can lead to delays, or even knowledge gaps that can lead to mistakes. The more context and visibility the project execution teams have related to key project development decisions, the better they can deliver in line with your expectations.
By consolidating project information across the entire lifecycle in Procore, you can streamline handoff between project teams and make sure everyone has what they need in order to get the job done efficiently and to a high quality bar. Procore is a comprehensive, end-to-end system of record that provides the appropriate level of visibility to all stakeholders. With Procore, you can reduce the risk of error or omission associated with compiling and transferring critical project information, because it's all right there from the start.
Don't wait until the construction phase to implement quality control processes and a collaborative system of record - be proactive and start early. When your internal and external teams have the tools they need to work collaboratively across the entire project lifecycle, you can rest assured that they'll get the job done right.
Learn more about our Action Plans, Correspondence, and Design Coordination solutions, or request a demo today to further discuss how you can leverage the power of the Procore platform before you break ground.