Nelson Mandela University: Future-proofing talent in construction
Nelson Mandela University (NMU), one of the leading construction management universities in the Southern Hemisphere, is future proofing the next generation of talent in the industry through a progressive approach to learning critical digital skills.
Through Procore.org, Procore partners with universities, like NMU, to educate the future construction workforce. Jaco Barnard, from Agile Business Technology, a Procore Certified Consultant, introduced Procore to Nelson Mandela University, as part of an offering that introduces a more practical focus to digitization in the management of construction projects, with the African marketplace in mind. Procore.org provides Procore's platform, implementation, and support free of charge to over 200 universities in 10 countries.
Through our partnership, we had the opportunity to speak to Chris Allen, Head of the Department of Construction Management at NMU, to discuss the digital construction management curriculum they are rolling out to students from across the African continent.
Identifying the digital construction trend
"We've seen a massive downsizing in our economy since the 2010 World Cup, and major projects have completely dried up. As a result, the marketplace has become ultra-competitive so it's not just about delivering projects on time, but at the lowest possible cost," said Chris Allen. Allen joined the university after running a UK based digital construction service business in the early '00s, taking up an offer to become a lecturer and to help NMU develop a digital construction program.
This economic context has informed how NMU trains its students. Jaco Barnard further explained: "When we talk to contractors, it all comes back to driving efficiencies and doing more with less. The next generation of construction talent will become a mechanism to achieve this all so we must prepare students to firmly believe technology is the true enabler here."
Equipping future global construction leaders
Today, NMU offers its students from across Africa (including Zimbabwe and Botswana as well as Kenya, Togo and Ghana) exposure to digital tools so they are fully equipped to pioneer innovative technology solutions that encourage better ways of working across the globe. 60% of its students leave South Africa and work in the Middle East, Europe, or Australia. Chris highlighted: "We export a lot of top talent. For example, there have been three students who joined Mace in the UK in important positions and that is a company that is seen as a benchmark for leading the digital transformation of the construction industry."
He went on to sum up the program's mission: "We want our students to be 'work-ready' so they don't just know software, but they know how to use it within the work environment. In other words, we continually identify problems from the real world, rather than just from an academic perspective, that could be addressed through better use of digital information or data, so students need to understand how they might implement the technology once in this domain."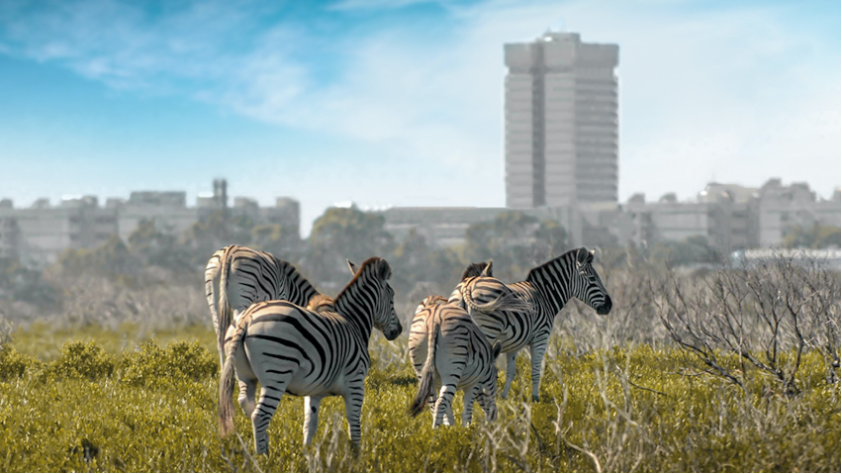 Choosing the right digital tools
To get its students immersed in digital solutions, NMU works with a number of tools, including Navisworks for 4D planning and Design Builder for building performance.
Chris explained that NMU wanted to look at other areas in construction to bring their students' experience to the next level: "The big thing for us now is how our students can harness the power of data."
Why is data integral to construction? The ability to view and manage data—whether it's related to the amount of labor on-site, or the amount of time taken—is central to running a business today. It enables contractors to be dynamic and change direction quickly if projects are not performing as expected.
NMU wanted to give its students small projects so that they could use software to generate and achieve outcomes from their own data—putting real-life situations into practice. The ability to reference data on one platform is where the future is heading, as Jaco said, "a single source of truth for everybody to see without sending information around, is the way to go".
The user-friendliness of collecting and presenting data on the Procore platform was the ideal fit for the students' data management experience.
With our platform, NMU's students can:
Extract insights from project data: Visualize data quickly to gain deeper insights into what's happening across a project, to leverage it effectively.
Evaluate performance & drive accountability: Gain access to interactive dashboards to help isolate and get granular visibility into relevant data points, granting the visibility needed to take action with confidence.
Manage company wide risk exposure: Analyze data at both a project and portfolio level to see patterns and trends that would have otherwise remained hidden so they can be proactively addressed to avoid risk.
Chris summed it up: "Technology is another tool in your toolbox". Like us, NMU is encouraging industry-wide digital transformation and as a result, is getting a little closer every day to connecting everyone in construction on a global platform.

To learn more about Procore's Certified Consultant and Channel Partner Programs, visit procore.com/partners.
Join us for Groundbreak's closing keynote by Sasha Reed, Procore's Director of Industry Advancement, to continue the conversation about how Procore.org university partners are building a better way forward. Register here.