Optimize Your Capital Program with Procore's New Integration with Finario
With fierce competition for capital investment dollars, Owners want to ensure those funds are going towards projects that will produce the best return, while at the same time managing risk and the potential for cost overruns. Procore's integration with Finario helps Owners plan, manage, and track capital projects at every project phase, providing a high-level, detailed view of capital committed, spent and forecast, across every project.
This can be critical, particularly when it comes to complex, multi-year projects where long time horizons can create greater cost uncertainty and require multiple reforecasts. The ability to quickly know what has actually been spent and what obligations remain is important no matter the size of your project, especially given the potential for overruns reaching into the tens of thousands, or millions of dollars. Ensuring accurate reporting and complete transparency is essential.
"A critical phase of capital planning is forecasting accuracy," said Rich Feldman, Finario's Head of Marketing. "Unfortunately, this is where bias can loom large, because people have a tendency to assume best-case scenarios for costs and how long things will take. Procore's integration with Finario helps solve for that in a substantial way."
The key to better forecasting starts with basing assumptions on historical data ("reference class forecasting"). Because projections are based on the actual performance of completed projects with similar characteristics, there is less speculative judgment involved. Finario archives all project data, making "look backs" far easier to perform, and even mandate.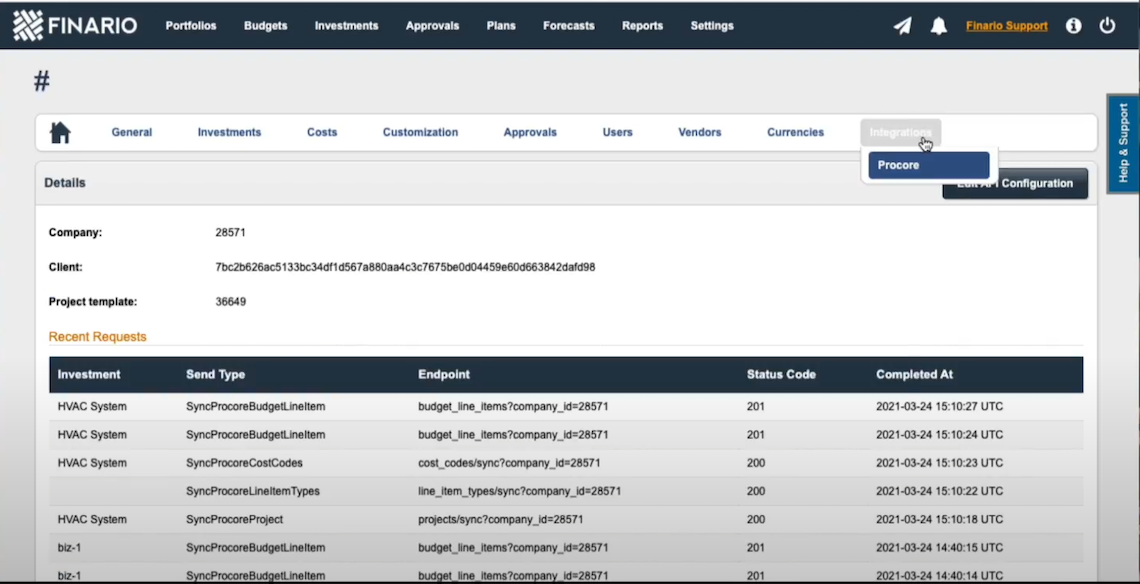 Forecast accuracy also requires "real time" data. With project cost actuals automatically synced between Finario and Procore, stakeholders can immediately know where things stand on a single project, or across an entire portfolio. You can even set thresholds such that, if any project exceeds a specified percentage of its budget, it is automatically routed for re-approval. Finario's robust capital planning tools, combined with Procore's cost and project management capabilities, empower customers to make better decisions, and produce more insightful reports.
"It is great to see how two industry leading platforms can create a rich integration for customers' capital planning. This integration bridges the gap between their job sites and the office, providing real time project data from Procore using open API's to help decision makers reduce risk and execute with confidence," said Brian K. Smith, Procore Business Development Manager. "In the ultra competitive world of real estate, these types of data integrations provide greater operational efficiencies for companies to leap ahead of their competitors."
Of course, successful outcomes start with better planning. Here, too, the combination of Finario and Procore truly shines. You can create candidate budgets in a "sandbox," conduct what if analyses, and apply consistent evaluative criteria so that those who will ultimately approve or reject one or more projects are doing so with the information they need regarding strategic value, ROI potential, regulatory impact, etc. Moreover, with a "single source of truth" for all data representing your capital budget, you can report more confidently throughout the project lifecycle.
With materials costs fluctuating wildly, supply chain disruptions always a possibility, market conditions prone to change quickly, and other factors feeding uncertainty, having an integrated capital planning solution is no longer a nice-to-have, it's essential. Procore has been engineered to put its customers in total control of its projects, from start to finish. The integration between Finario and Procore enhances that mission by adding best-in-class capital planning and project management to the equation.
To learn more about how Finario and Procore are partnering to give you the tools and insight to optimize your capital program, visit Finario's Procore App Marketplace page.