Procore ANZ releases a research report on the adoption of new technologies in the construction industry
Last week in Sydney, Procore ANZ released its inaugural report, How We Build Now – Tracking Technology in Construction 2019 with research partner ACA Research at a panel attended by construction professionals, government officials and the media.
Commissioned in order to better understand how technology is being utilised in the industry, the report surveyed 170 construction companies across Australia. It presents a snapshot of tech adoption in the industry today, the outlook for the health of the industry and its relationship with technology in the near future.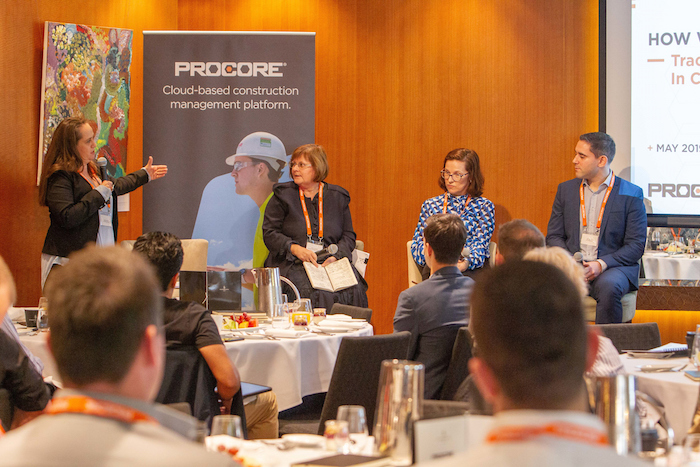 Key findings
Business outlook: 64% of respondents feel confident about building and construction industry business conditions in 2019, with 22% expecting an increase in the value of their projects.
Efficiency and productivity: The Australian construction industry spends 12% of its time on re-work. Small (17%) and medium (16%) sized businesses spend more time on re-work than large (10%) businesses. Meanwhile, almost 50% of businesses believe improving project management skills is essential to increasing productivity.
Technology impact: 69% of respondents feel prepared for the impact of new technologies on their business. Equally, 69% think new tech will increase productivity, while 62% of respondents say it will also increase revenue. 41% of businesses will use six or more new technologies in 2019.
People and skills: 92% of respondents think that upskilling your workforce is an important means of improving productivity, yet in contrast, 95% are also confident the skills of their current workforce will meet their business needs in 2019.
Current and future tech usage: BIM/CAD is the most popular technology currently used in the industry (33%), followed by pre-fabricated parts (29%) and digital project management tools (25%). Respondents also see these technologies being the top three drivers of change over the next three years, with pre-fabricated parts (32%) leading the charge.
The findings revealed that while construction companies are generally optimistic and expect to see continued growth during 2019, many acknowledge that this growth could depend on how they integrate with new technologies.
"Our customers tell us that, whilst they're looking at ways to consolidate legacy technologies, they are also planning for the future. We invested in this research to shed light on technology adoption in construction, and how new technologies are influencing more efficient processes and better business outcomes," said APAC VP Tom Karemacher.
While the report acknowledged that the general perception is the construction industry is slow to adopt new technologies, panellist Professor Kerry London, Deputy Dean of the School of Computing, Engineering and Mathematics, and Professor of the Built Environment and Urban Transformation at Western Sydney University, found the adoption rate of technology higher than she expected.
Both she and fellow panellist, Johanna Pitman, Director of BlueChilli's latest accelerator program CityConnect, have found that the willingness to integrate new technologies is strongly dependant on stakeholders and key suppliers who are involved in the business' projects.
The panel, including ACA researcher Ben Selwyn, agreed that while adoption of technology varied in these businesses depended on business size, the companies that have a strong people focus are generally more successful. Professor London later added this would include factors such as organisational processes and company culture.
Professor London also stated that, unlike other economies in the region, Australian construction businesses generally want to have a quick return on investment instead of taking a long-term view of the benefits.
Additionally, key findings highlighted the consistent issue of staff management, particularly for small and large businesses. Johanna Pitman considered this to be a result of the fragmenting of small to medium companies by larger ones, eager to take on emerging technologies but not necessarily in the best position to integrate them.
Professor London added, that instead of poaching trained candidates from others, businesses would greatly benefit by investing or collaborating with the university sector to ensure graduates have training in or opportunities with the latest technologies.
Luckily, current attitudes are likely to change as according to the research, most businesses will be investing heavily in training and reskilling for a future with new technologies.
How We Build Now – Tracking Technology in Construction 2019 report is the first in an annual series that Tom Karemacher believes will continue to provide industry, government and the education sector with actionable information about the adoption of technology, current and future skills required, and the means to make work in the construction industry easier.
Want to learn more about the construction trends flooding the industry and benchmark your company against others in the sector? Sign up for our How We Build Now webinar.