Procore No. 95 NASCAR at Charlotte Motor Speedway
On Sunday, the No. 95 Procore Safety Qualified Toyota Camry took to the Charlotte Motor Speedway with a special paint scheme for Memorial Day.
"Memorial Day weekend at Charlotte Raceway is really special in this sport, but it holds a big spot in my family's heart since my brother is in the military. This weekend of honoring those who gave their lives in active duty is incredibly special," says driver Matt DiBenedetto.
On the No. 95 car, U.S. Army Specialist Daniel A. Desens, Jr.'s name was commemorated on the windshield as part of NASCAR's 600 Miles of Remembrance program. SPC Daniel Desens, Jr. was a part of Alpha Company 1st Bn. 120th Inf. based out of Jacksonville, N.C. In March of 2004, Desens, Jr. was deployed to Iraq and attached to the 1st Infantry Division. On June 24, 2004 SPC Daniel A. Desens, Jr. was tragically killed in action in Baqubah, Iraq. He was 20 years old.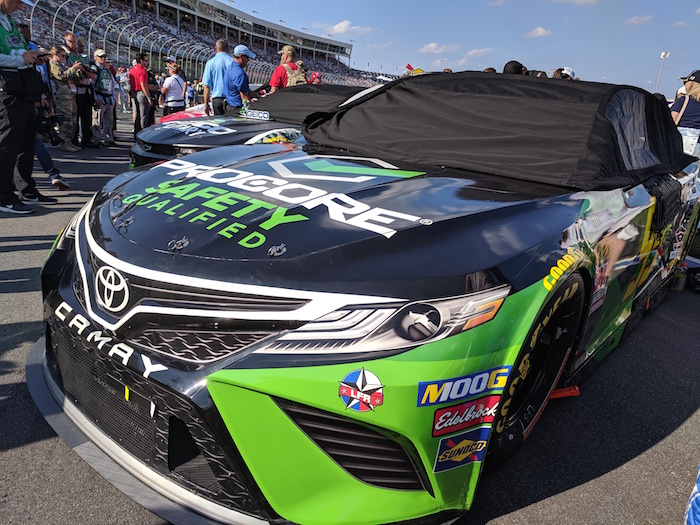 In addition to recognizing Memorial Day, the No. 95 car also highlighted the third annual Procore Safety Qualified (PSQ) program. PSQ is a free series of online certification courses aimed at making construction jobsites safer. In 2018, more than 800 construction industry professionals dedicated over 6,000 hours to safety education through the completion of the Procore Safety Qualified (PSQ) course series. The 2019 Procore Safety Qualified program has three new courses that address complex hazards by teaching and developing best practices. If you'd like to participate in the courses, please visit this page for more information.
If you want to follow along with Leavine Family Racing for the remainder of the season, join the Procore No. 95 Crew today. You'll get a free, collectible Matt DiBenedetto 95 hero card, and you can enter to win exclusive Procore No. 95 car merchandise throughout the season.
Visit www.procore.com/95crew to enroll today.