Procore Training Coming to You
We are bringing Procore workshops to you, our clients with our new hands-on product training, Impact Series. Beginning next month, we will be taking product experts on the road to conduct workshops for 50 users in a given city. Our first event kicks off in Phoenix, Arizona on April 25th and will continue visiting clients throughout the U.S. and internationally. Impact Series will visit 15 U.S. cities, spanning 12 states, and two events in Australia.
Interested in the Impact Series in Phoenix? Sign-up here!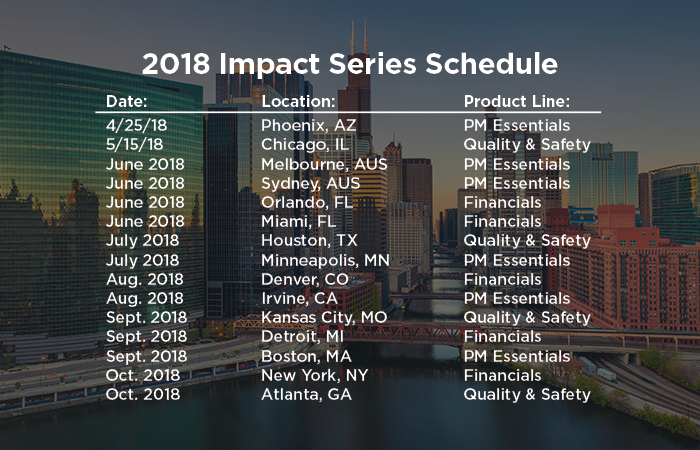 While Procore has hosted Impact Series before, the presentation structure differed from city to city and didn't allow for much interaction with the product or the people. We are revamping the Impact Series in response to customer feedback from the eNPS survey and customer success managers who work directly with our clients. The goal of the series is to provide users with a working knowledge of the system by having them complete a series of in-app tasks on their own device. We realize that many of our users are tactile learners and work in an industry that allows them to use their hands, check on projects in person and have a live, in person experience rather than a remote one.
The training program will consist of three 1 hour sessions with our product consultants walking you through the tool on your own device while our customer success managers help to answer any questions and offer best practices along the way. Each training will conclude with a happy hour to allow for time with other construction professionals and idea-sharing.
We want the Impact Series to reflect our product values:
User-Centric
Procore is built for construction, by construction. We work collaboratively with clients and users to build products that solve real problems with practical solutions.
We plan to take the feedback we receive from users in the Impact Series to our Customer Success Department and apply what we hear to our training program in order to improve ongoing training.
Easy to Use
Construction is complex. Our products are designed to streamline your workflow, and get you home on time. Our design and engineering teams create technology that is intuitive; because difficult software is rarely adopted.
During the Impact Series, we will work with you, observing your existing workflow and answering questions specific to how you use the product. We want to walk through whatever obstacles you may have with the goal of streamlining your process.
Fastest Time to Value
We give our clients the tools and support they need to get up and running in weeks, not months, so they can see a return on their investment immediately.
Our overarching goal is to get clients up and running as quickly as possible in order to get projects running smoothly, completed on time and within budget. We want to make product adoption as seamless as possible and believe Impact Series will contribute greatly to this goal of empowering users and allowing for smooth product adoption.
Sign up now and get hands-on training in your city!
Registration for Impact Series workshops in Phoenix and Chicago are open now. Registration for other workshops in this series will be available shortly!