Procore's 2nd annual How We Build Now live stream event debates annual benchmark report and the impact of the pandemic on construction
Earlier this month, a panel of industry and government experts, including NSW Building Commissioner, David Chandler OAM, Sara Cecchi of SHAPE Australia, Matthew Rayment of PBS Building and Director of ACA Research, Ben Selwyn, reviewed the issues and findings from the How We Build Now – Tracking Technology in Construction 2020 for 1500 webinar attendees.
The COVID-19 pandemic has affected the people, processes and profitability for the construction industry. The restrictions planned to halt its spread on building sites and communities have not only transformed work processes, but they have also led to a sharp drop in construction industry confidence.
Director of ACA Research Ben Selwyn outlined the 260 construction firms around the country that went into 2020 with a generally positive outlook. However, this 69% confidence rating in early 2020 fell to 43% in two short months, seeing industry confidence in trading conditions decrease due to virus containment measures.
"Technology is playing a big part in managing the current impact of COVID-19 and is paving the way to support planned outcomes now and into the future," said Procore APAC VP Tom Karemacher. "The second edition of our report also highlighted the growing inter-relationship between technology and people. You can no longer think about these topics in isolation as they need to be aligned to produce the efficiency and productivity outcomes that underpin success."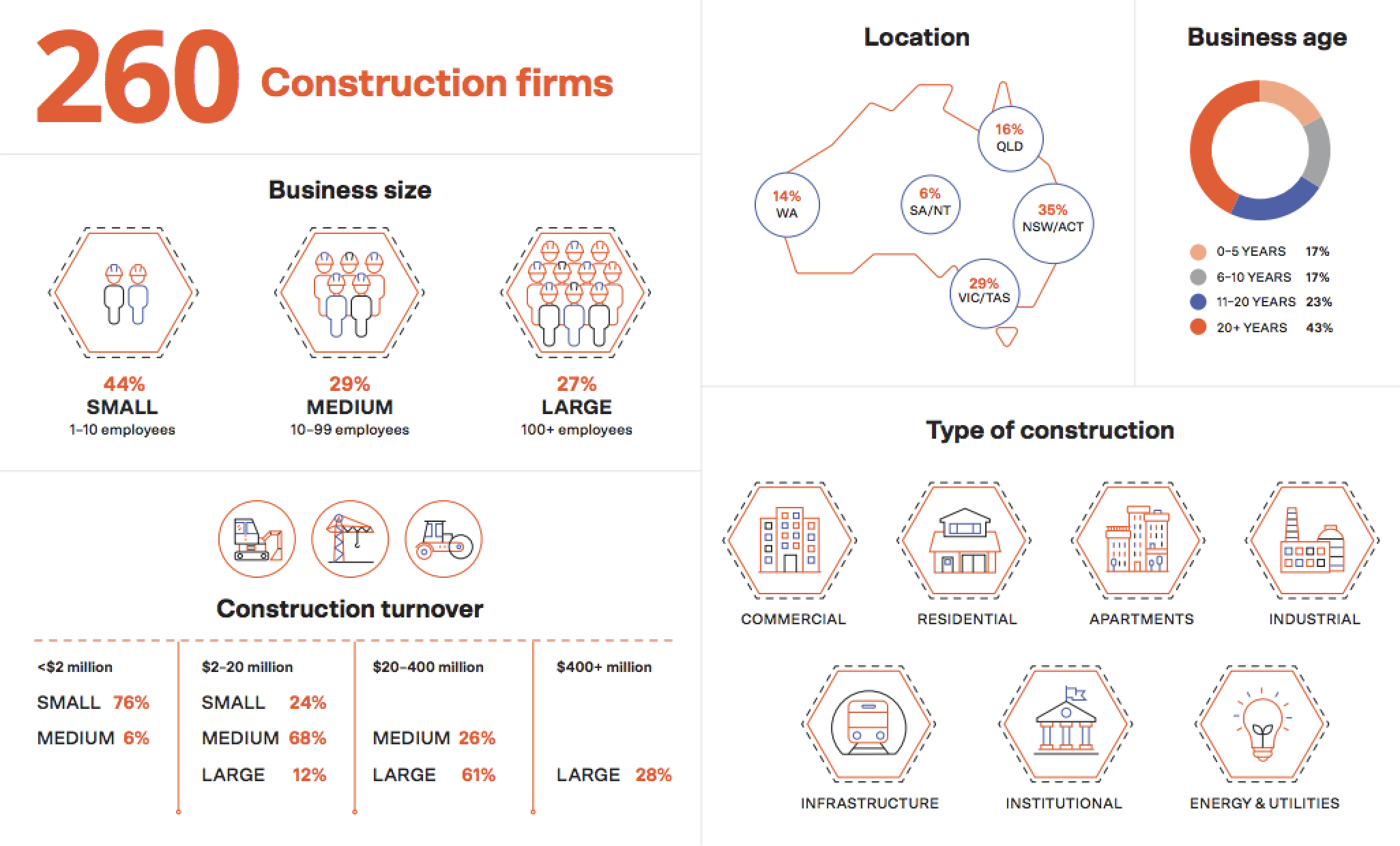 Key Findings of the report:
Business Outlook: In 2019, 22% expected an increase in the value of their projects, as the pandemic hit an average 33% of firms of all sizes have factored in the need to close down in 2020 if conditions don't improve.
Efficiency and productivity: Rework remained a massive issue for businesses. Small businesses are working harder with 15% re-doing already completed work, 7% more than 2019. Medium business gained 7% with only 18% rework required in 2020. No gains for large businesses, maintaining a rework rate of 22%.
Technology Impact: Bringing new technology onboard is seen as the best way to increase profitability (62%) then upskilling staff (59%) followed by improving access to project information (54%).
People and Skills: Medium and large firms indicated automated construction technologies might reduce the need for human labour. 14% more large businesses and 10% more medium businesses in 2020 feel this way.
Top 5 tech drivers of change: Prefabricated Parts 40%, BIM/CAD 33%, Digital project management tools 30%, Integrated construction management tools 28% and 3D printing 25% will be the technologies driving change in the next three years.
David Chandler OAM, NSW Building Commissioner acknowledged the level of rework the construction industry is experiencing is closely tied to building standards. Shifting the conversation to the trustworthiness of the supply chain from developer, builder, certifier through to the completed building should be the end goal.
Sara Cecchi of SHAPE Australia also reinforced the challenge of a lack of building standards even applied to terminology. She believes it is a challenge to deliver homogenous national projects, inevitably increasing the cost to produce a quality product.
This issue was supported by the report's key challenge findings for 2020. The majority of firms agree they are under pressure from clients on price and timeframes. The increasing costs of raw materials and equipment, contracts and payments, regulatory changes, staff hiring and training plus staying up to date with new building and construction technologies ranked as the top five challenges.
And when it comes to managing COVID-19, the report highlighted the critical role of technology for enhanced efficiency and productivity. 48% will better manage risk on site, 38% will improve productivity, and 30% will reduce the volume materials that need to be held on-site.
Matthew Rayment from PBS agrees technology has an influential role to play. He believes the skills people need in the future will be creative as the construction industry needs problem solvers. The insights provided by data will identify the trends that management systems and onsite processes need to make better business decisions.
His concerns are echoed in the report –– the ongoing challenge of technology usage, training and implementation remain the number one barrier for increased productivity across the board. Training subcontractors and staff on how to use technology is the most challenging part of the implementation process. This is followed by integrating with different technologies being used by customers and owners.
How We Build Now also revealed 51% of businesses agree that women will form a vital part of the construction workforce over the next ten years.
In response, Sara outlined two barriers for change. The first is the harsh working conditions found on site and also the lack of confidence female participants have. She acknowledged COVID-19 is now initiating serious conversations around health and wellbeing in the workplace and this could be expanded to discuss the long-term inclusion of women and minority groups.
How We Build Now –– Tracking Technology in Construction 2020 is the second in a series of independent reports from ACA Research, designed to benchmark technology advancements and business practices in the construction sector. This year's results highlight industry outlook and confidence; technology adoption priorities and how businesses will arm themselves as they respond to a global crisis.
Get your copy of the How We Build Now 2020 report here.