Produce cost forecasts across the project lifecycle with Procore's new Advanced Forecasting solution
Procore's Advanced Forecasting, a solution built to help you produce more accurate and real-time cash flow information with ease and in a fraction of the time, has now launched globally. Procore customers can now produce detailed time-phased cost forecasts that generate forward-looking insights and keep companies informed on capital spend. Advanced Forecasting gives you the ability to spread your project costs over a scheduled duration to see the monthly cost impact or cash needs at a detailed or summarized level.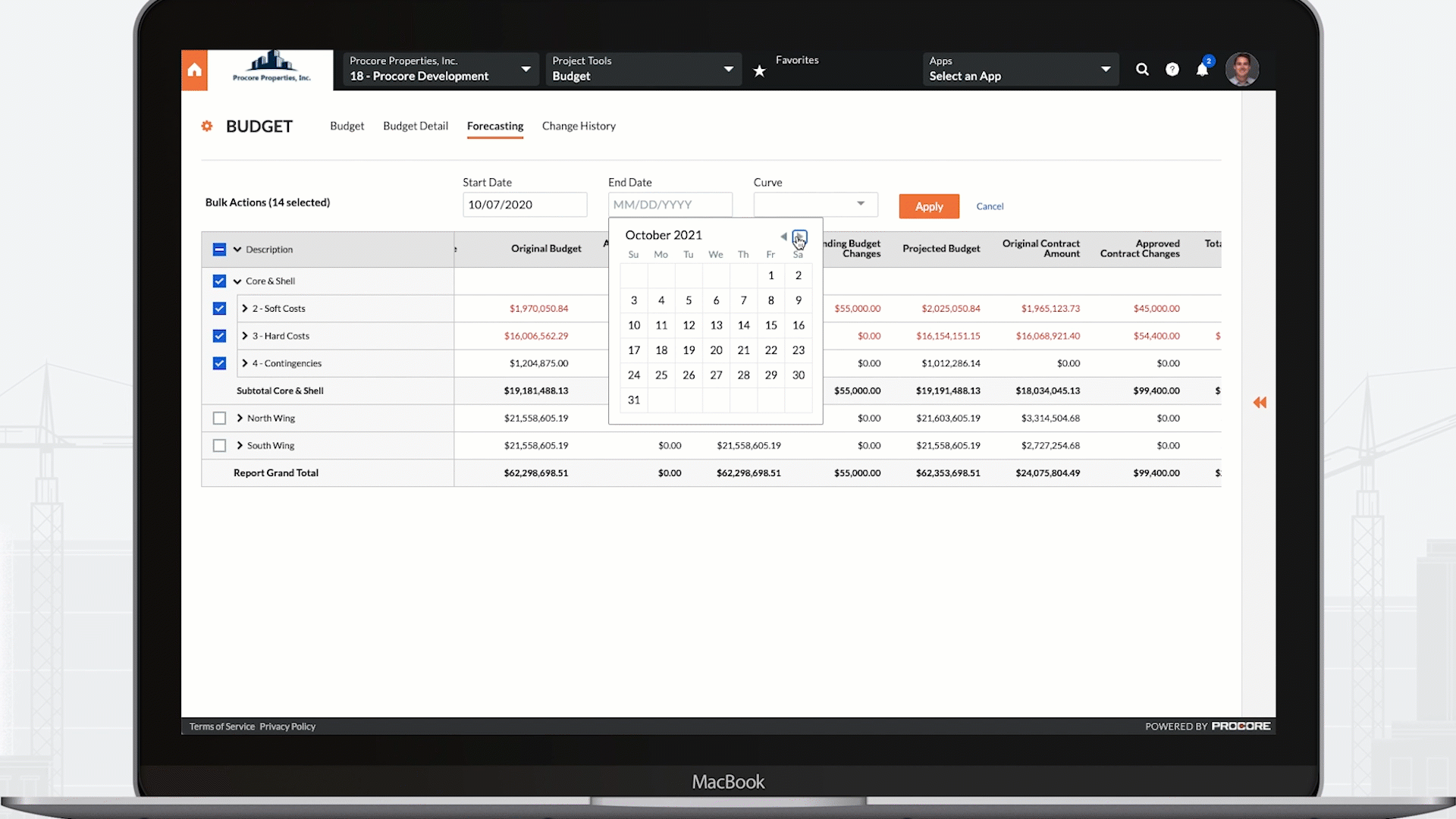 Streamline highly manual tasks with purpose-built solutions
When you combine connected data with solutions built specifically to solve key tasks such as forecasting, you can drastically reduce administrative burden and create more time to focus on higher value work. Procore's Advanced Forecasting streamlines an otherwise highly manual task that is often completed using spreadsheets and manual data entry.
This solution makes it easy to create monthly forecasts across the project lifecycle by leveraging connected budget, commitment, and spend data. Efficiency boosting functions such as multi-line selection and built-in spread curves over schedule durations provide the tools to produce real-time monthly forecasts in just a few clicks. The result is more accurate and real-time cash flow information produced with a fraction of the effort and pain.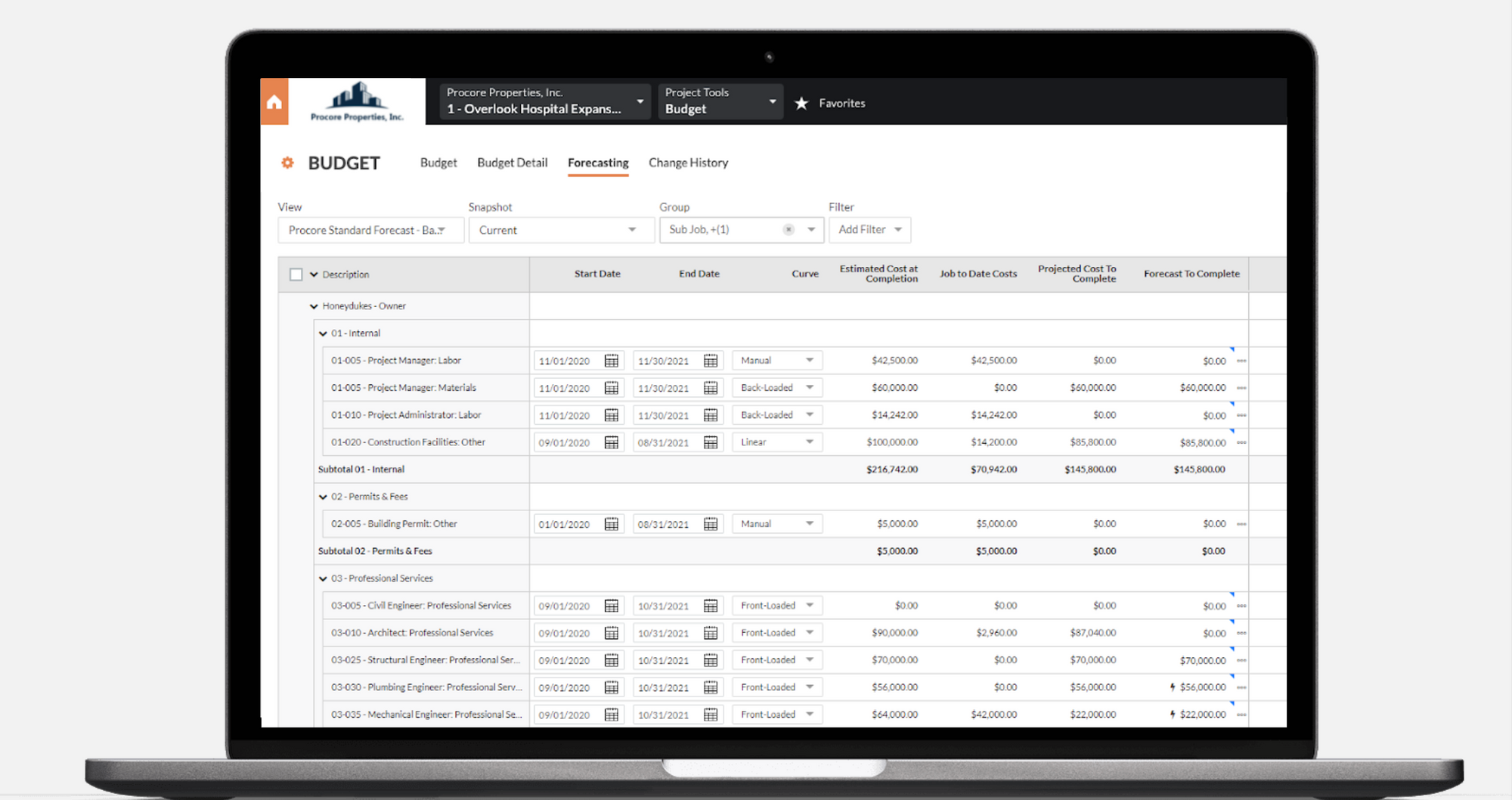 Owners: stay on top of what's ahead
With Advanced Forecasting, you can now ensure your internal and external business stakeholders are informed on capital spend across your portfolio. This new solution can help you maximize the value of your capital projects by tighter cost control throughout the project lifecycle and insights into future cash needs. As a result, you and your business partners can more easily free-up or draw-down cash at the right time rather than letting it sit idle waiting to be used.
Michael Capuzzi, CFO at The Vorea Group sums up the value his company is experiencing from this solution as "Procore's Advanced Forecasting feature has enabled us to streamline, accelerate, and automate our monthly forecasting process. Its ease of use and direct integration with Business Intelligence applications create a utility that far exceeds other tools currently on the market."
General Contractors and Specialty Contractors: gain greater insight into project health
With Advanced Forecasting, you can not only better understand the health of individual projects, but also your full book of business with forward-looking insights into cash coming in and out on a monthly basis. This solution also provides an easy, accurate way to pull together monthly cash flow projections when requested by your Owner, helping to support a healthy and collaborative business partnership.
Start today
Advanced Forecasting provides you with one flexible and centralized solution with actionable time-based forecasting that will ultimately reduce financial risk and ensure adequate capital is available when you need it.
Advanced Forecasting is now live for all current Procore customers with the Project Financials solution. Learn how to start using Advanced Forecasting or reach out to a Procore customer support representative.
Not a customer yet? Request a demo today.