Recapping Highlights from Groundbreak 2022
Groundbreak officially came to a close last week. Throughout the second day, attendees experienced keynotes by Fred Mills and Reshma Saujani, over 50 cutting-edge breakout sessions and an evening of live music and fun.
Here are some of the top takeaways from day two:
Fred Mills Keynote: The Future of Construction
The second day of Groundbreak opened with a keynote address from Fred Mills, founder of The B1M—a leading voice in the conversation about the future of construction. During his keynote, Mills spoke to the critical task of attracting the best and brightest minds to our industry.
"Look at what we've achieved and the world we've built with an imperfect industry. Now imagine what we could do if we came together to collaborate in a more compassionate, more open way," said Mills. "We could get millions of people on this planet to come into our sector to choose to work. We could be that compassionate place to work. We could move the dial on climate change. We could go home at the end of the day and have our family and friends respect us and understand the invaluable contribution we make towards bettering this world."
Breakout Sessions Helping Attendees Grow Their Skill Set, Team and Bottom Line
There were a number of thought-provoking breakout sessions hosted by various industry experts.
Construction Retention Report: How Workforce Surveys Are Driving Strategy
The number of women and minorities in construction has hovered at the same rate for 25 years. Retention and promotion are just as important as recruiting these individuals. In this session, panelists discussed the Construction Retention Report: How Workforce Surveys are Driving Strategy to provide a deeper look through survey data to help understand where to find blockers.
"One of the things that really jumped out to me from the research was the way that belonging is being felt throughout the industry, and how much DEIB leadership has come up to the surface as something companies are looking for," said Yuhi Aizawa-Combatti, senior diversity, equity & inclusion manager at AGC of CA.
The Labor Shortage & Mitigating Risk
Industry experts Christopher LeMieux and Daniel Graves discussed the top risks contractors face on a project relating to scope, schedule, contracts, and claims. The session was moderated by Jeffrey Yoders, associate technology and equipment editor at ENR, and featured an engaging Q&A with the audience.  

Celebrating the Industry's Boldest Achievements at the Groundbreaker Awards
Throughout the conference, Procore honored the companies, projects and individuals that are driving excellence across the construction industry. Kassy Morris, Head of Procore Construction Learning, presented the nine awards to the winners of the 2022 Groundbreaker Awards.
See the complete list of winners here.
Reshma Saujani Keynote
Activities at the convention center closed out with a keynote hosted by Reshma Saujani, leading activist and founder of Girls Who Code. Saujani highlighted how diversity and inclusion can unlock innovation.
Closing Out With a Groundbreak Bash
The conference came to an end at New Orleans' iconic Champions Square with an evening of local Louisiana bites, live music, cold drinks and fun games. At the bash, attendees connected with construction leaders from around the globe while enjoying the best New Orleans has to offer.
Want More?
Unable to attend the conference this year? You can still register for Groundbreak Live to catch up on all the product keynotes and 15+ recorded breakout sessions.
November 9, 2022
The first day of Groundbreak was filled with new connections, industry insights and inspiring stories of resilience. Taking place in New Orleans, over 3,000 of the most passionate thought leaders from around the world gathered to discover, learn and innovate.
Here are some of the top takeaways from day one:
Procore's Vision for the Future of Construction
The event kicked off with a compelling keynote hosted by Tooey Courtemanche, Procore Founder, President, and CEO, and Wyatt Jenkins, senior vice president of product. Together, the two leaders highlighted some of Procore's newest product updates.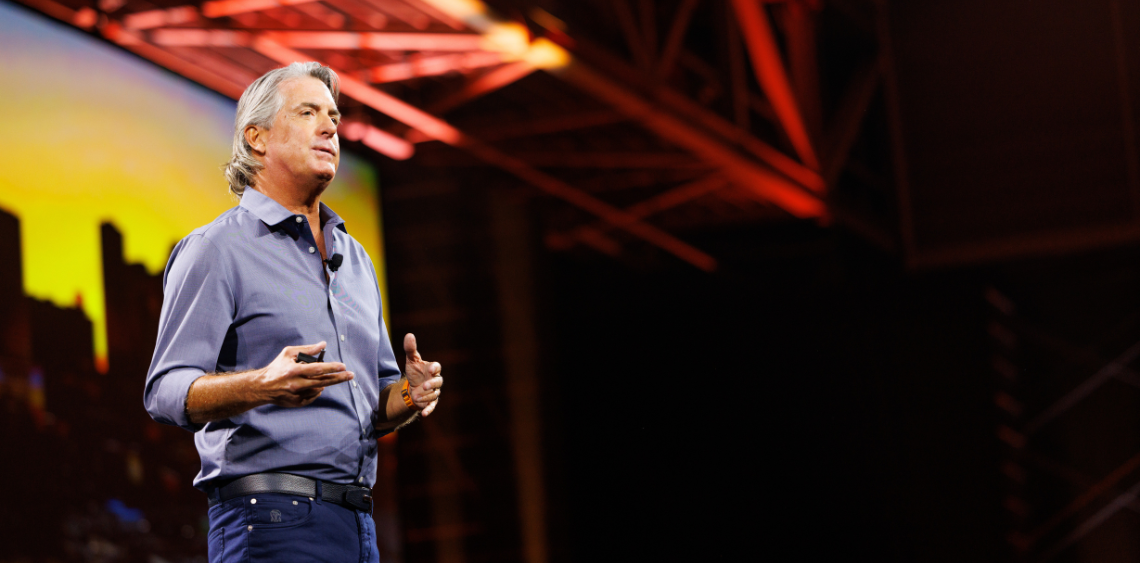 During the keynote, Courtemanche also spoke about the incredible work Procore customers are accomplishing on a daily basis. "I come from this industry and I have so much respect and admiration for everything you do," said Courtemanche. "Let me assure you that this love of construction is truly a part-of the Procore ethos. We are invested in understanding your world so we can help solve your biggest challenges."
Exploring All That Groundbreak Has to Offer
For the first time this year, Procore's Diversity, Equity, Inclusion, and Belonging and Women in Construction teams co-hosted a dedicated "Inclusion Lounge" in the Expo Hall. There, attendees had the opportunity to connect, expand their network and continue the conversation with session speakers and Procore employees.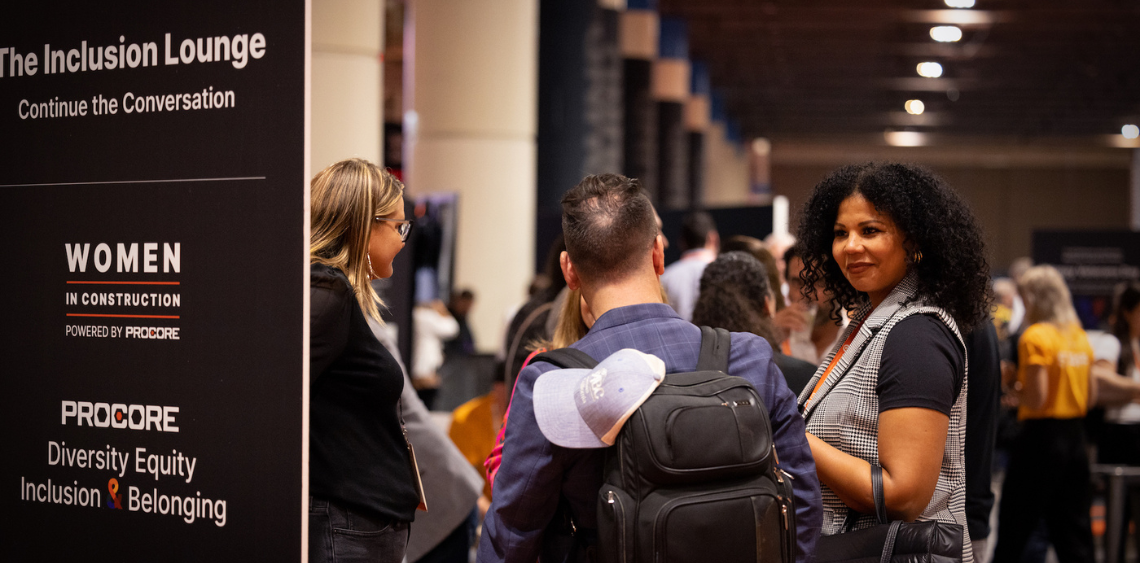 Attendees also visited the Procore Innovation Lab, an institution at every Groundbreak. In the Innovation Lab, customers spoke directly to Procore experts, offering their feedback and helping to influence the future direction of Procore.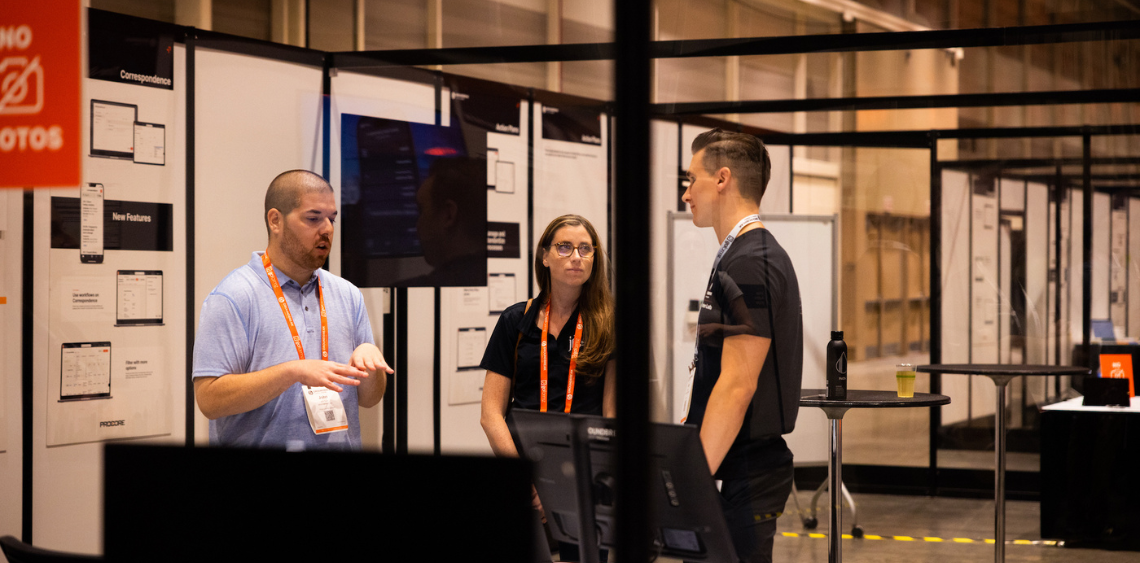 Attendees also took a break from the day's activities by playing a quick game of ping pong in the Expo Hall, customizing a piece of Procore apparel at the Hat Bar, and networked with other Groundbreak attendees in the Procore Community Hub.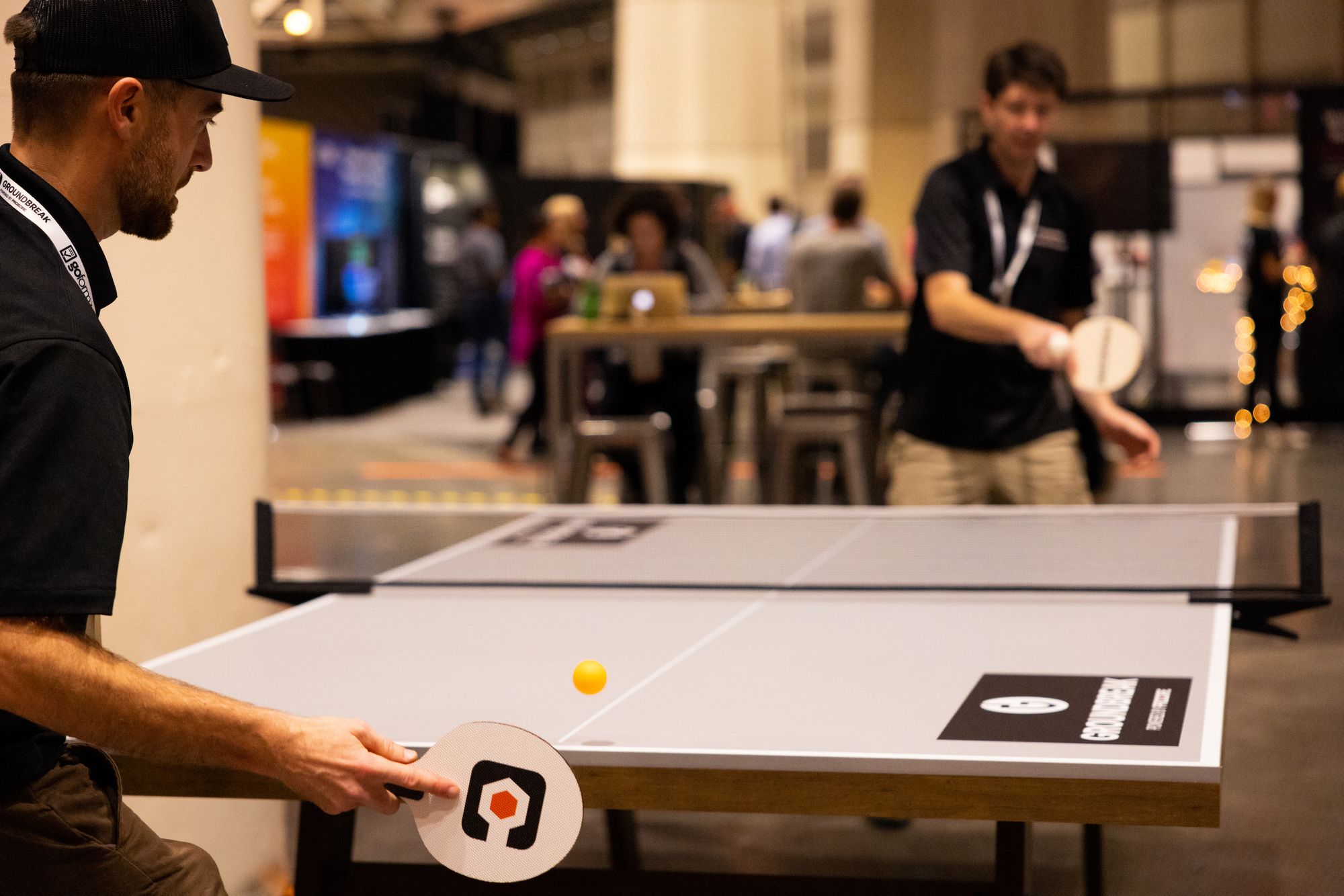 Breakout Sessions Helping Attendees Grow Their Skill Set, Team and Bottom Line
Throughout the afternoon, there were a number of thought-provoking breakout sessions hosted by various industry experts.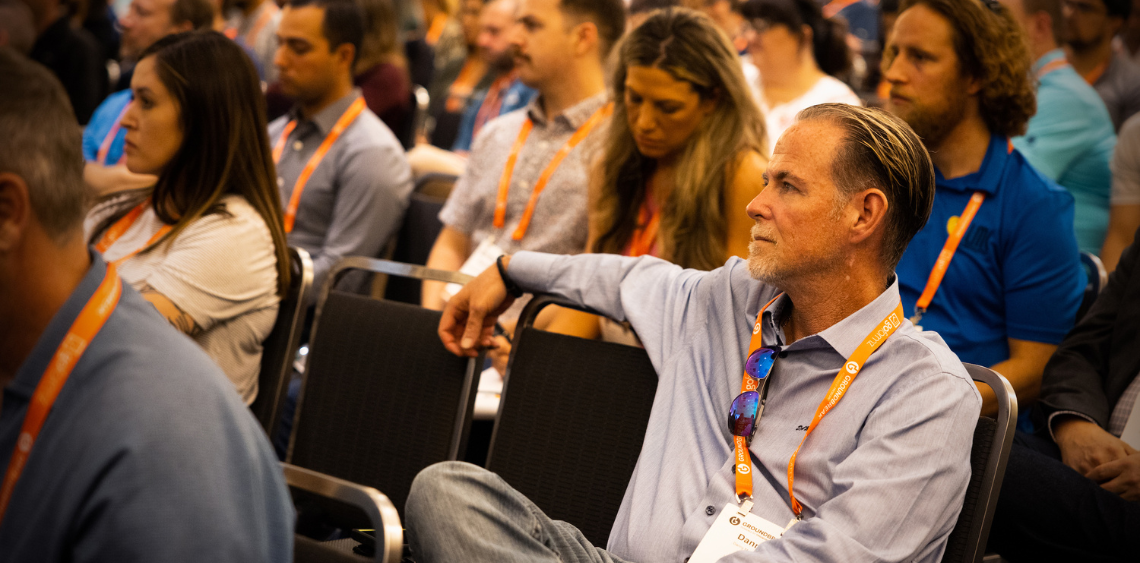 Carbon Cartography: Mapping Your Way Towards Carbon Reduction
Myrrh Caplan and Erin McAlear, Skanska USA Building's resident "Carbon Cartographers," led an engaging breakout session about how to build efficient and data-driven carbon roadmaps.
"Based on conversations I'm having with clients all over the country, there's going to be a huge increase in demand for carbon-neutral capabilities," said Caplan. "All of us in this room have to be ready for this wave that's going to be hitting very quickly."
Harnessing Technology as a Trades Training Tool
Trade association and union training leaders Josh Bone of ELECTRI International, Andy Carr of United Brotherhood of Carpenters and Todd Mustard of The Association of Union Constructors (TAUC) gathered to discuss the current state of construction technology in the industry and how it enables them to up-level their workforce.
"We need to incorporate technology into our construction education because it actually accelerates learning," said Bone. "I say expose the next generation of professionals to construction software early and as often as possible."
Building the Foundation for Inclusion
At this breakout session, Procore Director of Industry Advancement Sasha Reed was joined by leaders from DPR Construction and McCarthy for a roundtable conversation on how to create a stronger culture of inclusion that enables everyone to thrive.  
"Inclusion is the easy entry point, all humans want to feel like they matter. It's a natural human condition, even for introverts, to feel part of something bigger than themselves," said Stacee Barkley, Global Diversity, Equity and Inclusion Leader at DPR Construction. "Inclusion may start with "I" but it includes "us" right in the middle of the word."
Over the course of the conversation, the panelists highlighted Construction Inclusion Week, how it was established and how it has evolved since its inception in 2021.  
Fireside Chat with Drew Brees
The first day closed out with an engaging fireside chat between Procore CDO Joy Durling and former Super Bowl MVP-winning Quarterback Drew Brees. Over the course of the conversation, Brees spoke about how success is driven by teamwork, on and off the field.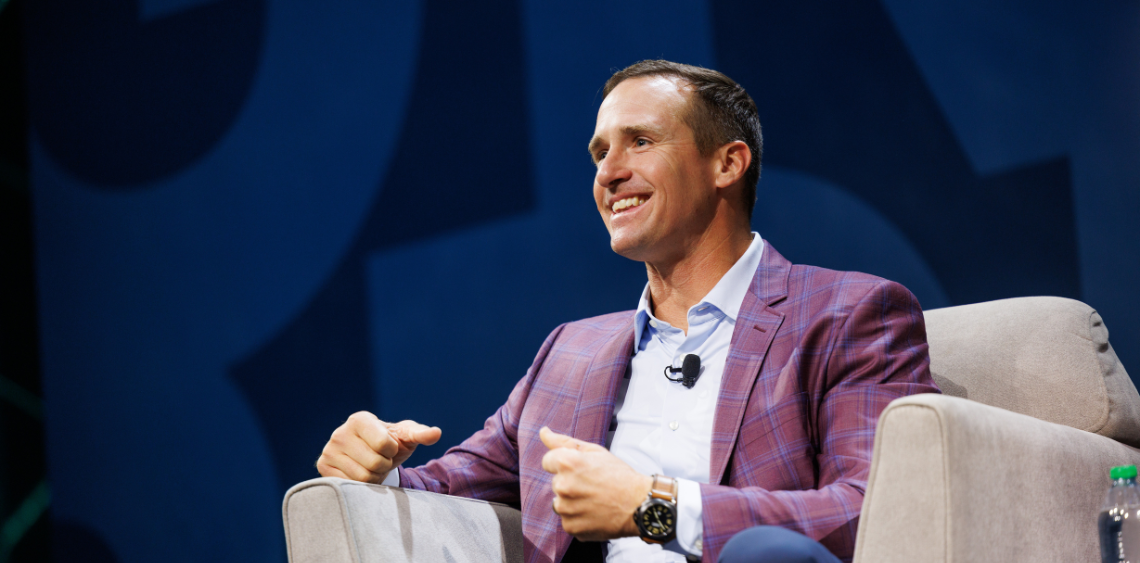 "My best advice is find a mentor, be a mentor," said Brees. "I learned the most, not from books, not from classes, but by speaking with people who did it and then applying that knowledge."
Groundbreak Video Diary
Check out this vlog from Bo Mangles, Senior Director of Product Marketing at Procore to see his experience at Groundbreak first-hand.  
Check back here soon for a full recap on all day two has to offer.
Unable to attend the conference this year? Register now for Groundbreak Live to catch up on all the product keynotes and 15+ recorded breakout sessions.