Shifting the Construction Industry From Defense to Offense with the Top 10 Enhancements of 2022
Our mission and product strategy are one and the same - to connect everyone in construction on a global platform. This means empowering our customers to move from playing defense to offense by making business decisions that help their businesses not just survive but grow and thrive. It's the connective power of Procore that empowers teams to leverage technology and data to get ahead of the game and see problems before they arise.
In 2022, we doubled down on this strategy to empower our customers to make the critical shift to offense. Here are the top 10 releases of 2022:

#1 Evolve From Bidding to Building Faster with Bid Management 2.0
Bid forms, a feature within the Bid Management 2.0 experience, make it easier to break down scope and cost information to help standardize responses. The Bid Leveling feature for bid forms in the Bidding tool allows you to compare bids so that you can more easily decide who to award a contract to. Similar to the original Bidding experience, you can now award a bid and convert it to a contract in the project's Commitments tool.
#2 Find More Business and Let More Business Find You With Procore Construction Network
Procore Construction Network (PCN) is a digital directory for general contractors, specialty contractors, owners, suppliers — bringing together everyone in construction — to strengthen their online presence and find new partners. Once you've found companies on PCN you may want to invite to bid, add them to your directory to send them invitations.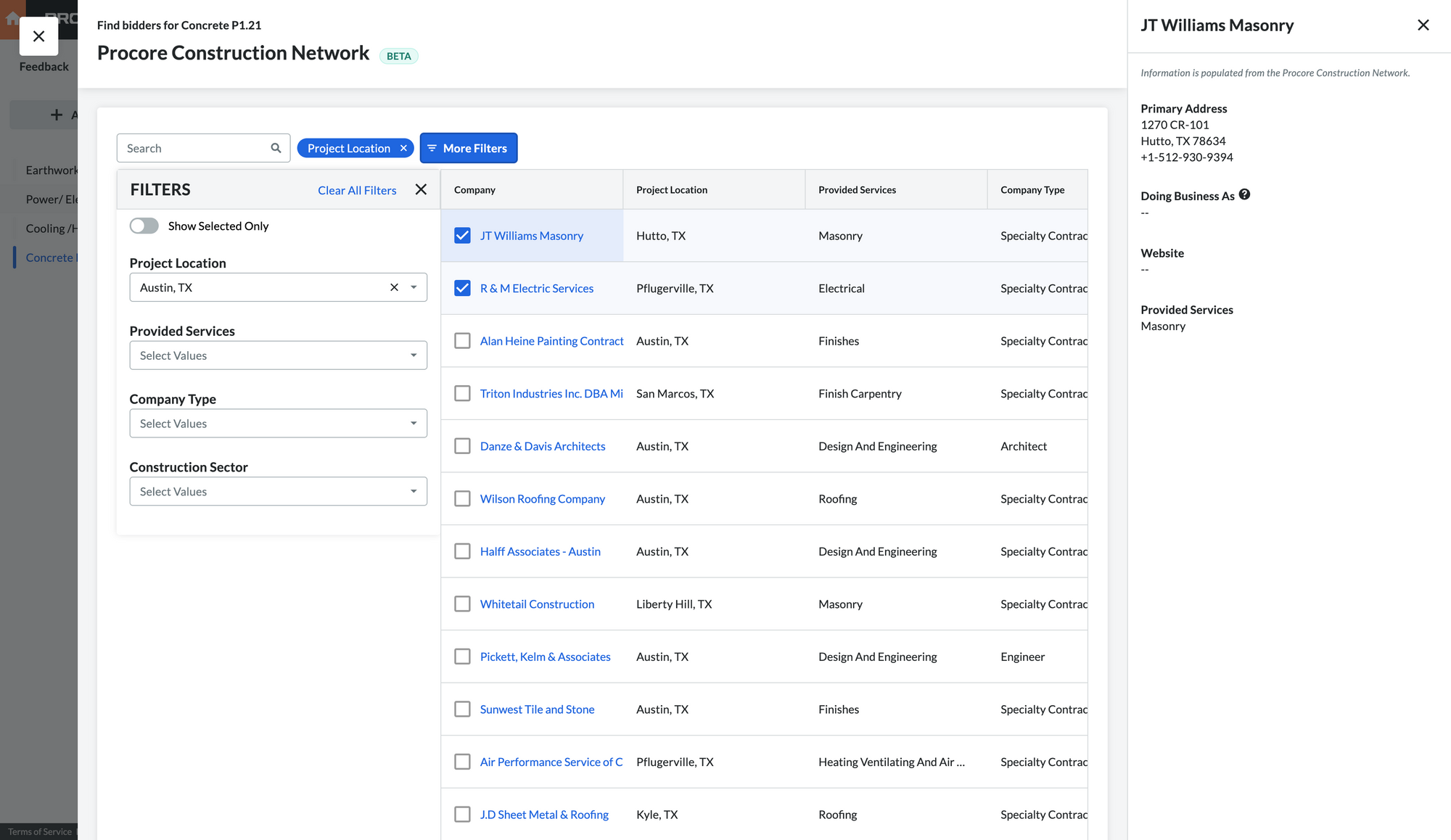 Bonus: Procore Automated Area Takeoff enables users to reduce the amount of time required to perform area takeoff on large, complex jobs. By automating the area takeoff process, specialty contractors can avoid timely mistakes and rework, achieving a significant competitive advantage.

Procore's newest product, Workforce Planning, creates a single source of truth for contractors to manage their most important asset — their people. Unlike spreadsheets, whiteboards, or in-house-built solutions, Workforce Planning centralizes scheduling and communication with real-time insight into a workforce's availability and skill set. It also uses historical data to understand what resources are needed from one job to the next and integrates with human resources and enterprise resource planning systems.
"Workforce planning means a steady manpower curve. We're trying to flatten out the peaks and valleys of ramping up on a project and trying to plan for the next project." - Casey Corbin, Project Manager, Legacy Mechanical
#4 Simplify Time Entry for Your Workforce
Leverage smarter time entry logic to streamline the process. Rather than setting the same defaults for all entries, users are now able to automate start, stop, and lunchtime defaults on projects.

#5 Make Better Decisions Based on Your Data with Enhanced Reporting
Procore's enhanced reporting for Financials tool gives users fast and accurate insights into business and field operations. Alternatives, such as Excel, require manual updates and maintenance. However, Procore Enhanced Reporting allows users to easily access and analyze project information to help mitigate risk, streamline processes and make data-driven decisions.
"Procore Enhanced Reporting is a reimagining of a tool that allows our project teams to easily create the reports with the information that they need. Self-serve reporting is integral to managing projects efficiently, and the new Enhanced Reporting tool lowers barriers to entry with report creation." Andy Lane, Construction Technologist, Kitchell
#6 Take Action with Change Management
Fortunes are made on proactive change management. Empowering teams to take action on potential project financial risk has been one of our main goals in 2022. With increased flexibility, users are now able to take action with improved data quality, visibility into financial risk, and greater process efficiency.

#7 Leverage Action Plans to Set, Define and Execute Your Plan With Confidence
Managing and executing action plans made simple – from quality and safety to project closeout. Teams can search within sections or line items, mark plans as private, track details through a notes field, and progress through a status field. Additionally, correspondence, documents and analytics tools are connected to Action Plans creating a deeper connection to the rest of your project data.
"We knew if we digitized our quality program through Procore Action Plans, we could understand, at a glance, the quality level of 40+ projects and then actually report on those metrics to hold teams accountable." Johnathon Grammer, Director of Operational Excellence, Rogers-O'Brien Construction
#8 Stay Ahead of Safety Issues With Procore's Inspections Tool
The Inspections tool improves project-wide collaboration on the different types of inspections throughout the project lifecycle. In 2022, we added enhancements like the scheduling functionality and simplified template building to reduce the administrative burden. With more complete inspections, teams can better identify hazards before they occur.
#9 Collaboration Made Easy with Procore Conversations
Procore Conversations is our newest platform tool that simplifies and centralizes project collaboration by connecting the entire team to one communication hub. Now, users can easily connect with project stakeholders about key project items inside Procore, both in the office and on the jobsite.
Users are able to send direct messages and/or start group chats in just a few clicks. Additionally, users can pull up project information, like an RFI or Observations, and start a collaborative thread about this specific item with your project team, increasing accuracy and accountability.

#10 Significantly Cut Down the Time Required to Log Items in the Field With Quick Capture
Procore Quick Capture is voice-enabled input technology that can significantly reduce the time needed to create observations or punch items in the field. Record short videos of issues on the job site and speak to tell Procore what each item should be titled.
"Procore Quick Capture took 1/10 of the time to capture items on a punch walk." - Ben Bateman - Okland Construction (US)
Click here to watch our demo video
These are some of the most impactful Procore innovations created in 2022, and they are all connected to build the Procore platform. It is the unique connective tissue of Procore that empowers teams to leverage technology and data to get ahead of the game and see problems before they arise. As we look to 2023, we are doubling down on our mission to connect everyone in construction on a global platform.
See all enhancements from 2022, and keep up to date with all release announcements at What's New in Procore.
Interested in learning more about how construction leaders are using the Procore platform to drive positive results in their business? Review Unlocking the ROI of Construction Technology and download the full report.