Simplify Timekeeping and Accelerate Payroll with Procore Field Productivity
According to the US Chamber of Commerce Commercial Construction Index, the skilled labor shortage continues to be one of the largest obstacles contractors are facing today. With strapped labor resources, it is more important than ever for contractors to ensure their teams are leveraging technology to streamline workflows and maximize productivity.
The most recent product releases for Procore Field Productivity support the industry workforce by making it easier for teams to capture the right information from the start and do more with less while improving efficiency and performance.
One of the biggest barriers limiting a team's productivity are paper and spreadsheet-based tools that result in the manual double-entry of information, which can also lead to errors and bottlenecks.
Adopting a digital solution can offer construction professionals a competitive advantage in today's labor shortage by streamlining workflows and documentation efforts. Our latest product releases will simplify the time tracking process, allowing field teams to focus on their work, rather than filling out complex and redundant data entry forms.
Procore Field Productivity helps users to customize timekeeping data entry better, identify timecard mistakes earlier, and reduce duplication between Timesheets and time and material (T&M) Tickets, resulting in a more productive team and streamlined process for payroll.
Here are a few of the new key features:
Configurable and Customizable Fields
Standardize data entry for timecards and increase accuracy for data imported into users' payroll systems with the improved flexibility in Timesheets and My Time. Now with the ability to add company-specific fields and define which fields are required or optional, users are enabled to administer payroll standards and reduce the noise for the field team entering time.
"Prior to having a custom field for per diem, our field personnel were having to duplicate entries for employees that received per diem on the applicable days. With the custom field checkbox, it's a single entry with a simple "toggle" for per diem, when applicable." - Rodney Woodham, Project Manager, A.G. Peltz Group LLC
Multi-Tier Approvals
With a built-in approval process on the Timesheets tool, users can review and approve timecards from anywhere. Added verification checkpoints between when the timecard is created and when it is processed separately into a user's payroll system help enable users to identify mistakes earlier in the review process. This aims to streamline the process from field to office so labor costs may be kept up to date and employees may be paid on time.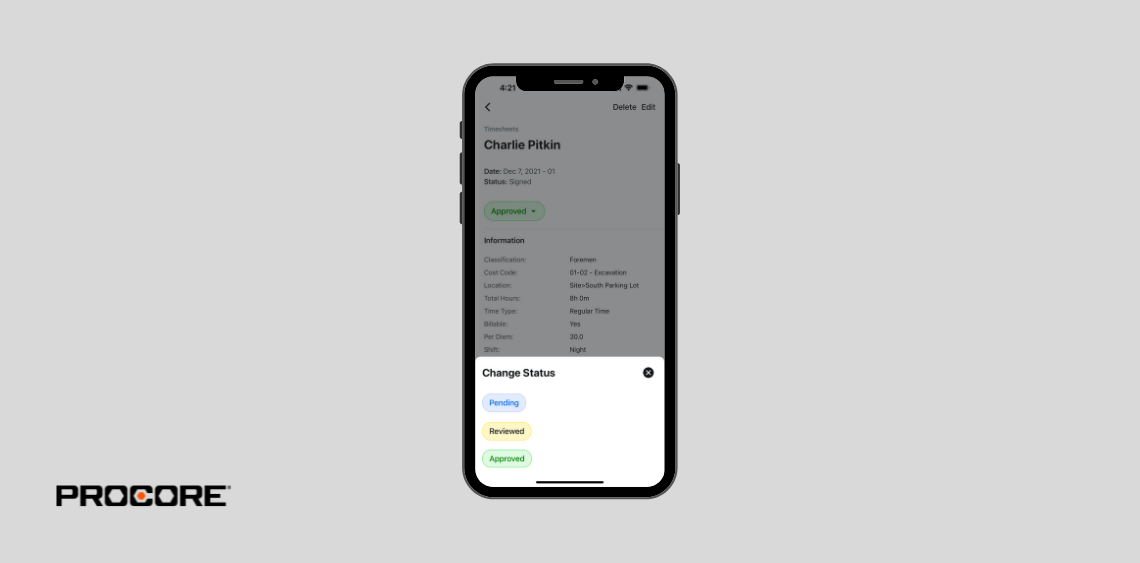 "The time savings carries over to our office staff, in the ability to download timesheets and not having to manually key the data in." - Rodney Woodham, Project Manager, A.G. Peltz Group LLC

Import Time Entries to T&M Tickets
With the new "Import Timecards" functionality, field teams can focus on entering time accurately once at the end of the day. The appropriate time entries are copied directly to a T&M Ticket so work can be verified by clients, which allows for teams to promptly begin the payroll process.
"The value for the folks on site is more than just time savings. Procore reduces the duplicate entry between Timesheets and T&M Tickets so they can do the hard work they are on site to do. The information is only captured once so it's accurate and ensures we get paid by our clients."- Justin Weidner, Civil Division Manager, A&R Mechanical
No more duplicate entry from Timesheets, to T&M Tickets, and again into a change order. Users can now manage extra work from start to finish in a single solution. Field teams can save time on entering information so they can focus on getting the job done more efficiently, and the folks in the office can get notified in real time to generate a change order request in Procore's Change Management Solution.
To learn more about Procore Field Productivity and harness the power of Procore's connected solution for Specialty Contractors, click here or request a demo.