Simplify tracking your daily logs with these new features in Project Management
Knowing what work was completed and details about who was onsite is critical to keeping a project schedule on track. Creating a daily log is a necessary part of the construction process, but it's a process that can be cumbersome because of the amount of time it takes to complete. Today, we're introducing new features to our Daily Log tool in Procore Project Management that will enable and encourage specialty contractors and superintendents to complete their logs everyday quickly and efficiently.
Daily Log Calendar View
The calendar view, available on web and mobile, gives superintendents and project managers (PM) an overview of the daily logs collected on the job for a specific day, week, or month. Through this feature, it is easier to see which days have pending collaborator entries and internally approved entries, as well as which days or weeks have all daily logs completed and approved – making knowing who is on the job site and reviewing trade activity from all subcontractors or speciality contractors easier.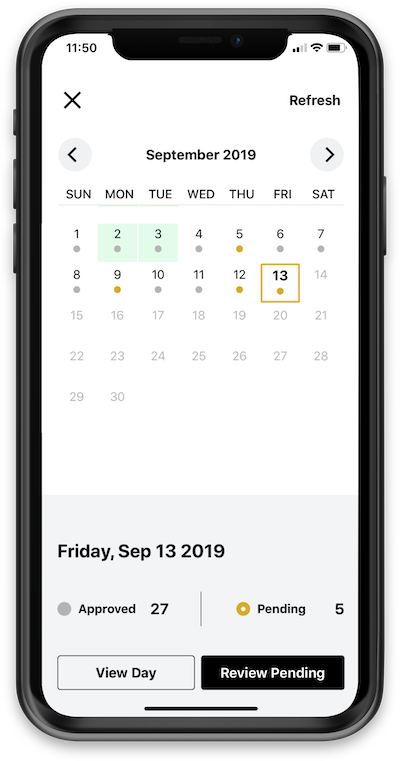 Manpower Log
Through predictive manpower logs, users are able to collect information about the companies onsite, the number of laborers, their hours and the cost code associated with their work.
Users can select which trades they need daily logs from in order to create pending entries. The option to choose what trades need logs for each day are determined by the previous workday's data. Users can identify the trades they need to include in the following day's entries as well, saving time on double entry. Users are then able to sync this list to their mobile device.
If the company is a self-reporting GC, the Project Manager can add in the hours of the tradesmen as well as any additional comments and then approve the logs themselves. As a collaborative GC, that has invited subcontractors to work within Procore, the manpower logs will serve as a list of trades expected to provide logs for that day. This simplifies the process for Project Managers and Superintendents when sourcing, reviewing and approving logs.
Customizable Fields within Manpower Logs
Lastly, users are now able to customize the manpower logs. This feature allows users to update the logs with specific information required by their company in order to track laborers and their hours on a project effectively. Customizations include, but aren't limited to background checks, daily hazard analysis and equipment use.
Learn more about how the Daily Log enhancements can benefit your company.