Strengthen your risk management strategy with a modern prequalification solution
Managing risk in a labor-driven industry with a growing shortage of laborers means you need to find a balance between healthy bid coverage and tighter bidder selection controls. Today, we're introducing a new product to help you strike that balance and simplify the selection process – Procore Prequalification. This new product is a qualification solution that reduces the time it takes to collect and evaluate a company's capability and capacity to perform work so you can quickly identify the lowest risk partners and subcontractors.
Expanding on Procore's preconstruction solutions aimed to maximize time and minimize risk during the critical preconstruction phase, Procore Prequalification provides companies with tools to increase efficiency during the bidder evaluation process. We made it easy to create and configure your company's default prequalification form with a robust list of questions selected by industry professionals; simplifying the collection of general information, safety, insurance and bonding, and financial data.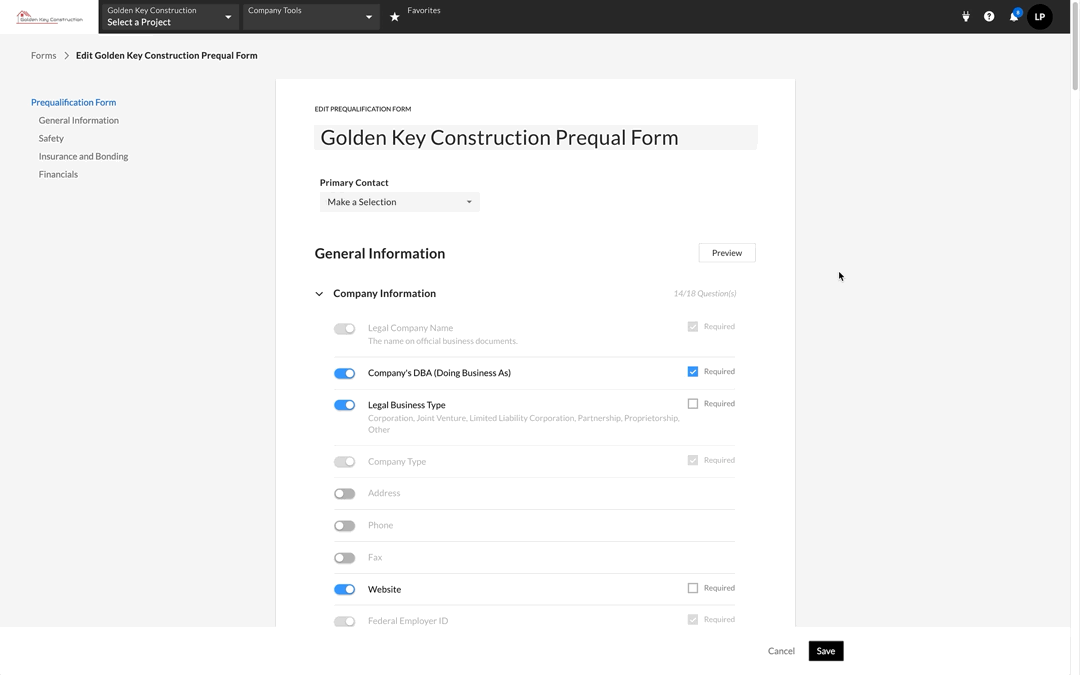 With additional features that allow for internal comments and change requests, you can open the doors for collaboration across various stakeholders involved in the approval process and ensure that your forms are accurate and statuses are up-to-date.
"Once up and running we will be able to accurately manage our subcontract award procedure, therefore reducing risk to our bottom line," said Curt Giebeig, Vice President of Estimating, RA-LIN, who says that many existing processes that lack visibility and consistency can put the industry at risk for subcontract default.
Since Procore's preconstruction products are built on the foundation of the Procore platform, data will seamlessly flow from one product to the next so you can focus on building competitive proposals, rather than transferring or re-entering data. Once you begin qualifying companies through Procore Prequalification, you can stay in the same system and transition right into the Procore Bid Management product where you can filter by qualification status, invite qualified companies to bid, and award the bid to the company that best suits the need of the project.
"Information is immediately accessible to [our] Estimating and Project teams, so they won't waste time sending emails trying to get information," said Amanda Finnerty, Director of Internal Operations, Commodore Builders. "Our teams have a lot on their plate and they don't have time to jump from one software to another in order to find the information they need to get the job done."
Learn more about how Procore Prequalification can help you strengthen your company's risk management strategy.