Suffolk Boosts Speed and Quality Through Smartvid.io Integration
For over three years, Suffolk has been a valued Procore client. As construction leader and innovator, Suffolk, is always exploring new ways to improve and propel business forward. It's no surprise that Suffolk uses Procore to its fullest potential by taking advantage of the platform's open API. The open API allows users to build integrations with Procore resulting in applications that allow for a much faster and seamless workflow. You can view the more than 90 apps currently in the App Marketplace.
Suffolk is "Building Smart"
Suffolk's vision is to "transform the construction industry by building smart." With $3B in annual revenue, Suffolk is an industry leader with extensive operations across the U.S. and is regarded as one of the most innovative companies in construction for its adoption of "smart" new technologies and building methods.
Today, Suffolk manages some of the largest and most complex projects across every major industry sector. Among those hallmark projects is the Four Seasons Hotel & Private Residences––a 61 story mixed-use development transforming the Boston skyline.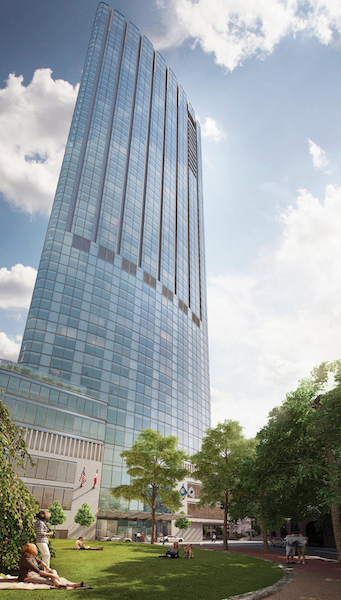 Improved Speed and Quality
Since adoption in 2016, Suffolk has standardized all of their workflows and processes with Procore, managing literally thousands of scheduled activities through its use of checklists, RFI's, submittals, and document controls. At the Four Seasons Hotel & Private Residences, located at One Dalton Street, Suffolk is using Procore's direct integration with Smartvid.io to improve the speed and quality of its progress and key milestone documentation processes.
Suffolk's old approach to documenting progress involved taking lots of photos, downloading, labeling them manually, and uploading them to a server. Now, field engineers take daily narrated videos and photos that are automatically sorted and indexed by Smartvid.io's machine-learning powered "SmartTags."
"Video is faster to capture than a bunch of photos and our teams can now simply speak, using Siri for example, to indicate any location, room numbers, construction processes, or subcontractor names that describe the work being documented," explains Suffolk Assistant Superintendent, Shane Sampson. "Smartvid.io does the hard work behind the scenes to automatically "label" our videos and photos with its speech recognition engine. It's better than Siri because we define what we want the SmartTagging engine to listen for--like room and floor numbers."
Labor Savings of 80 Hours
Suffolk's new approach for tracking progress has cut the time required for progress tracking and milestone documentation by over 60%, while also creating a dramatically better, more comprehensive, visual record. And because the Procore and Smartvid.io integration is bi-directional, Procore is constantly updated with the SmartTags Smartvid.io finds so Procore's search results are better than ever.
While Suffolk's labor savings of 80 hours per month at One Dalton is compelling by itself, the real benefit of Suffolk's discipline in tracking progress is improved communication with Suffolk's own quality, safety, and executive teams. The tool also provides better project visibility, coordination, and dispute resolution with its architects, engineers, subcontractors, and its owners.
You can access the full case study here.
---
Interested in building out an integration with Procore that increases productivity on the jobsite? Join more than 1,000 third party developers who are currently working on integrations. Visit our AppMarketplace to learn more.