The People of Procore: Nathan Hessler, Engineering Manager
In this series, we spend time getting to know some of the people who make up the Procore culture.
Nathan manages a team of five engineers working on Identity Access Management (think logging in and permissions). He moved from Washington, D.C. to California about 11 months ago to join the Procore team.
How did you end up at Procore?
I saw Procore Engineer Brad Urani on stage at RubyConf in 2015. His excellent technical talk combined with Procore's sponsorship of the conference sparked my interest in applying. I knew a company involved and contributing to the dev community was a place I wanted to be. In the interview process, I fell in love with the people, environment, engineering challenges and genuine conversations. My most significant new job requirement was continuing the challenge of improving my management skills, and Procore was one of the few companies I interviewed with that was remarkably transparent on how to get there. And, hey, who doesn't want to live in California for part of their lives?
Tell us about your time as a General Assembly instructor.
My career reached a point where my learning plateaued, and I was frustrated and restless as a result. During this time, I had the opportunity to take a one-time class at General Assembly about how to teach. General Assembly is a business school focused on coding bootcamps, data science and UX. I didn't know it then, but that class set me on my next learning journey of aspiring to be the best teacher, manager, and leader I could. When General Assembly invited me to come back and co-teach a class series, I recognized it as my next learning challenge. I walked away from the first few classes with a massive headache from simultaneously writing code live, catching bugs, and answering questions. Although I was exhausted, I was also energized to develop new teaching strategies and figure out how to teach a complex topic and cater to individual learning styles.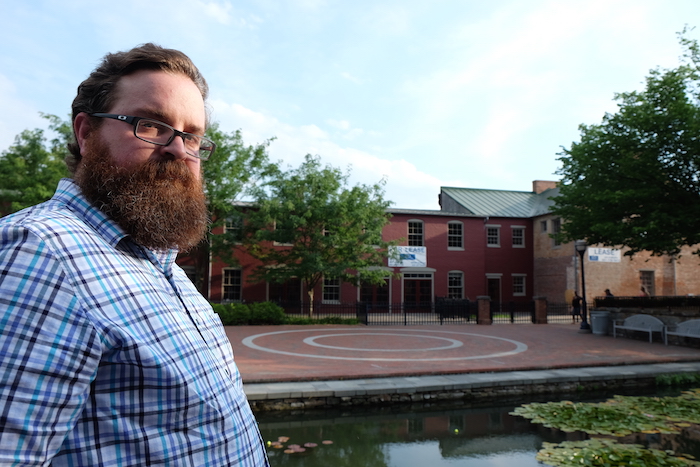 Nathan visiting Annapolis in the summer last year.
What do you do at Procore?
First, and most importantly, I am a manager at Procore. I know I've mentioned this, but I believe it's the most impactful piece of my work. I ensure my team is set up to realize their full potential and can accomplish great work independently while being on the same page as each other. I am also a facilitator, working with product managers, quality assurance engineers, and user experience designers to do the best work for our customers. There are a lot of moving and complex components that go into identity access management. It's like logging into Facebook- we need to confirm you are who you say you are, allow you to manage your page, set permissions for who can see what, connect you with other applications and more. It's a complicated dance that is meant to go unnoticed by the user.
Are you working on any side projects?
When I was living in DC, I helped manage a meetup called Code and Coffee, where developers met for a couple of hours to collaborate on projects. It was the perfect environment for learning and idea sharing. All we did was give people a space to meet, and they did the rest. The best part was seeing Code and Coffee spread the love of technical learning. I've seen parents bring their kids, and once, a kid bring in their parent! Because of what I saw of Code and Coffee in DC, I just organized the first Carpinteria Code and Coffee at the Procore Learning Center. There are many benefits of bringing coding communities together and I'm excited to see how it grows.
As someone who is passionate about learning, what is another topic you find interesting?
About eight years ago, as I was getting ready to start a new job, my soon-to-be new manager suggested I take a month off between my old job and starting at the new one. On day one of my vacation, I made a list of all the things I could do. In this time, I ended up getting my bartender's certificate, motorcycle license and traveling to Napa Valley for some of the world's best wine tasting. Once I knew more about how drinks are made, I jumped into the subject, more specifically, all about The Old Fashioned. I deep-dived on it to the point where someone bought me a whole book on The Old Fashioned- I can tell you it's origins, history, and how to make the perfect drink. The general rule for any cocktail is that it should be spirit forward and contain quality ingredients only. I think anything is incredibly interesting if you go deep enough.
---
Find your dream job and get the chance to work with outstanding people. Check out the open opportunites we have here.