Protect your profitability by tracking labor costs in real-time
The cost of labor can make or break your project budget. It's the most dangerous variable to any self-performing contractor's profit. Most often, contractors calculate their cost of labor every 1-2 weeks and that's only after payroll has been completed and the budget has been manually updated. Today, we are excited to announce enhancements to our Project Financials and Field Productivity products, which allow you to track the cost of labor against your bottom line budget, daily.
If you can't measure it, you can't manage it so keeping a tight feedback loop on progress and costs in the field is vital to delivering a project within budget. Through the power of the Procore platform, time submitted within Field Productivity will now automatically update the budget in Project Financials. This enables you to better understand the financial impact of labor the moment a timesheet is submitted. With this increased visibility into your most expensive resource–labor– you can identify at-risk scopes of work and act fast to make decisions that positively impact schedule, project budgets and profitability.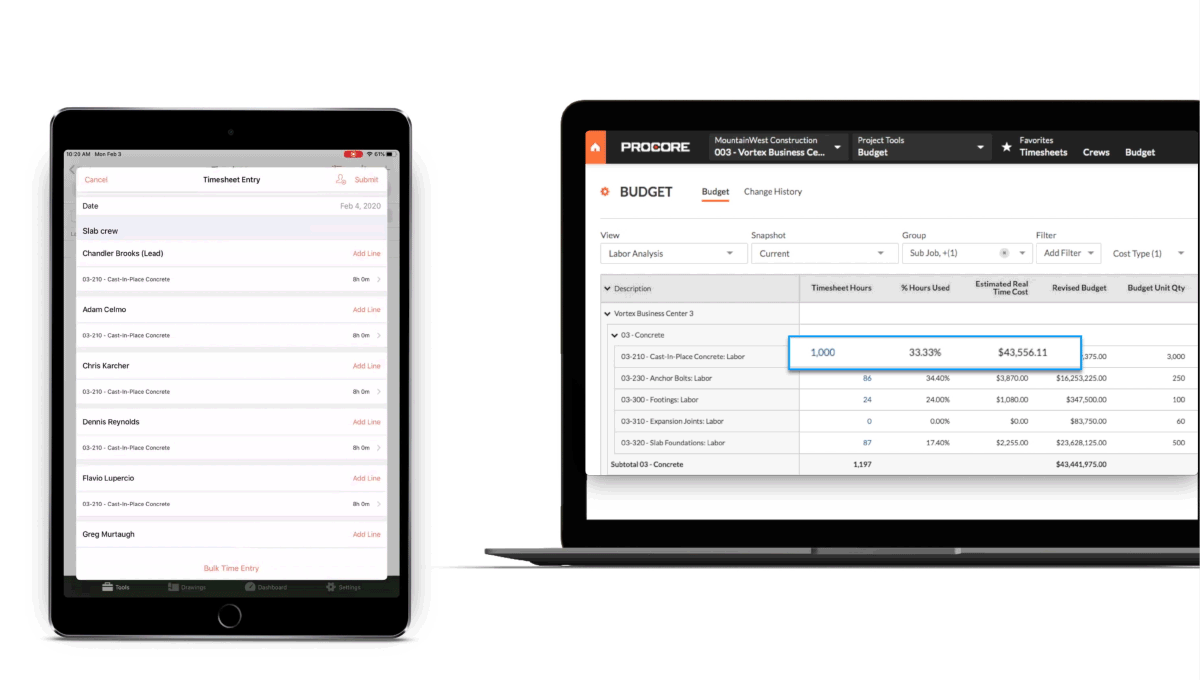 "Previously, in order to manage our cost of labor, we were using three different systems– this just wasn't efficient. Through Procore, I can see all the information in one place and understand where we stand on a project financially. I can see if we are running over budget and understand why. That's the information I need in order to talk to my team and quickly fix the problem," says Mike Arnold, Project Manager for Fessler Bowman.
You no longer need to operate off two-week-old labor cost data. This all-too-common practice is dangerous as labor costs associated with budget issues will likely have come and gone before a Project Manager takes notice, making it difficult to implement changes that protect the budget and profit margins.
"We need this information in real-time in order to make important decisions around resource allocation. In today's construction industry, manpower is the most precious resource. Tracking hours and labor costs with Procore helps us manage that resource more effectively. Across a portfolio of projects, we can aggregate productivity and cost data so we have insight into the overall efficiency of the company," says Robert Krueger, VP of Operations for Fessler Bowman.
Understand the financial impact of labor costs the moment time is submitted
Give field teams the insight they need to make decisions to drive the project forward, and company leaders an understanding of how to help the business run more efficiently.
Manage project costs at the level of granularity required
Manage self-perform work in Procore's budget with units, unit costs, and unit quantities so you can see all the relevant information in one place.
Simplify the workflow
Eliminate double-entry and the multiple systems that were required to aggregate this information before Procore.
Learn more about how you can start tracking labor costs in real-time.