Track Out of Scope Work With Procore's New Time and Materials Tickets
70 cents on the dollar.
That's what one speciality contractor called a win when they talked about recouping the cost of a time-and-materials ticket.
T&M tickets are a clear illustration of today's fast-paced, tight margined construction industry. Oftentimes on a project, extra work is required that wasn't part of the original contractual agreement. To keep the project moving, a commitment to complete the extra work in exchange for compensation might be made through a simple verbal agreement, handshake, or triple carbon copy paper ticket.
These commitments are critical in order to keep a project moving forward, but the self-performing contractor takes on a lot of risk under these circumstances. Unfortunately, even handshake agreements and triple carbon copies present the risk of being lost, forgotten or left unaccounted for. If project managers are never made aware of the extra work, they can't effectively secure payment for the resources they are fronting.
Now, with Procore's new T&M Tickets tool, self perform contractors can consolidate this fragmented process into a seamless field to office workflow, providing insight into any change from the field. Documenting, tracking and collaborating with project stakeholders helps ensure contractors get paid.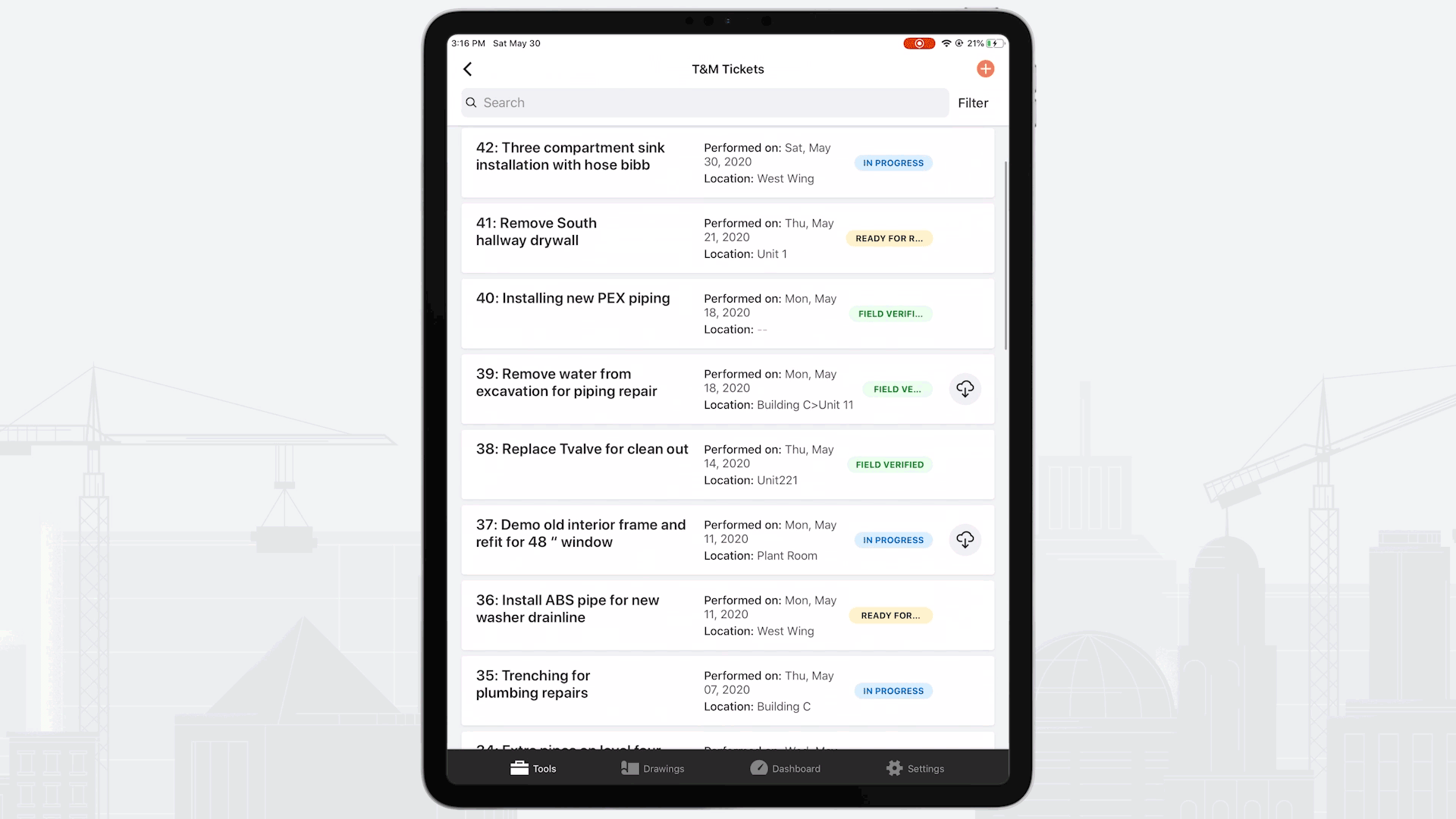 "I can easily use Procore to see if T&M tickets have been created, even if the field doesn't let us know. It simplifies the communication with the office and puts the power in the hand of the Foreman. The triple carbon copies and emails were tough to track down, required a duplication of effort and were sometimes submitted too late to get the cost covered. This tool makes us more efficient," said Joel Middleton, Vice President of Estimating at Dolan Concrete.
With Procore's simple and intuitive mobile application, field personnel can easily capture a description of extra work as well as the labor, equipment and materials associated. It's easy to attach photos and capture customer signatures. Notifications and automatic ticket status updates keep project managers back in the office informed and ahead of risk.
"The T&M Ticket tool improves our process because we can see the ticket instantly and the notifications give me, as the Project Manager, and our accountants, better visibility. The convenience of not having to keep track of a paper ticket is fantastic. At times, our employees have misplaced tickets and we have experienced problems recuperating those costs. I can spend up to 70% of my time chasing down tickets. Now, it's all in Procore," said Sam Nutting, Project Manager at Kember Interiors Inc.
The new T&M Tickets tool is available to Field Productivity customers at no additional cost. Learn more here.