What The Thomas Fire Taught Me About Procore
On December 6th, the Thomas Fire moved towards Carpinteria. Procore closed its Carpinteria Campus and asked employees to go home…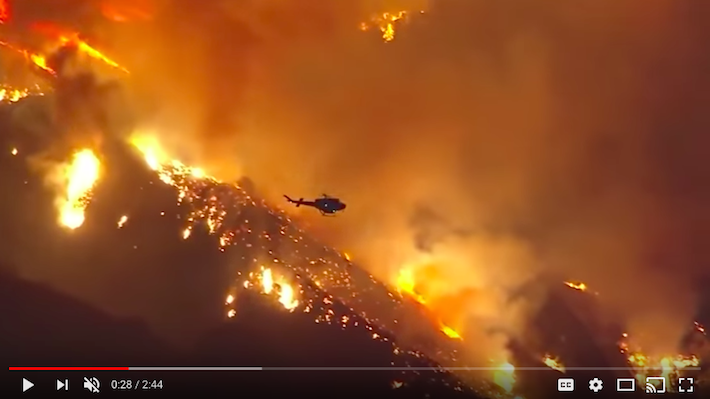 At the height of the Thomas Fire, the wildfire was powerful enough to generate its own weather, indicating that the Thomas Fire had become a 'firestorm.' There were periods of time when the fire was advancing at a rate of an acre a second.
The chaos and calamity of the Thomas Fire will be felt for years to come. As the 2nd largest fire in California history, it has no doubt left an indelible mark on our families and community. Thoughts and prayers continue to go out to everyone impacted by this disaster.
I moved to Santa Barbara and joined Procore's Learning and Development Team in March, and over the course of 2017, our team grew from three people to thirteen. As part of our Learning and Development Team's growth strategy, we identified five team-specific foundational values that have helped us remain aligned and focused in our team's mission to develop healthy leaders across Procore.
Here's what the Thomas Fire taught me about Procore, and the greater Southern California community, through the lens of our Learning and Development Team's Five Foundations:
1. Far, Together – We collaborate with the end in mind.
"If you want to go fast, go alone. If you want to go far, go together." Teamwork and communication quickly became the foundation of Procore's response to the fire. Almost immediately, and around the clock, people throughout Procore rallied together offering help, support, and even their homes for refuge and work. "Together" began to grow. The Santa Barbara community opened their doors to our displaced employees - Sonos, Invoca, The Sandbox, Impact Hub, and more. Within days, as many our staff evacuated from Santa Barbara, the greater Southern California community followed suit and opened their offices offering resources to help - Tangram, Service Titan, Jano Graphics, Surf Air, & CRESA. Calamity and chaos paved the path for collaboration, and our community has grown. "Far, together."
2. People Matter – We fight for the highest possible good in the lives of those we lead.
A group of employees took initiative and created the "Procore Helping Procore" GoFundMe Page, originally targeting a goal of $5,000. In total, over $15,000 was raised. In this time of loss, our team is fighting for one another and sacrificially serving others. I had the chance to talk with one mother from our team who was displaced and needed help. Within 24 hours, she received a gift card to help cover hotel and food. I was blown away by the immediate resources available for our people, from our people.
3. "Yes, And…" – We always start with yes AND work to find the best possible solution.
Because of the unexpected nature of the Thomas Fire, and the immediate evacuation from our campus for safety reasons, many people were unprepared to work remote for extended time. Computers, power chords, phones, and a host of office materials were stranded at the office. The facilities team knew the need, and they worked together to create a timely solution. They became "Smoky Santas" and delivered necessary items to our team.
4. Pioneering Humility – We admit our flaws, learn together, and pioneer innovation.
The Table Group--a leadership development program management is going through--has been teaching us that humility precedes trust, and trust precedes impact. On Monday, Dec 4th, the day before the fires began, Procore's Executive Leadership Team stood in front of a room full of Directors and vulnerably shared about their growth as a leadership team including specific examples of lessons learned from challenges and failures. Little did they know their example of humility and vulnerability would help galvanize a deep sense of camaraderie and commitment to one another only hours before the fire began. Our Executive Leadership Team is pioneering a new season for Procore with humility and vulnerability serving as the bedrock of trust.
5. Find A Way - We will cross the finish line.
When I heard about our facilities staff and other employees digging fire lines in the open space next to our Carpinteria campus, I instantly thought, "they're finding a way!" They were doing anything and everything to protect our campus and were committed to doing whatever was necessary to make it happen. The Candidate Experience Team rallied to meet the needs of our growing teams through a relentless commitment to hosting candidates exploring employment opportunities at Procore. Amidst the closing of our Carpinteria campus and the evacuation of so many employees, the team found a way to continue providing a best in class candidate experience.
---
To say it's been an honor to be part of Procore would be wildly insufficient. Procore is one of the greatest places I've ever worked, and the Learning and Development team has become one of the strongest teams I've ever been a part of. The past two weeks, and specifically the response from our Procore community to the Thomas Fire, have deepened these convictions tenfold.
It's been just over two weeks since the fires began, and while these lessons and learnings are immediate, they serve as a foundation for more to come as we move into the recovery phase of this disaster.
I'm humbled to be part of Procore and our Learning and Development Team. And I'm even more humbled to be part of the greater Santa Barbara and Southern California community,
Most importantly, to our brave firefighters – thank you for defending our community.