Your Field Team's Impact on Your Financial Health
Earlier this year, industry leaders around the globe tuned in to Procore's Cost Management Summit to better understand: where construction cost management is headed over the next 5 years, what they need to do in order to catch this new digital transformation wave, and what types of risk insights their peers are gaining from a connected solution. It was a light bulb moment for many attendees, especially for specialty contractors carrying a majority of the risk and dealing with the labor, material, and schedule impacts of the pandemic.
"Increased project complexity and the demand for faster completion are changing expectations for quality, cost, and schedule. With disconnected technology, teams, and processes, the need for fully integrated cost management is only growing." - Tooey Courtemanche, Procore founder and CEO.
Financial visibility is crucial, and most teams have difficulty achieving it, regardless of their size or trade. If it's something that we all want and need, what's keeping us from achieving it? The answer is: breaks in communication. In order to gain financial visibility and achieve financial health, you need connected workflows and heavy field participation.
While our Cost Management Summit reinforced the need to move toward a connected platform that integrates with your cost management solution, today I'm going to focus on the role your field team plays on your ability to achieve financial health, and how Procore can partner with you to make it possible.
Let's face it, when it comes to financial impacts, finding out what happened at the end of the project is important, but knowing what's happening in the moment means you can actually do something about it. A majority of change impacts happen in the field, in a chaotic environment with a lot of competing activities. In order to get real-time visibility into the nooks and crannies of day-to-day operations, conversations, and challenges your field teams are facing, you need a real-time, digital solution that acts as a direct line into them.
Your team needs to be using that solution, just like any of their other critical tools needed to do their jobs. They need to be incentivized to log critical information. Your connected solution must:
Bring your field teams value,
Positively impact their productivity without creating additional work,
Remove double entry, and
Provide peace of mind that information they log will get to the right people.
Provide them with value.
When it comes to value, Procore is enhancing day-to-day tasks for field workers—empowering them to work smarter, better, and more efficiently. Information needed to do their very best work is at their fingertips—including their shop drawings. With Procore's release of Dynamic 2D Views, the field is generating shop drawings directly from the federated model. Now, field teams can view consolidated structural and MEP systems straight from the model, zooming in and out to see dimensions and measurements that dynamically adjust as they change perspective. Tools like this make it easier for field workers to work efficiently, collaborate, and ultimately, save the project time and money.
"I'm on the layout side of things. Having access to elevation drawings on-the-fly and in Procore enables me to do my job more efficiently. It's all about having quick access to accurate information the moment you need it. Procore brings that to the table." - Josh Soules, Foreman, North Mechanical Contracting & Service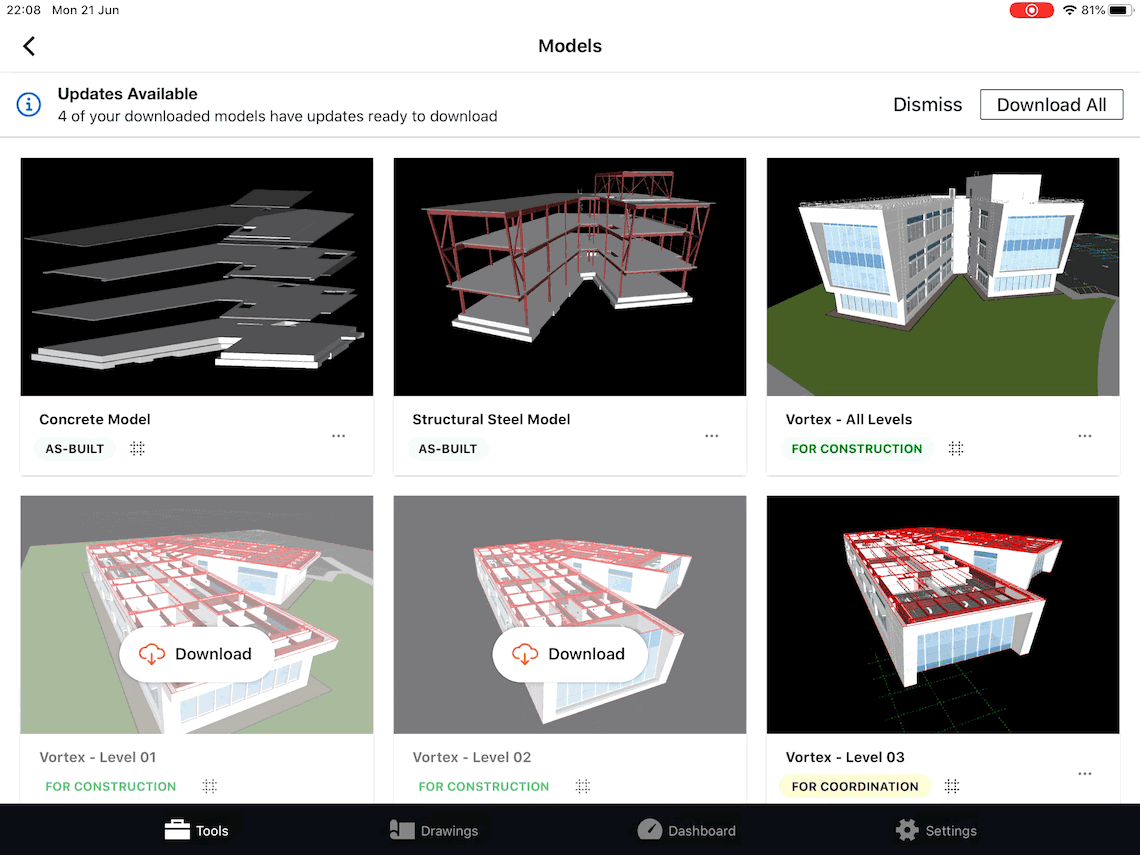 Initiate on-the-fly communication.
When change happens in the field, it's happening in real-time. Whether you are installing work, navigating the drawings or model, conducting a quality checklist, or having an on-the-fly conversation with another project stakeholder—Procore makes it easy to flag change without interrupting their workflow. Tools like Correspondence, Observations, RFIs and the Model (mentioned above) are just a few of Procore's widely used field tools that, like a digital flare, command attention and keep field and office teams aligned. Due to Procore's connective tissue, each tool's communication threads can transition seamlessly into a Change Event and impact the budget in real time.  
"With the Correspondence tool, we can elevate critical communications outside of email and place them in their own, more formal system of record. This enables us to get the attention and response we need when issues or delays threaten to impact the project." Matthew Slaughter, PM, Victory Woodworks
Remove double entry and provide peace of mind.
Double entry is the crux of most gripes field teams have with technology. When a field person takes the time to log information in Procore it feels good to know that the information is making it to the right people. Logging time and quantities installed hits the budget and creates a gauge for them to reference throughout the day.
"Procore's Labor Productivity tools have given us visibility into where the field team is at with their hours, and I get the data instantaneously. I've also gained the ability to view their hours against specific cost codes rather than in one big bucket. They can watch those numbers throughout the project and say, 'I only have this many hours left. I really have to push it here.'" - Brandon Lopez, Chief Operations Officer, ABLe Communications
When it comes to extra work, so many specialty contractors not only leave money on the table, but eat into their own profit margins unintentionally. Procore's T&M Tickets to Change Management workflow makes it easy for specialty contractors to capitalize on the opportunities that extra work can bring to their business and mitigates the risks of work being done without recouping payment. By leveraging Procore's T&M Tickets, teams no longer have to worry about missing billing deadlines, poor penmanship, or searching for the location of signed T&M tickets. Teams can rest easy knowing that when they initiate a ticket, office teams will have the visibility and details needed to recoup payment for the work they're doing.
Whether you're overseeing a dozen smaller jobs or working on a mega project, financial health starts with visibility. Keep investing in a connected solution and equip your field and office teams with tools built for their workflows—you'll start to see the impacts you're looking for.