Creating space and opportunity for the future leaders of construction
The roles and responsibilities of construction professionals came to life for more than a dozen elementary students last month. As an extension of Procore's vision to improve the lives of everyone in construction, one of Procore's Employee Resource Groups, Unidos, coordinated with Ryan Companies to invite the Austin-based nonprofit, Latinitas, to engage in an opportunity that supports their mission to empower young Latina women through media and technology.
"Whoa! I pay myself $300 dollars a day?," exclaimed a 10-year-old girl in disbelief. She had been assigned the project manager role in a game, Brick by Brick, which turns the modern construction management experience into an innovative and engaging competition. Developed by Procore employees, the activity serves not only as an interactive learning opportunity but also as a chance for young learners to develop skills highly valued in the construction industry.
Sasha Reed, Director of Industry Advancement of Procore.org, underpinned the importance of working with local nonprofits and clients to inspire and equip the next generation of construction workers.
"There's something transformative for a young girl to see herself in the face and story of an accomplished leader she can aspire to become."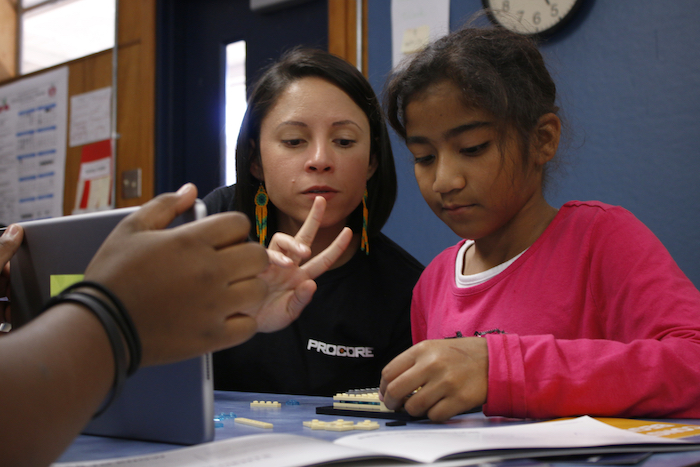 To kick off a series of sessions that began late October, Procore employees visited an elementary school in Austin to introduce the students to Brick by Brick, Procore's interactive construction game. The following week, staff provided the group with a tour of Procore's Austin office, in addition to an opportunity to interview staff members leading efforts on the company's Women in Construction, Sales, and Latin America teams. The sessions came to a close in early November, when the group entered a 4-D virtual reality construction site in the Ryan Companies office. There, they also had the chance to meet with members from the local National Association of Women in Construction chapter.
Taryn Ritchie, Preconstruction Engineer of Ryan Companies, spoke to the value of relying on organizations like Latinitas that support youth education.
"With a national shortage of labor in construction, our priority is educating and mentoring our youth about positions in the construction industry."
In a school district where 80 percent of incoming kindergartners are Latino, Latinitas plays a critical role in building a solid foundation for their future through education and mentorship. With a mission to empower girls to innovate and lead, the organization offers a variety of opportunities to tens of thousands of young learners to develop media and technology skills in locations across the U.S. The organization also offers one of the only bilingual programs in Austin while equipping young learners with the tools needed to be courageous leaders.
The recent initiative served as a reminder of the importance of engaging young minds in construction education in order to equip our future industry leaders with the resources needed to thrive. That's one of the many reasons why K-12 programs aimed at increasing construction awareness and engagement play a key role in Procore's efforts to advance the industry and the community it serves.