Driving Action During World Mental Health Day 2023
World Mental Health Day is a global initiative for mental health education, awareness, and advocacy, aimed at raising awareness and mobilizing efforts in support of mental health. Today is an opportunity to bring attention to mental health and well-being issues where they can be openly discussed without stigma.
Reducing the Stigma of Mental Health Awareness in Construction
At Procore, our vision is to improve the lives of everyone in construction, and an integral part of that is addressing the mental health crisis in the construction industry. Get Construction Talking is a campaign in partnership with The B1M, aimed at raising awareness of mental health in construction with a goal of raising $1 million in funds to donate to charitable organizations that are committed to providing mental health resources to construction.
Mental Health Awareness as a Focus at Groundbreak 2023
One of the charities receiving the funds is the Construction Industry Alliance for Suicide Prevention (CIASP). CIASP is dedicated to changing the statistics by educating and equipping organizations, industry service providers and construction professionals to address it as a health and safety priority.
At Procore's recent global construction innovation conference, Groundbreak, CIASP joined us in our first-ever Culture Lounge, a space to learn from Procore's Industry Culture, Procore.org, and Diversity, Equity, Inclusion, and Belonging (DEIB) teams about how culture can drive business. CIASP encouraged attendees to fill out post-it notes in response to three prompts: "My coping strategies are…"; "What does self-care mean to you?"; and "Why is mental health so important in the construction industry?".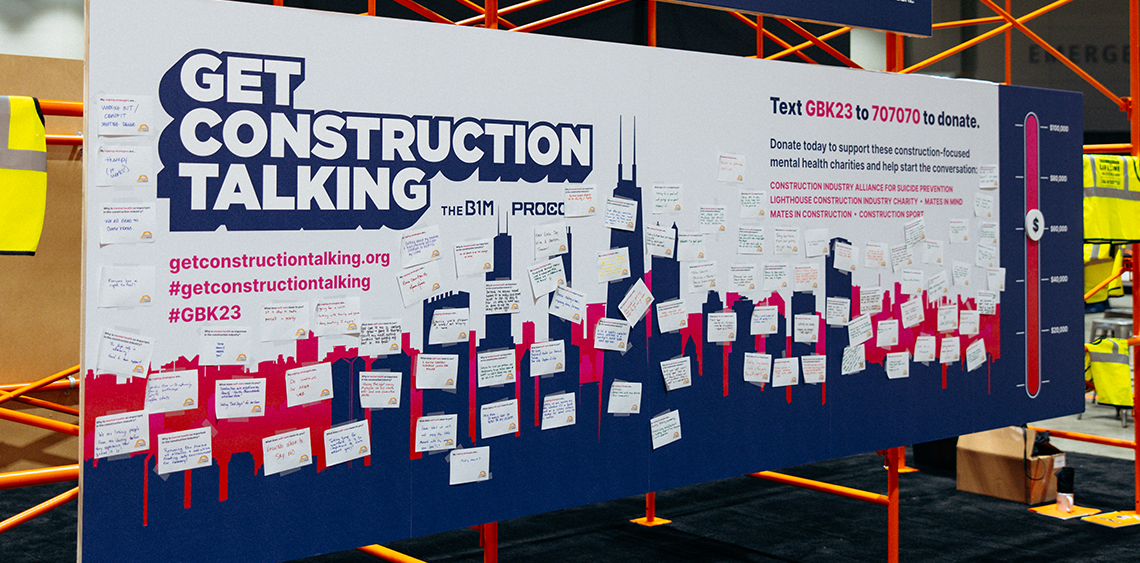 I also had the honor of joining Fred Mills, founder of The B1M; Jamie Becker, director of health promotion at Laborers' Health and Safety Fund of North America (LHSFNA); Pete Lockhard, general manager of construction at Naylor Love; and Steve Huizinga, president at Freedom Construction, for a session titled, "Moving from Awareness to Action: Addressing Mental Health in Construction''. You can watch the session on-demand here.
This transparent conversation highlighted the unavoidable hurdles faced by construction workers, from long hours to physical demands, and the stressors of racism and gender bias that impacts all. This is an issue that needs to be addressed by sharing tools with one another as employers look to create open safe spaces for their employees to open up, be vulnerable, and share their story.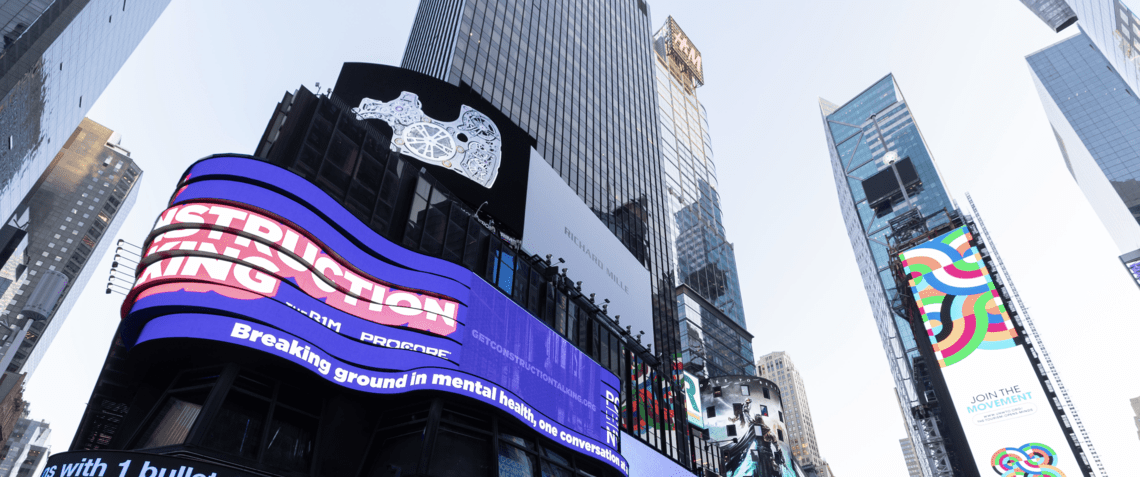 Get Involved
There are several additional global events that we're co-hosting with The B1M around Get Construction Talking throughout the rest of the year:
On Thursday, October 12th, we're hosting a breakfast event in London in honor of World Mental Health Day, featuring an expert panel of speakers from esteemed companies including Mates in Mind, the UK Parliament, and Balfour Beatty.
On Thursday, November 2nd, we're launching Get Construction Talking in Australia. Procore will be joined by Chris Lockwood, national CEO of Mates in Construction, Alison Mirams, executive chair of Roberts Co, and John Briggs, founder of Intact Australia.
If you're unable to join us in person, a Get Construction Talking Toolkit is available for free for anyone ready to take the next step and get more involved with the initiative. The toolkit features more information on the charity partners and downloadable assets to help spread the word.
How Procore Supports Employees' Mental Health
Procore also makes the mental health and well-being of our employee base a priority. Procore partners with Modern Health to provide comprehensive benefits for mental wellness, from certified personal coaching to digital courses, meditations and licensed therapy.
One of our Employee Resource Groups (ERGs) is called ABLE, whose mission is in the name—A Better Life for Everyone. ABLE aims to improve the lives of our employees who live and work with disabilities, neuro diversities and mental health conditions. We provide a supportive and uplifting community in which individuals can find peers, support and advice.
"Some people suffer in silence, mentally and physically, because they are afraid to be seen as a burden or inconvenience," said ABLE ERG member and Procore customer support representative Brianna Wilson. "Letting them know that you see them, even if just for a minute, can really have positive effects."
To learn more about how Procore is committed to bettering the mental health of the construction industry, visit procore.com/health-safety.