Giving back to communities in the aftermath of disaster
Through Procore.org, our social impact organization, Procore employees get the opportunity to volunteer with nonprofits and donate our time to give back to our communities. In November, myself and eight Procore employees traveled to Houston, Texas to volunteer with Team Rubicon, an organization that aims to unite the skills and experiences of military veterans with first responders to rapidly deploy emergency response teams to areas impacted by disaster.
In the wake of Hurricane Harvey, Team Rubicon piloted their rebuild program with the establishment of the Houston Rebuild Team, a group tasked with conducting long-term recovery and reconstruction. With a commitment to rebuild 100 homes in the Houston area by 2020, Team Rubicon has deployed dozens of volunteers each week to give back to communities in need of critical resources and support.
Our day started early on a Saturday at Team Rubicon's Houston Headquarters – a space occupied by the nonprofit's full-time Houston office team, inventory of rebuilding supplies, and housing accommodations for the more than 40 volunteers that are stationed in Houston on a weekly basis. These volunteers are also known as "Greyshirts," a name given to those who are registered with Team Rubicon and eligible to deploy to disaster relief zones worldwide. The title of Greyshirt carries great weight and honor at Team Rubicon.
Brian Calcagno, a Strategic Partnerships Associate at Team Rubicon, showed us around the warehouse and told us what we could expect from the day. He encouraged us to stay for the weekly volunteer debrief at the end. "Have fun out there," he said. "You'll be amazed by how many times today you will hear the words, 'I love you,' and how much people will mean it."
The group was divided up and each team was driven to their respective work locations. My Greyshirt team made a pit stop at a gas station for breakfast tacos. It was there that I got to know who I would be working with – a group that included John, a retired petroleum engineer from Montana on his third deployment to Houston, and Don and Lyda, a retired couple from Michigan who volunteer together with Team Rubicon for several weeks each year. I later came to find that almost none of the volunteers I got to know while hanging drywall and sinking screws that day were based in Texas — a testament to Team Rubicon's expansive and dedicated volunteer base, 70 percent of which is comprised of military veterans at various stages in their transition back into civilian life after service.
After a few hours of work we all sat down on workbenches in the front yard next to a pile of drywall scraps and took a break for lunch. We joked about the rookie mistakes some of us had made that morning and about the long afternoon of rework we had ahead. It became clear to me throughout the morning that every small failure was a team failure, and every small success was a team success. Another group of Greyshirts walked up to the house to offer their help. We cranked up the music and within minutes everyone had picked up a tool and returned to work with incredible confidence, as if we had worked together for years.
You'll be amazed by how many times today you will hear the words, "I love you," and how much people will mean it.
At the debrief in the warehouse later that evening, a wide range of experiences were shared. Some reflected on their first-ever volunteer experience with Team Rubicon while others, including the veterans in the room, expressed their deep gratitude for the chance to heal that these deployments offer them. For many, volunteering with Team Rubicon is an opportunity to escape the burdens of everyday life and share a mission with their fellow greyshirts. I reflected on my own experience that day, which had been filled with swapped stories and hard laughs. As we went around the room I noticed that very few thoughts were held back. The authenticity was infectious.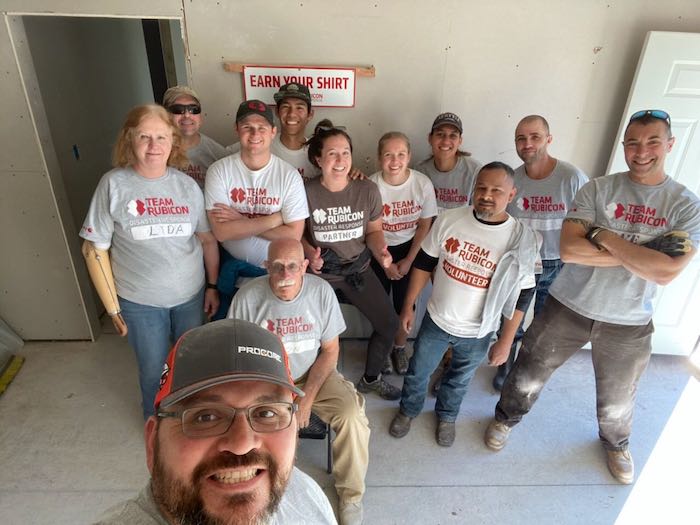 I left Houston feeling tired, sore, covered in drywall dust, and sure of one thing – by leading with incredible empathy and vulnerability, Team Rubicon is able to transform a group of strangers into a team, a team driven by service to a cause and to one another.
In an industry confronted with extreme challenges and uncertainty every day, we may all have something to learn from Team Rubicon. Click here to read about how to help join their effort.