Here's how customers are maximizing performance and ROI with Procore's top enhancements of Q1 2021
This past year has reshaped the construction industry by making remote work the standard and increasing the decentralization of the construction workforce. Project teams are spread out but are still required to produce the same outcome within the same timeline. With the added safety procedures, new technology, and increased pressure on schedules, it's more important now than ever to ensure the right systems and workflows are in place for seamless collaboration.
The Procore platform's top enhancements for Q1 2021 are designed to help teams maximize performance and ROI, amidst the changing needs of your company. Flexibility, actionable insights, and seamless workflows are just a few of the benefits of these new releases. This gives the entire project team one place to work together to do what they do best – build. Make sure to check out What's New in Procore to see all 19 platform announcements in Q1!
Confidently guide your business with new Analytics Reports & Dashboards
Last year, we announced the new Procore Analytics dashboards built specifically for owners. In Q1 2021, we focused on the specialty contractor and built new Analytics reports that turn project data into meaningful, actionable insights. By extracting data from across every element of the platform including budgets, invoices, timesheets, change events and many more, Procore Analytics brings all your project data into one location.
With data consolidated, you can then apply business intelligence and other advanced tools like machine learning to plan projects, track production and manage performance of teams across your portfolio more effectively.
"Operating in multiple locations requires accurate information that can be accessed immediately," said Scott Polsen, Managing Director, Benmax. "Procore Analytics is easy-to-use with exceptional support that provides visibility for us to analyze and validate information quickly, which allows us to make decisions faster and with more confidence."
Procore Analytics now provides over 140 industry vetted reports and dashboards to put your data to work and maximize your ROI.
Customize Procore to meet your company's unique needs
Experience the flexibility of the Procore platform through Custom and Configurable fields; allowing you to collect the information that applies to your teams. Simplify workflows by hiding irrelevant fields and standardize your data–leading to better reporting.
"From new power plants to airports, all projects have different needs for tracking unique project data," said Josh Hauser, Construction Project Manager, Burns & McDonnell. "Whether it's a turnover package on punch list or a contact number related to drawings, custom fields across Procore's platform have allowed project teams to use and manage critical data."  
And now the Coordination Issues, RFI, and Observations tools fully support custom fields and the ability to turn other fields off.
With custom fields now available on the RFI tool, users can add fields like "Priority" to help design teams focus on high-impact RFIs. And for Coordination Issues, teams can set fields as required to improve accountability and reporting, ensuring project and issue-specific information is completed. To find out more about these enhancements click here.
Get paid for the work performed by connecting Time & Materials Tickets directly to Change Orders
With Procore's new Time & Materials (T&M) Tickets to change management workflow, you can capture out-of-scope work in the field and convert it into a formal change order with one seamless and integrated process. Say goodbye to carbon copy triplicates, chasing down tickets from the field, and re-entering into excel and emails.
"Now with Procore's T&M Ticket solution not only do we get clean, easy to read tickets with real-time visibility into the status of work but it takes seconds to convert it to a Change Event so I can get it to my customer in minutes, not hours or weeks," said Justin Weidner, Civil Division Manager, A&R Services, Inc.
No more week-long delays in information. No more lost or illegible tickets that require an inordinate amount of time to investigate. With the Procore platform, field tools like T&M Tickets and Timesheets deeply integrate with the Procore Financials Budget tool, enabling project teams to anticipate financial impact of labor costs and out-of-scope work in real-time better equipping them to protect profits.
Get paid with the Procore platform.  
Help project teams define structure, set criteria, and execute on plans as intended with Action Plans
Connecting compliance with the course of construction has always been a challenging task, but the new Action Plans tool allows you to consistently deliver your highest-quality product in the safest possible environment – all while pulling together key documents necessary to help you stay in compliance and with proof of plan outcomes.
Create customizable plan templates that serve as the backbone to procedural execution for anything from quality assurance plans, to concrete pours, project startup guides, and more. And because Action Plans is built on the Procore platform, you can leverage multiple Procore tools within one collaborative and controlled environment.
"The biggest benefit for us is that the Inspection Test Plan (ITP) acts as a cover sheet when using Action Plans – it includes signatures, supporting documentation, inspections, photos, test results, and much more," said Martin Davis, Quality Manager, Martinus. "Once you've attached everything you need, you can link to the ITP and export it which makes the handover process seamless, as I can rely on the information and include any supporting documentation required. As a contractor, it's reassuring to know that you can see all the information in one spot, export it and it's ready to go! It's an incredibly efficient system, which has saved us a lot of time and energy."
Action Plans layout the expectations, reference documentation, and records needed to prove quality and safety standards are met. Build your plan today.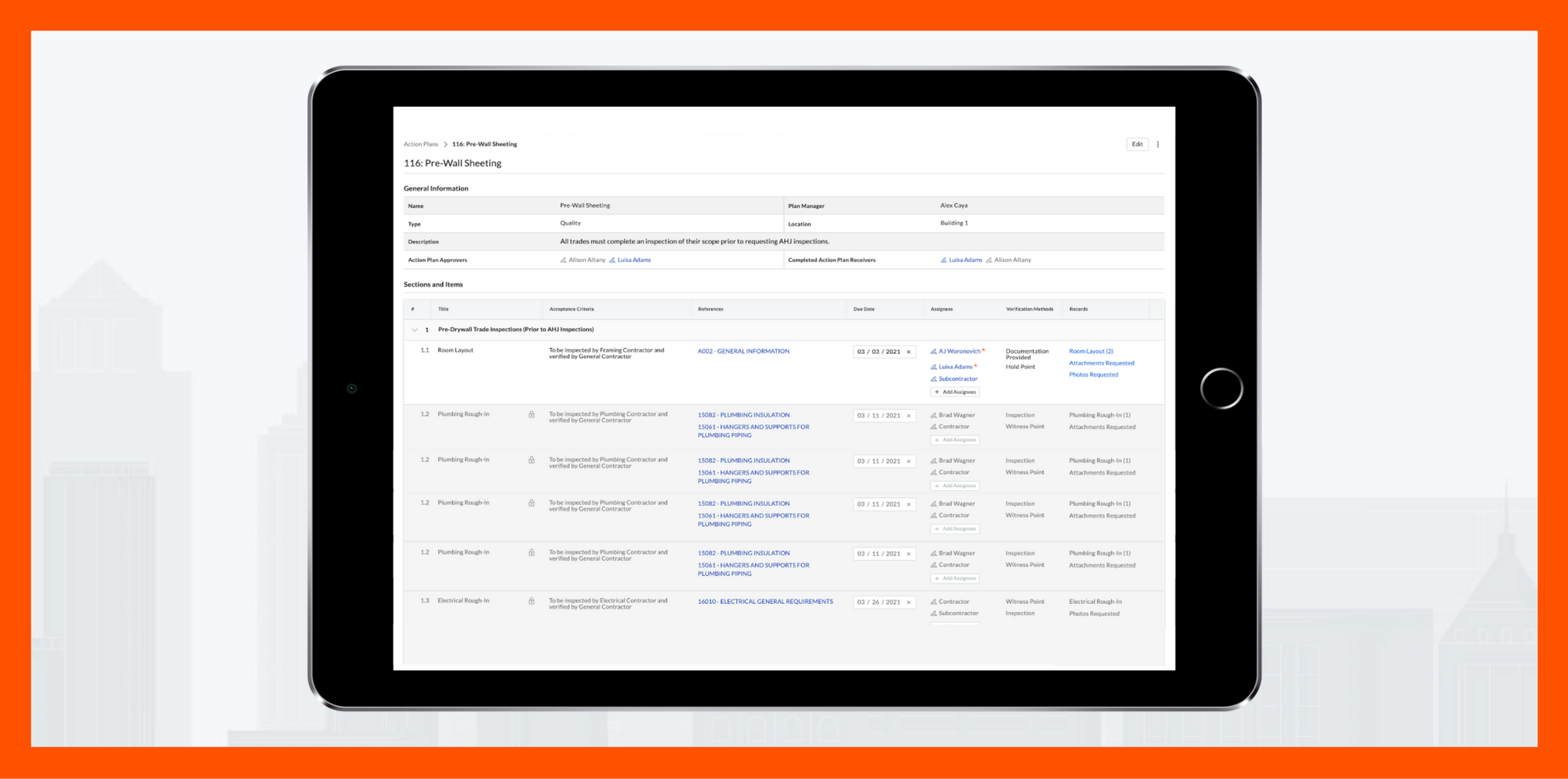 Bonus: 2021 Construction Cost Management Summit
See how connected financial tools can provide real-time insight into the financial health of your projects and redefine what's possible for construction cost management. Join us for a half-day event on April 7th with customers and industry experts, and get a glimpse into the Financial Management roadmap to explore how an integrated platform can drive business results. Sign up today!
Procore's singular focus and partnership with construction means everything we do is meant to help teams stay connected, stay on track, and build smarter. Stay up-to-date on all of Procore's release announcements via What's New in Procore.
Interested in learning more about how leaders in the construction industry are using the Procore platform to drive positive results in their business during a year of unprecedented challenge? Download the full report, Unlocking the ROI of Construction Technology.