Navigate the changing risk environment with a new feature: custom qualification questions for Procore Prequalification
Procore Prequalification helps risk management teams efficiently identify the lowest risk contractors to partner with. We recently launched an out-of-the-box solution with over 200 industry-standard questions to add to your prequalification form. Today, we are introducing a new feature that allows you to configure custom qualification questions, giving you the flexibility to tailor your form to the unique needs of your business.
Get the information you need to assess risk
Procore Prequalification helps mitigate risk by equipping teams with a modern qualification solution that allows them to effectively create, send, and review critical information. With an expansive list of default questions that cover a contractor's general information, safety, insurance and bonding, and financials, it is as easy as a few clicks and your qualification requests are out the door.
"With Procore Prequalification, we will be able to accurately manage our subcontract award procedure, therefore reducing risk to our bottom line," said Curt Giebeig, Vice President of Estimating, RA-LIN.
Spend less time configuring and more time qualifying
With Procore, you have the ability to change your prequalification form at any moment. No need to open a support ticket or contact a support representative, causing you to lose time during the bidding process. Now, you are able to select from a list of seven question types in order to build your own qualification questions, allowing you to quickly react and adapt to the changing needs of the industry.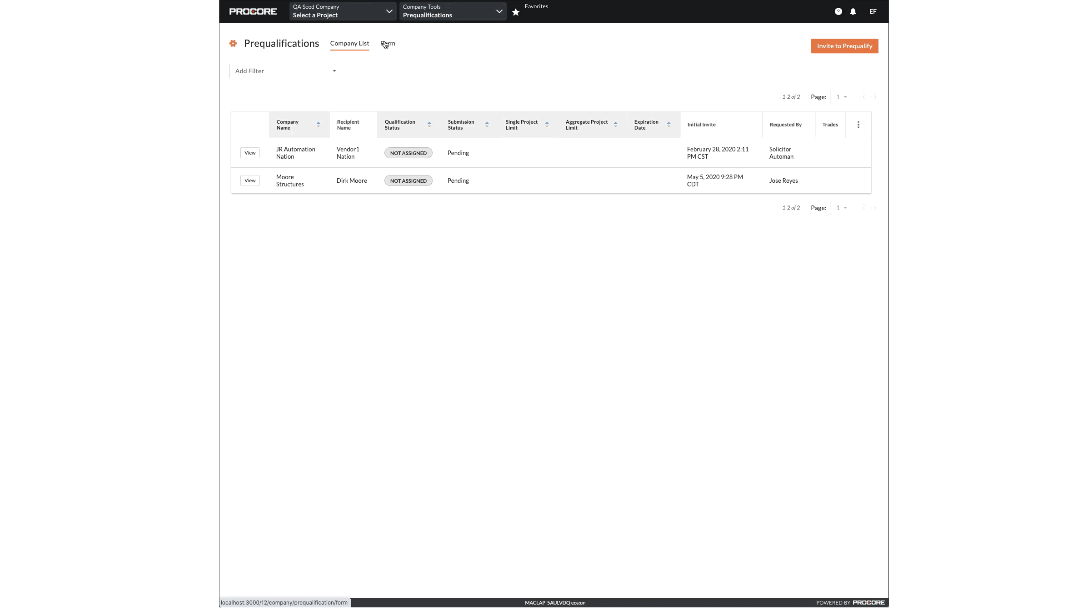 COVID-19 has presented teams with new challenges, processes, and regulations. With Procore, you can now configure COVID-19 related questions that help your teams understand a contractor's safety preparedness, financial stability, and ability to navigate the current crisis on the jobsite.
Assess risk, create a plan, and invite to bid
Once you begin qualifying companies through Procore Prequalification, you can jump right into Procore Bid Management and filter by Qualification Status to ensure you only invite qualified companies to bid. With a single solution for both your risk management and estimating teams, you can bid with confidence knowing that risk has been assessed before contracts are awarded.
Learn more about how Procore Prequalification can help you strengthen your company's risk management strategy.