Procore Analytics Now Has Three Additional Reports to Help Owners Gather Insights
Construction businesses estimate they can reduce project costs by 13% with better insights from project data. With the global construction industry expected to grow to over $11 trillion in 2024 the financial impact is massive. This is a problem for the whole industry, but owners of capital projects, in particular, have been poorly served by analytics technology. Forced to rely heavily on complicated analytics platforms, operated by teams of analysts and engineers to generate even basic construction insights. These types of expenses are at best inconvenient and at worst, prohibitive. Fortunately, there's now a better alternative.
Procore Analytics gives customers an easy way to analyze their data from Procore, as well as data from their integrated tech stack, in one central location. We designed and built Procore Analytics alongside construction professionals to ensure that the collection of reports being made available meet the specific needs of the construction industry.
Owners of capital projects, in particular, have been forced to rely on analytics platforms that require teams of analysts and engineers to generate even the most basic reports. Today, we're excited to announce three new reports – Project Status, Benchmarking, and Root Cause Analysis – specifically built for owners of capital projects now available through Procore Analytics.
These new reports for Owners make it easy to maintain a holistic view of portfolio health, project planning, schedule and budget tracking, and management of the performance of your overall portfolio more effectively. With Project Status, Budget Benchmarking, and Root Cause Analysis, Procore customers can plan, track and manage more effectively than ever.
See it early and react fast with Project Status
It's important to know which projects need your attention. Project Status helps customers stay better connected to their portfolio by flagging projects that are over budget or behind schedule by identifying where schedule risks are increasing, allowing action to be taken before mistakes become too costly. Project Status also helps identify what trades or cost codes are breaking the budget within or across projects, so appropriate measures can be taken before a project's budget goes over.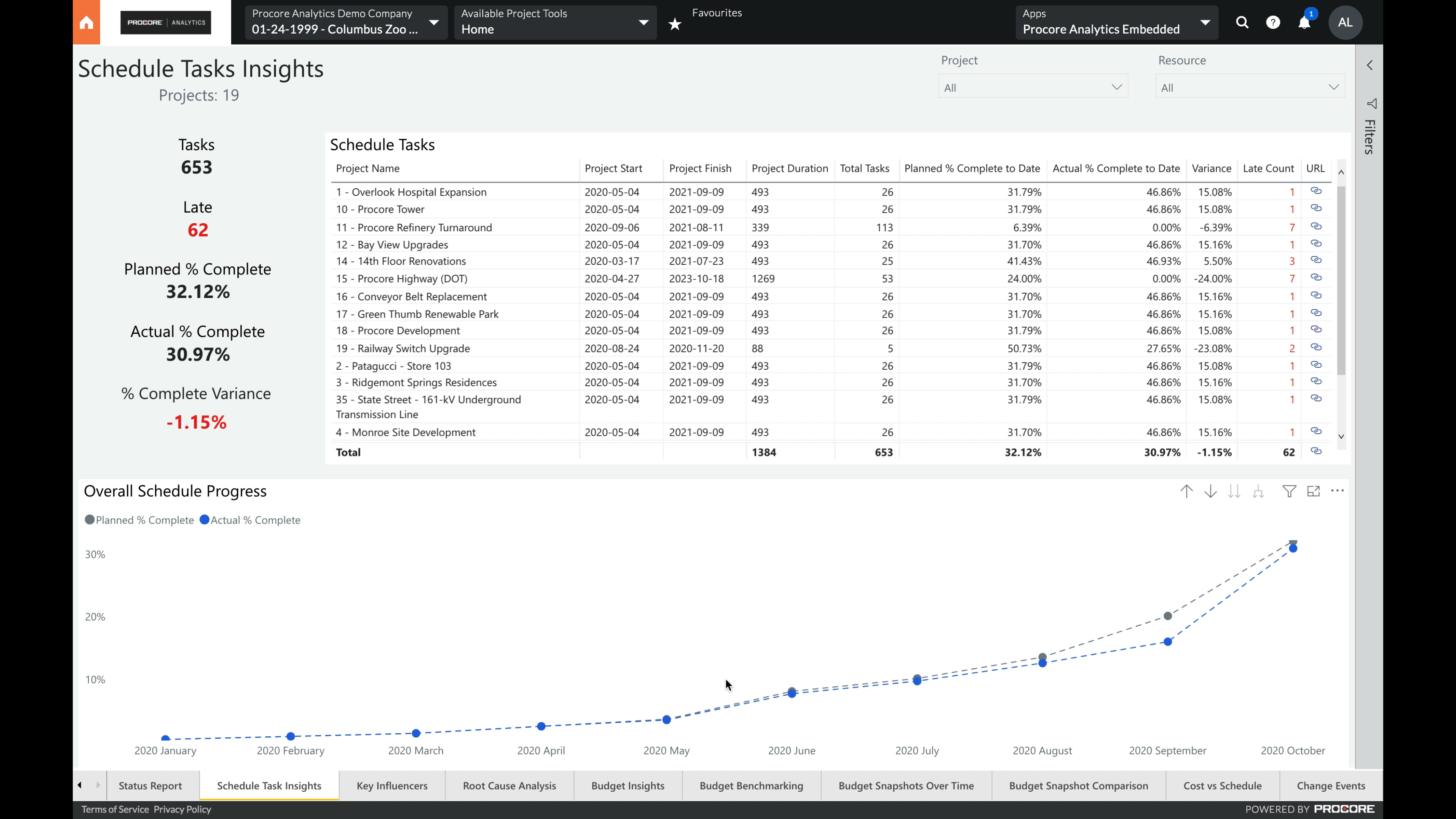 Compare previous project outcomes for more accurate future estimates with Benchmarking
The new Benchmarking report offers the ability to analyze the performance of historical projects to create more accurate cost assessments. Benchmarking allows customers to compare projects of a similar cohort based on a number of different factors like size, region or type, just to name a few. This helps support the planning process by providing a better cost baseline for future projects.
Procore Analytics allows you to slice and dice the data any way you like. For example, one could explore the relative impact of "Project Type" and "Project Phase" on performance and utilize this in service of learning more effectively from past projects.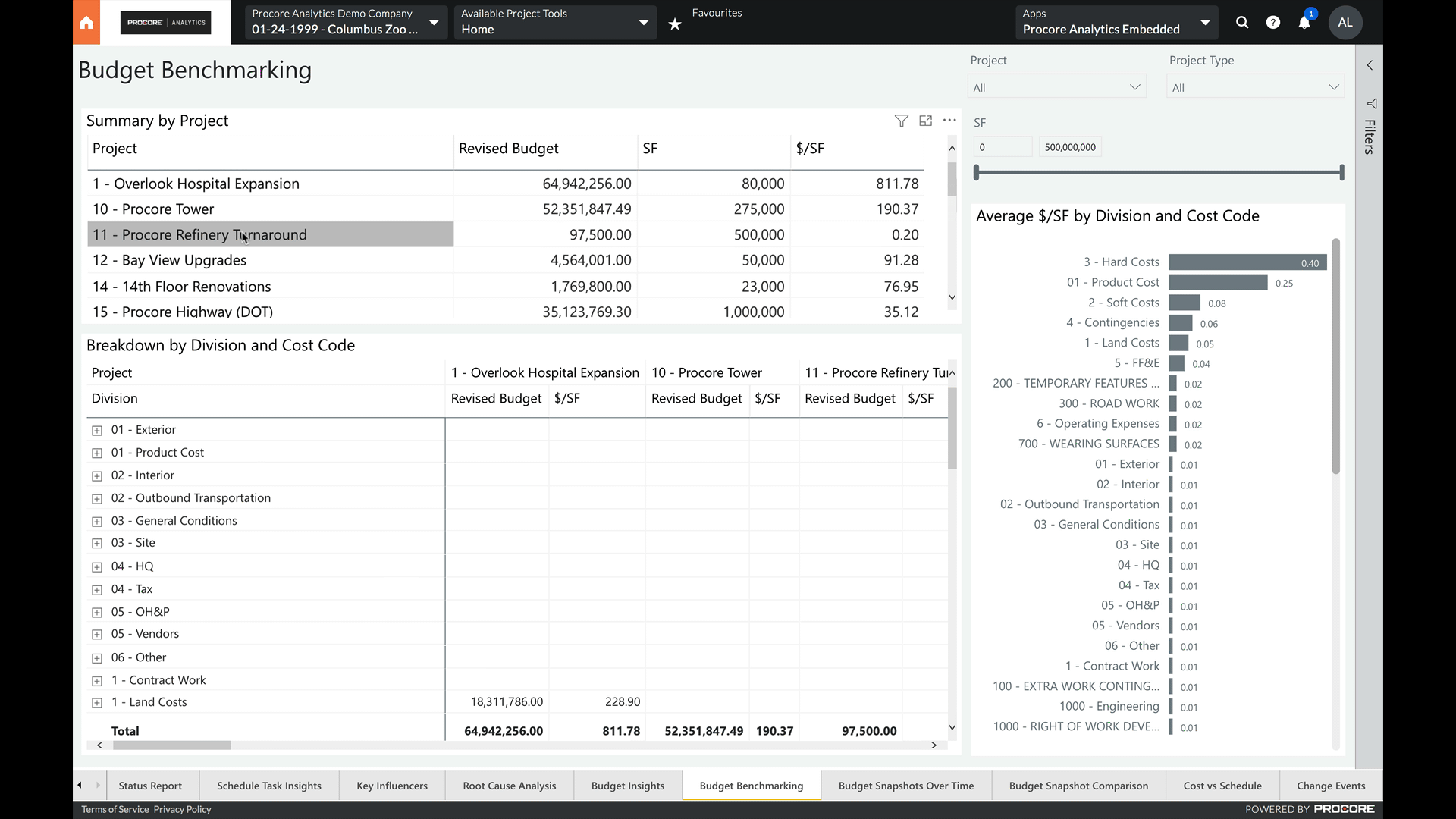 Identify issues and correct them quickly with Root Cause Analysis
Designed to help determine the most important contributors to budget overruns or schedule delays, Root Cause Analysis helps to identify cost codes, contractors or any other cost component with an outsized negative impact. Explore these relationships manually or lean on the AI functionality to guide towards the parameters with heaviest contribution.
Root Cause Analysis works at the project level or across a portfolio to help answer the question: "Is this cause unique to this project or is it affecting the whole portfolio?" Customers can sort by project, project type, or at the portfolio level to easily determine how to take action effectively.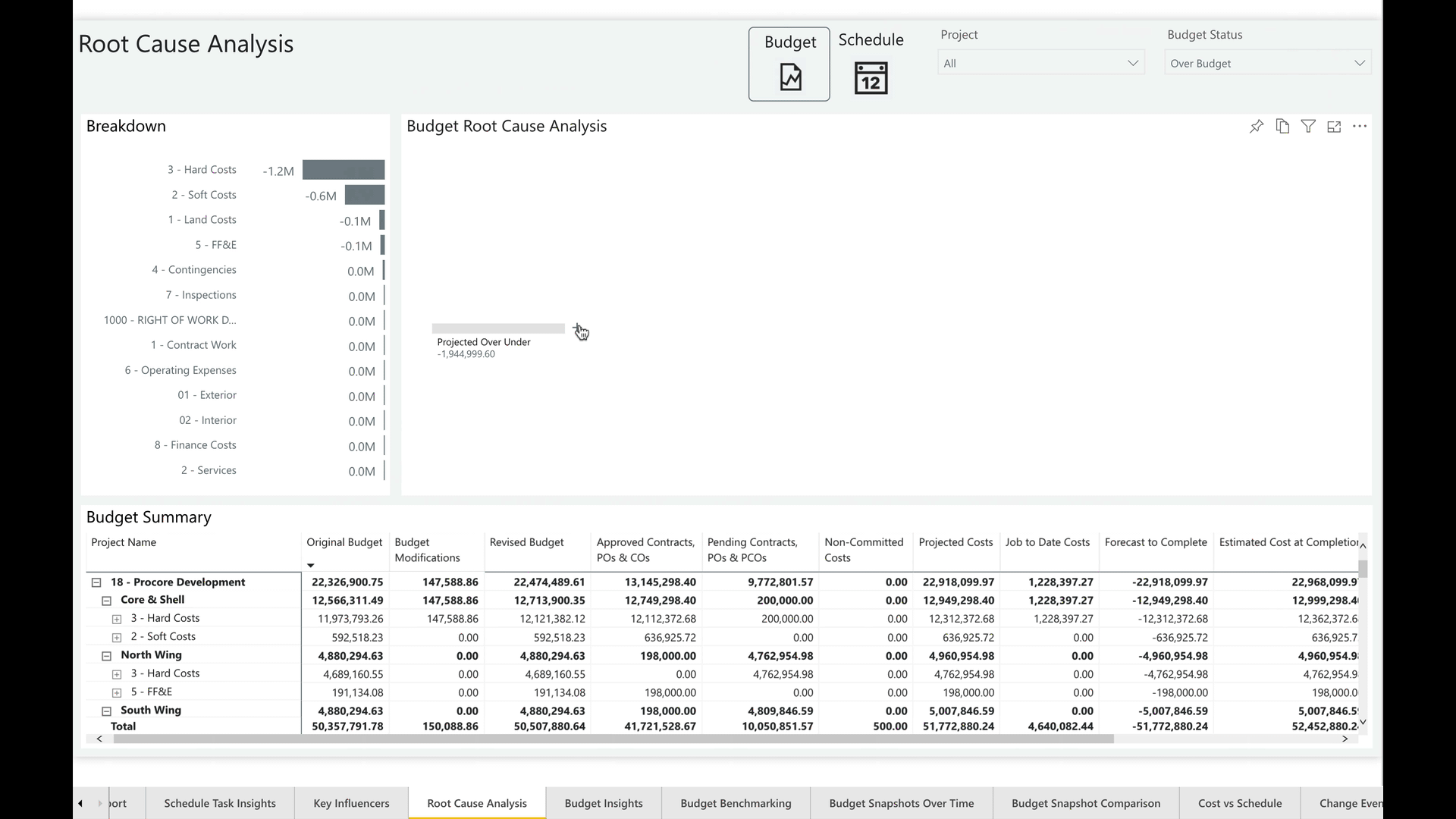 "Without big data and analytics, you're flying blind. Procore Analytics gives you the ability to transform and visually display the information so that informed decisions can be made." – Stephen Dantone, Director Business Applications, JPI Construction Inc.
The tools to manage a portfolio of capital projects more effectively are available today. Maintain profits, and learn more about these new reports and Procore Analytics on the Procore website.