Procore and Sage Expand Partnership With Launch of Cloud-to-Cloud Integration: Sage Intacct Construction and Procore Connector
Building upon our previous integrations, Procore has teamed up with Sage once again to launch the new Sage Intacct Construction and Procore Connector. The expanded cloud-to-cloud integration leverages the respective strengths of Procore's construction management solution and Sage's accounting solution.
Sage Intacct Construction combines the proven native-cloud platform of Sage Intacct with the 50-plus years of experience from Timberline Software (now known as Sage 300 Construction and Real Estate) to meet the unique needs of the construction industry.
Built as a native-cloud solution, Sage Intacct Construction empowers construction financial managers to make critical financial decisions. Sage Intacct Construction also enables industry professionals to manage costs and productivity in real-time, from any location, and reduce typical financial consolidation from 100+ hours down to just minutes. With basic accounting tasks automatically simplified and automated by Sage Intacct Construction, stakeholders can immediately access real-time business insights—anytime, anywhere.
"We strive to make it as easy as possible for contractors to integrate Sage products with the other solutions people are using," said Dustin Stephens, Vice President of Construction and Real Estate at Sage. "Our three-year partnership with Procore has played an integral role in this commitment. We are thrilled to build upon the success of our previous integrations to deliver the Sage Intacct Construction and Procore Connector, providing the industry with a truly best-of-breed cloud solution for the field and office."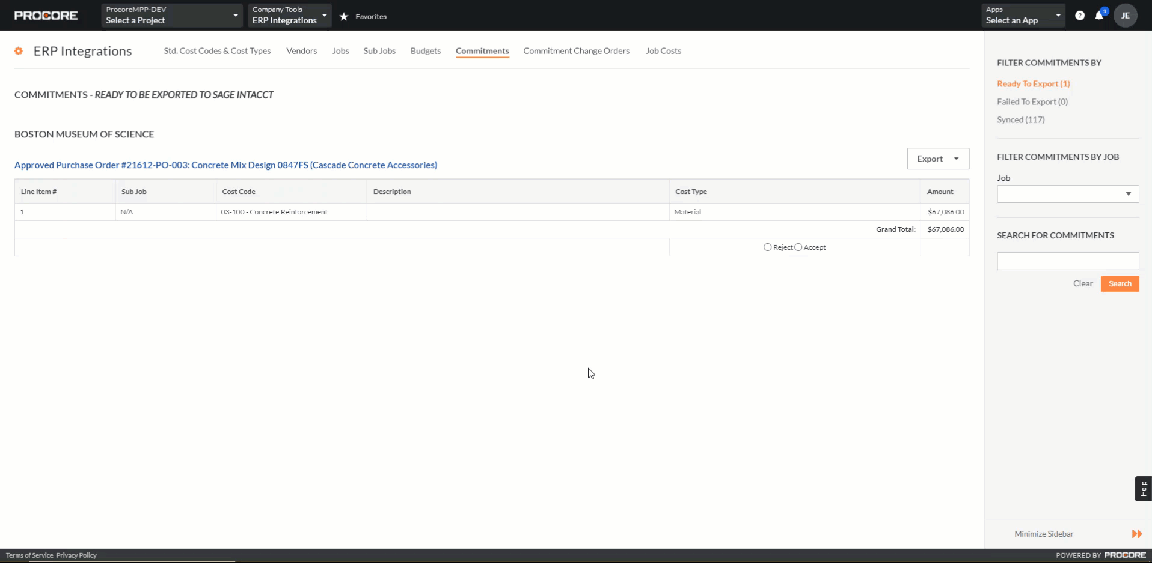 The newest phase of this partnership strategically aligns the construction industry to help customers across speciality contractors, general contractors, and owners to further accelerate their cloud adoption and digital transformation initiatives. The new Sage Intacct Construction and Procore Connector will deliver enhanced capabilities to drive sustained digitization, help customers transform their business models, and access real-time data from anywhere, which is critical in the COVID-19 pandemic's "new normal." Together, we are aiming to create less fragmented processes within the construction industry.
"We're excited to grow our existing partnership with Sage by launching our new connector with Sage Intacct Construction," said Kris Lengieza, Vice President of Global Partnerships and Alliances at Procore. "Through bringing together our world-class cloud solutions, we're providing contractors and their accounting teams with improved access to financial data in real-time. Construction professionals using Procore with Sage Intacct can trust that they have the most accurate and up to date information shared between the jobsite and the back office to deliver their projects on time and within budget."
By connecting your accounting and project teams, Sage Intacct Construction creates a streamlined feedback loop for critical information that improves collaboration and efficiency while eliminating the potential for errors caused by double entry of data.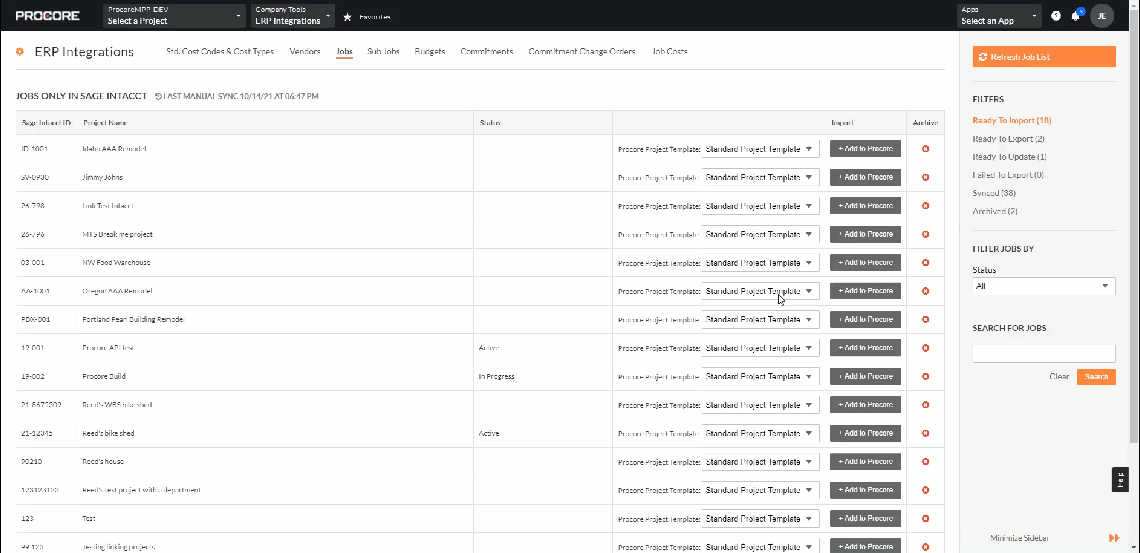 The new Sage Intacct Construction and Procore Connector will provide customers with an intuitive and comprehensive view of their business, the ability to forecast confidently from the field, and to access real-time financial information from anywhere.
Built on Procore's ERP Connector Platform, this integration allows users to administer and control the connection entirely within Procore. As the connector is Procore-built, customers can expect to receive the same award-winning Procore implementation and unlimited support that is included with all Procore solutions. We are continuing to invest in the capabilities of this connector.
To learn more about the connector, sign up for the webinar or request a demo here.