Procore ANZ building for a bigger future
Procore's Sydney office reopened its doors at the end of last month, introducing the team to a brand new working space, built to function at the power and speed needed to service the APAC market.
The office has grown at a rapid rate in the last 12 months, with our team headcount at 57 in 2018, to 70 in November this year. Such growth proves that we are no longer operating at a start up's pace; we're a growth-focused business. So it posed the question: How do we connect and improve the working lives of our employees, who work to better the lives of people in construction?
Our goal was simple: to build a great, CSR-friendly space, where we could facilitate our business's growth and headcount while ensuring employees feel excited and energised to come and work together. So we employed the expertise of Procore's Real Estate Manager, Jacob Foster, to help us craft an office reflective of our company values:
Ownership
Our aim was to carry out this project in the most cost-conscious and sustainable way but still putting our people first. We made the decision to move away from the hot-desking trend, as research shows that while there are multiple benefits of hot desking, there are potential negative outcomes, as they can limit bonding opportunities and the sense of belonging. Dedicated desks feel familiar, comfortable and safe.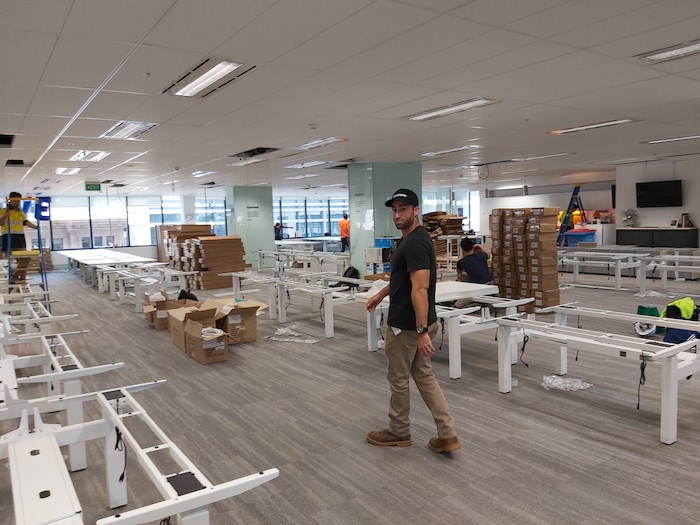 Optimism
Office waste is a big issue, particularly in Sydney. It is said that for every 1000 square metres of office space, 53 tonnes of waste is created. Office furniture accounts for a very high percentage of this figure, so we were determined to facilitate growth without the waste. So we gave new life to our old office desks by donating them to startups like Tankstream and putting them up for purchase in return for a donation to the Property Industry Foundation.
Openness:
We kept everyone in the loop with a dedicated Slack channel, company announcements and a team celebration at the end of the project. Communication in times of change is essential to keeping positive employee engagement.
With these values in mind, we considered how an office refurbishment, unlike a large-scale renovation, requires considered care and thought into how we can enhance an existing space, with limited resources. So our fresh and highly functioning office now boasts the following: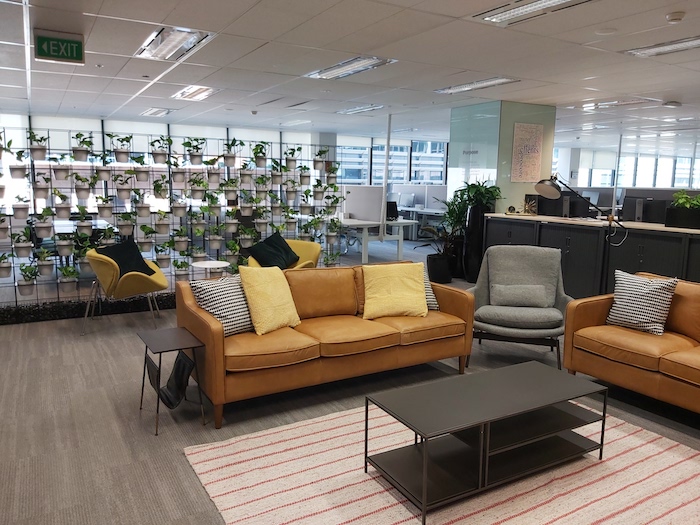 We wanted to avoid over-indexing on the niceties; rather being responsible for our investment in this office–and we know that fancy coffee machines don't really make people feel good about coming to work. We also created a designated, agile working hub for our R&D team. This space will be crucial in helping develop a collaborative environment for the newly-created team to help grow our product for the ANZ market.
Experience vs. Facilities
Promoting healthy behaviour in our work environment is key to keeping our team happy at all times. We also installed a beautiful green wall which masks a sunlit collaboration table, which is perfect for fostering creativity and a positive team dynamic.
Flexibility, collaboration & creativity
We've installed hybrid meeting rooms to help make the most of the space and added more collaborative spaces to help leverage the collective passion of our people. We know that one size doesn't fit all so by adding multiple collaboration spaces around the office, our team have the option to move around. We then transformed our much-loved "Zen Den" into a call room to continue to provide everyone with a small escape from work if needed.
Interested in working for Procore ANZ? Look at our job openings here.