Building Trust through Customer-Centric Marketing: Insights from Procore CMO Sarah Hodges
According to Sarah Hodges, chief marketing officer (CMO) at Procore, engaging with customers and relating to their needs is crucial for driving success. This customer-centric approach has helped her build trust, establish brands as trusted partners and ultimately empower customers to achieve their key business objectives.
Hodges has worked at global SaaS companies for the past twenty years, leveraging her deep expertise to drive go-to-market strategies, manage business performance and lead cross-functional teams. Although born in London, Hodges has been Boston-based for the last 26 years, where she plays an active role as a Board Overseer for the Boston Children's Museum.  
As Hodges nears her six-month mark since joining Procore, I had the chance to sit down with her to learn more about her accomplishments, perspective on the ever-evolving marketing landscape and commitment to fostering authentic and diverse workplaces.
You have over 20 years of experience in marketing and go-to-market strategy, what are you most proud of during your tenure?
There are a couple big accomplishments that come to mind.
First, my ability to move outside my comfort zone time and time again. Over the course of my career, I have had the opportunity to assume diverse roles, not only within various marketing functions but also in strategy, product development and product management. This has really helped me build empathy for all teams and functions required to bring a solution to market.
Next, through my experiences building diverse teams with varying professional backgrounds, I have successfully brought industry experts on board and guided them to effectively apply their knowledge and expertise. I take great pride in inspiring the next generation to view the construction industry as a fertile ground for problem-solving and technological innovation.
Lastly, it's been incredibly rewarding to engage with customers and put their needs first. This has led to some pretty creative approaches to building a brand, entering new markets and reaching customers and prospects in new and innovative ways.
How have marketing jobs evolved during your career? Where do you think the industry is headed in the next five to ten years?
I have seen a lot of evolution. I remember the shift from product marketing to solution marketing to industry and audience marketing which enabled a more personal approach to messaging and positioning. I also recall a distinct shift when marketing became a data centric hub, providing insights to all stakeholders. Marketing is now a critical go-to-market function responsible for insights across all phases of the customer lifecycle. It's highly sophisticated in terms of knowing how and who to drive outreach towards. I get excited about how trends such as AI will bring marketing teams to the next level in terms of productivity and predictability.
How do you approach work/life balance and make time for your interests and hobbies outside of work?
I am extremely passionate about what I do, and just as committed to taking the time to recharge. I try to start my days with a workout so that my mind is clear. When work ends, I focus very hard on being present with my family and putting the phone down. I try to prioritize playing games like Junior Monopoly, Sleeping Queens or Taco and Goat Cheese Pizza, building Legos and spending time with family and friends. We have to all remember we are human and balance is critical.
What advice would you give to an aspiring marketer who is just starting out in their career? What kind of skill sets are you looking for when you hire?
Be curious! Ask questions, read as much as you can about the industry you serve, get time with customers or prospects and seek to understand the challenges they face. I always look for those who have an appetite to challenge themselves to grow. These are the people who aren't looking to just check off every box, they strive to understand the customer and translate their learnings into action.
As an advocate for women in construction, how do you think the industry can attract more female candidates?
Construction is a highly complex, dynamic industry that requires critical thinking, communication and problem solving. I think we have a unique and timely opportunity to attract new entrants to the industry, not just women but any and all interested in pursuing a career in construction. It's critical we correct the assumption that the industry is tech adverse. The demand for construction will only grow in the years to come and the industry needs new and diverse perspectives to meet demand. I believe there is a lot we can do to drive this awareness, chief among them is to create more platforms for people of all genders, ages and backgrounds to share their stories.
You continuously emphasize the importance of taking a customer-centric approach to marketing. Why is this and has there been a specific experience with a customer that made a big impression on you?
To be the best marketer possible, you have to be able to speak, walk and talk like your customer. I am deeply passionate about this topic. Throughout my entire career, I have focused on gaining an intimate understanding of what truly matters to customers or prospects and what they require to achieve success. Putting the customer at the center ultimately helps us build empathy, establish trust and connect authentically.
What are you most looking forward to this year, both personally and professionally?  
Personally, I just attended a trip to London where I brought my family for the first time together. We did some sightseeing, ate some of my favorite treats and spent time exploring the city. For so long, my daughter has only known London to be "where Mary Poppins and my mom are from…" I was so excited to finally show her!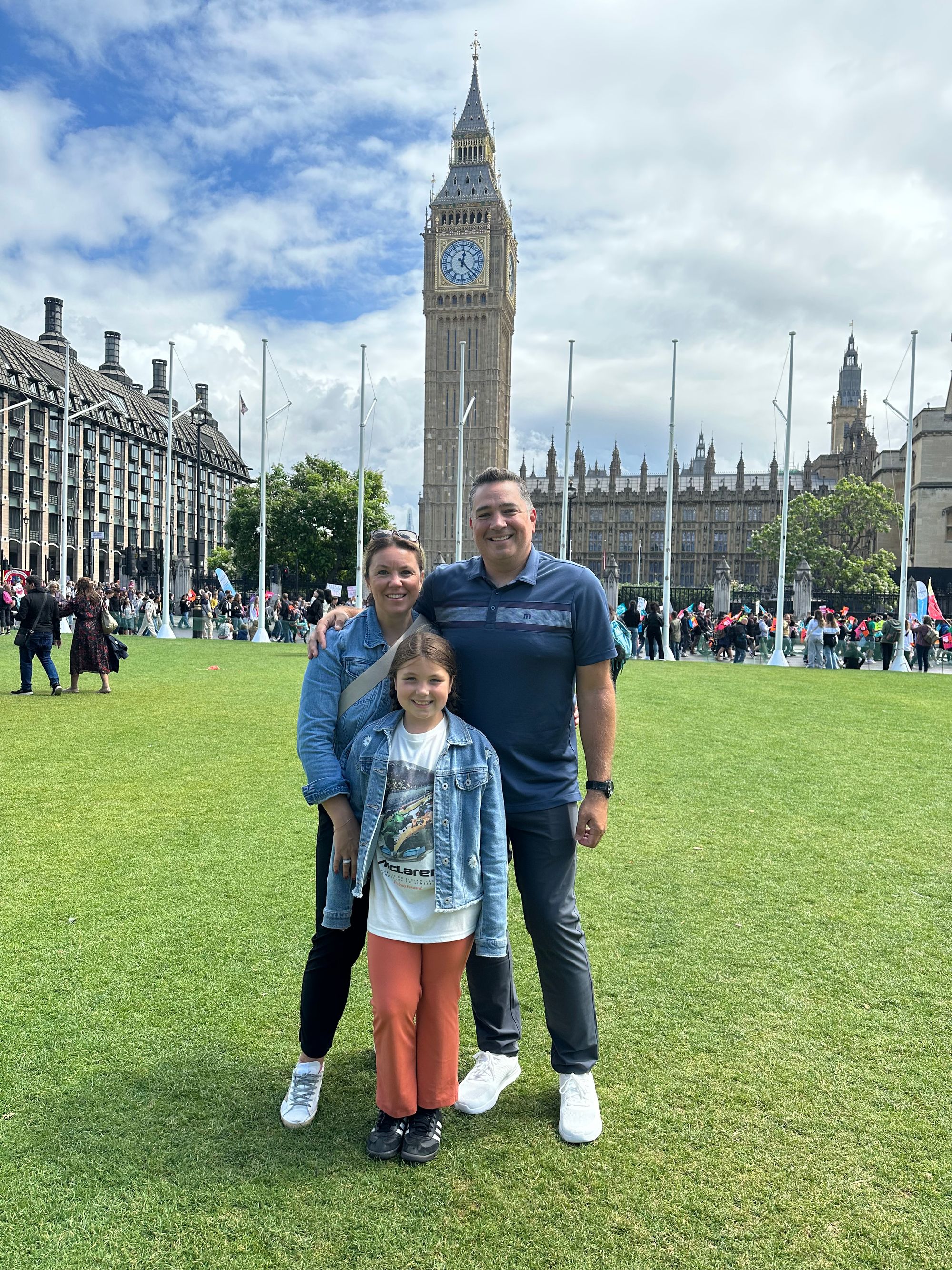 Professionally, I am looking forward to Groundbreak, our annual user conference that takes place in Chicago later this summer. It's an opportunity to engage, listen and then apply those learnings directly into our platform and brand. It's also a great touchpoint for hearing what is trending in the broader industry as we begin mapping out ways to accelerate digital and cultural transformation in the construction industry.
At Procore Technologies, we're building toward what's next – and looking for Groundbreakers to join us. Interested in coming on board and joining Procore? Explore a career with Procore today, or join our Talent Community to stay connected.