Honoring Procore's National Guard and Reserve Employees
Functioning as an integral part of the U.S. military, members of the National Guard and Reserve are critical to maintaining the strength and readiness of the country's armed forces. The National Guard and Reserve play a vital role in the military by fulfilling specific needs during natural disasters, domestic emergencies, and other major crises.
Last week, the Procore Veterans Employee Resource Group (ERG) hosted an in-person ceremony at the Carpinteria headquarters to honor Procore's National Guard and Reserve employees. During the ceremony, Procore CEO & Founder Tooey Courtemanche signed the Employer Support of the Guard and Reserve (ESGR)'s Statement of Support to show Procore's deep gratitude for the Procorians who serve both our country and the company.
The Department of Defense initially created the ESGR program in 1972 to encourage employers to act as advocates for employee participation in the military. Since its inception, hundreds of thousands of organizations across the United States have signed a Statement of Support.
Employers signing a statement of support pledge that:
We fully recognize, honor, and comply with the Uniformed Services Employment and Reemployment Rights Act.
We will provide our managers and supervisors with the tools they need to effectively manage employees who serve in the Guard and Reserve.
We appreciate the values, leadership, and unique skills Service members bring to the workforce and will encourage opportunities to hire Guardsmen, Reservists, and Veterans.
We will continually recognize and support our country's Service members and their families, in peace, in crises, and in war.
In addition to the signing, the event included remarks from two local ESGR representatives. The crowd first heard from Colonel (Retired) William V. Wenger, who serves as Area Chairman, Metro Area for the California ESGR branch. Brigadier General (Retired) James Combs then addressed the group, Combs currently sits on the ESGR board as national Vice Chairman.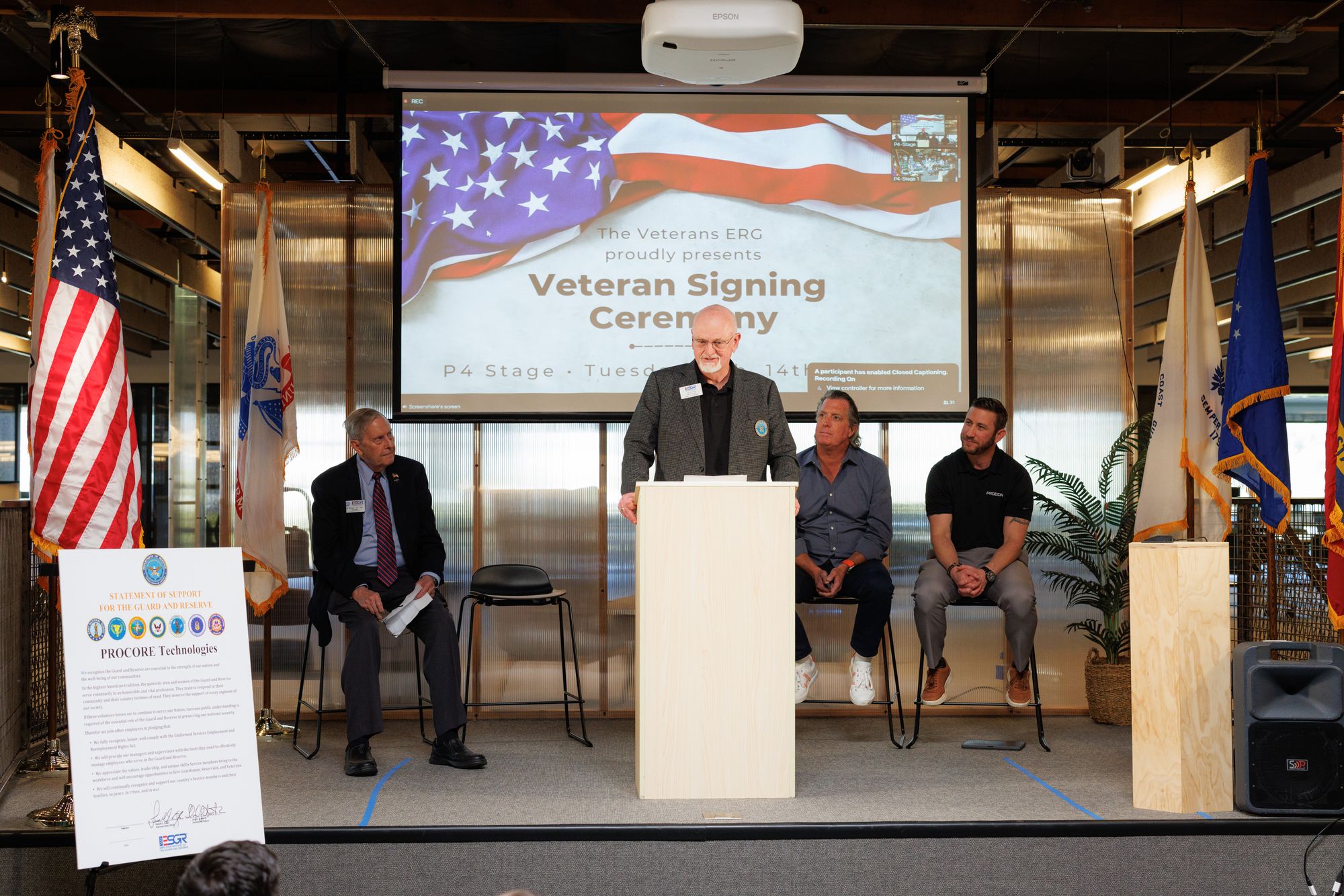 The ceremony also honored Procorian Calvin Blais, a Santa Barbara native and member of the California Army National Guard. Later this month, Blais will be deployed overseas for about 10 months to apply his extensive training as a first lieutenant and leader of a highly trained team of 32 Explosive Ordnance Disposal (EOD) specialists.
As an active member of the Procore Veterans ERG, Blais is no stranger to the uncertainty of deployment. "It's all a massive responsibility and the most stressful thing I've ever done, but I'm ready and I'm going to do this well," said Blais. "I've overcome too many things to fall short now."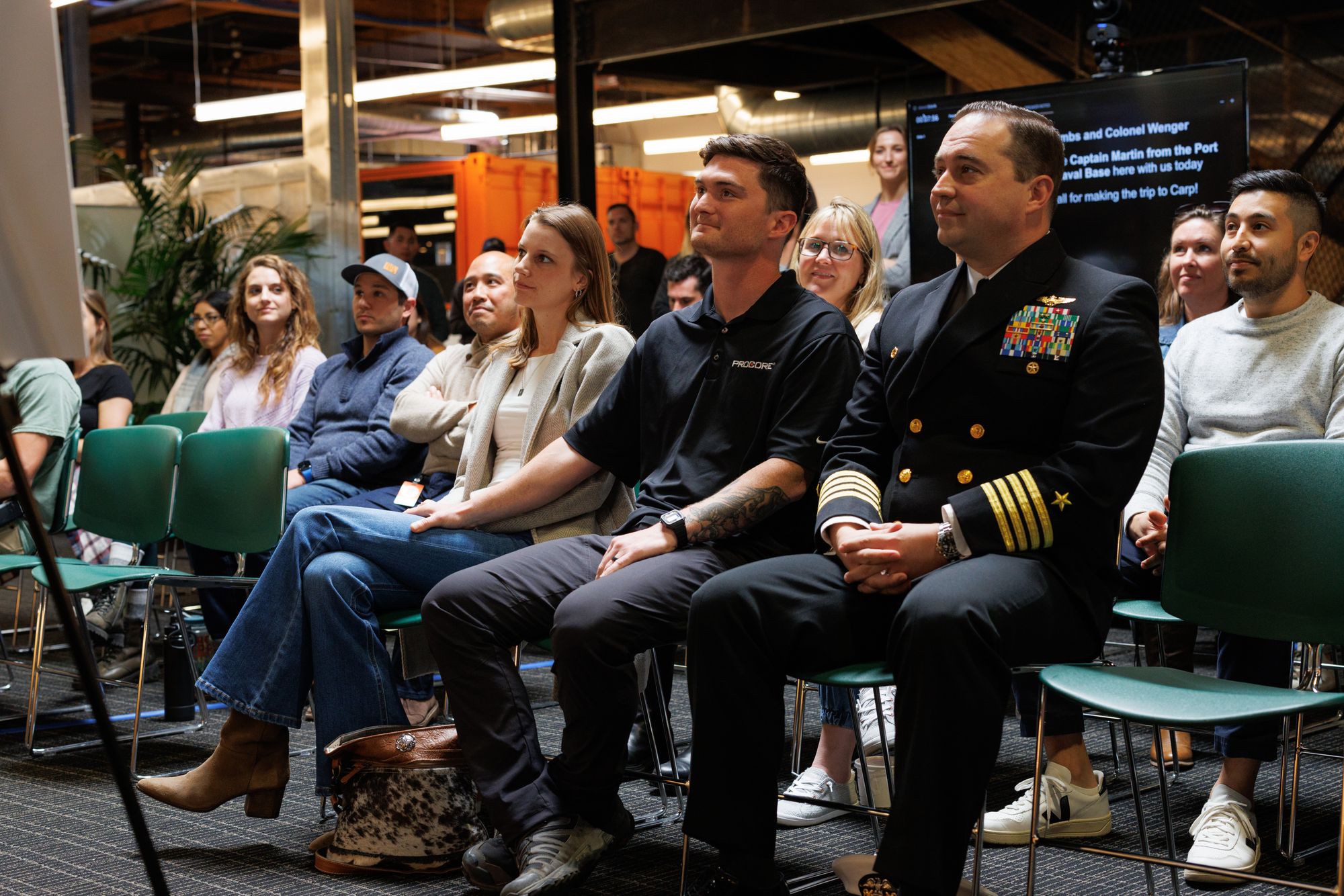 Blais is the third Procore employee currently on military leave, "Procore is going to be now providing 26 weeks of paid military leave," said Courtemanche. "That is our commitment to our military employees and their families."

At Procore, we're committed to connecting our employees, customers, and industry stakeholders to the resources they need to build a more inclusive and diverse future. Through our ERGs, Procorians can live out that goal by forming volunteer communities around shared identities or interests that support our Diversity, Equity, Inclusion, and Belonging (DEIB) pillars.
The mission of the Procore Veterans ERG is to embrace their proud community of employees who are service members, spouses, family members or other Procorians interested in the culture, camaraderie, and unique challenges faced by this group.
"This commitment from Procore is exactly why our Veterans and our Veterans ERG allies love to work here," said Justin Bogoyevac, co-lead of the Procore Veterans ERG. "In the military, there is a phrase we use that means that someone has your back. It's called "having your six (as in 6 o'clock). This commitment from Procore's leadership to support our Guard and Reserve employees is ultimately saying, 'We have your six.'"
Want to learn more about Procore's commitment to driving change? See how we're helping the industry, our communities, and our employees build better together.