How Procore and Balfour Beatty are Addressing Mental Health
September is National Suicide Prevention Month, a time for organizations and individuals across the globe to raise awareness of suicide prevention.
I first met Leslee Mallinson, Vice President of Brand and Communications for Balfour Beatty, at Procore Culture Academy in 2019. This executive leadership workshop explores how to leverage culture as a way to drive better business outcomes. During one of the discussions, the topic of "safety culture" was used as an example of how to positively influence worker behavior.
After listening for a few minutes, it struck me that no one was speaking about mental health as it relates to safety and culture. I leaned over to ask Mallinson if she'd noticed this as well. As it turns out, she did. Did she believe that we could expand safety culture to address the rising rates of suicide in our industry?
She answered with an affirmative yes. "Construction has been successful in creating a culture around safety," Mallinson told me. "This can be measured by decreasing cases of injuries and accidents on the jobsite. There are lessons to be learned from this model that can be applied to mental health awareness and wellness, as measured by a reduction in construction suicide rates."
According to the CDC's Report on Suicide Rates by Industry and Occupation, construction has the second-highest rate of suicide at 45.3 per 100,000 workers. Mallinson had already begun an initiative at Balfour Beatty to evolve their safety culture and include mental wellness with the same importance as physical well-being.
In 2018, the national general contractor launched a Suicide Prevention Awareness Campaign which includes a report that addresses the nature of the issue and how to change perceptions of mental health. The campaign also features a "Need to Talk" program that trains project management staff to look for mental distress signs and how to conduct personal check-ins and intentional listening sessions.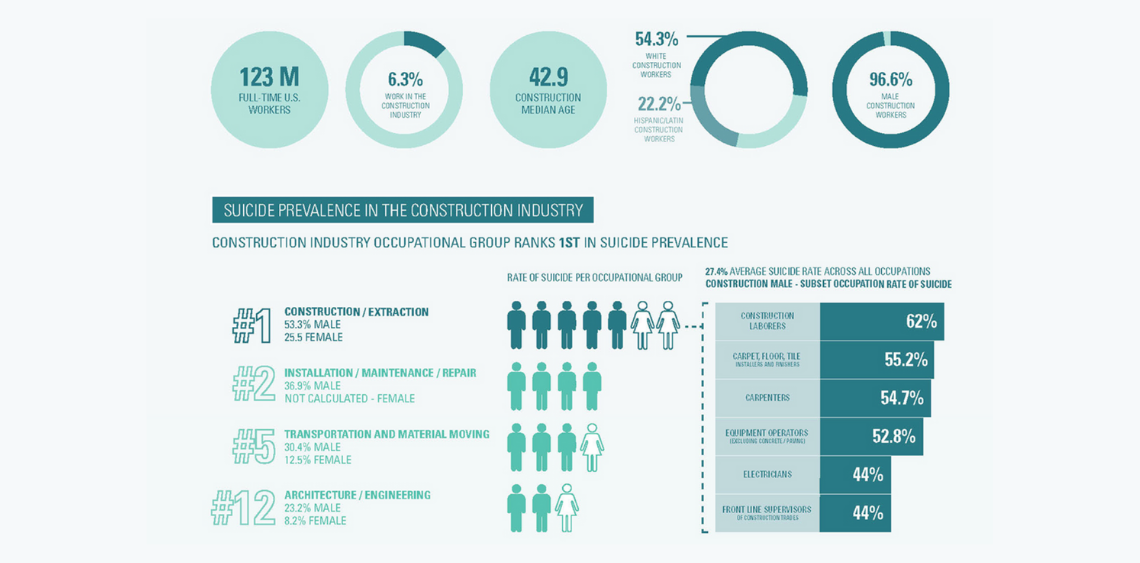 "As an essential business with a vitally essential workforce, the concern for our teammates' mental and physical well-being is paramount," Mallinson said. "Couple the strains of the pandemic on top of a historical labor shortage and we have a dangerous situation where the brunt force is being felt and shouldered by our essential workers."
When I started at Procore as the Director of Industry Advancement, I was tasked with leading Procore.org and our Continuing Education program. One of our most popular online course series is Procore Safety Qualified (PSQ) which focuses on building a safety culture on a personal and individual level. After speaking with Mallinson, I decided to shift the focus of our Procore Safety Qualified series to encompass mental health. This free, on-demand, and certifiable courses is available in both English and Spanish:
In partnership with the construction industry, these resources are designed to be open and actionable, to promote suicide prevention awareness and address the nuances that are still present in construction safety today.
Procore.org is honored to elevate the work our customers are doing to address topics like mental health in the construction industry. Sign up for my September 15, 2021 session on Mental Health in Construction here. Learn about our continuing education courses including Procore Safety Qualified, Building Inclusion, and more at procore.com/continuing-education.