Jeff D'Attilio and Groundbreak: Rowe, Woz, and Hold the Sugar
Groundbreak is Procore Technologies' bold redefinition of a construction conference. In a nutshell: Rub Shoulders, Innovate, Educate, Dance Like a Fool (or however it is you dance). With thousands of your construction colleagues in attendance, 70 or so eyebrow-raising breakout sessions, face time with Procore's software engineers, and a chance to write tomorrow's construction-tech headlines today, Groundbreak is singular, both as experience and opportunity. Have you been?
Name: Jeff D'Attilio
Company: Dimeo Construction Company
Where: Providence, Rhode Island, with offices in Boston, Massachusetts and New Haven, Connecticut
Title: Project Manager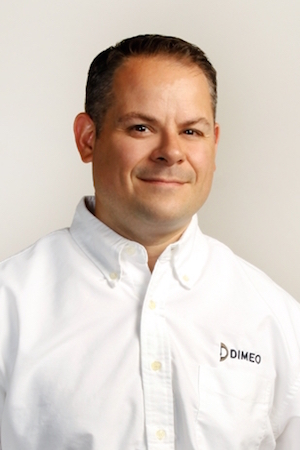 Dimeo Construction Company is an industry leader in providing innovative planning and construction solutions to clients in the educational, institutional, healthcare, life sciences, commercial and corporate sectors throughout New England. Ranked by ENR among the Top 100 construction managers in the United States, Dimeo's 225 professionals value strong team collaboration and working from a "Builder Mindset" in assuring our clients a successful project outcome.
Groundbreak: Rowe, Woz, and Hold the Sugar
Jeff D'Attilio, Project Manager at Dimeo Construction Company in Rhode Island, is a forthright guy. 18 years in the Project Management trenches have stripped much of the decorative lace from his communications style. He does not sugarcoat. Jeff offers me a congenial warning to that effect early on. "I do speak very candidly."
See?
But Jeff's clear-eyed assessments amount to a flavorful dose of conversational seasoning as we chat about his experience of Procore's annual Groundbreak Construction Technology summit. He's been to all three, from the first conference in 2015 (politely convened on Procore's seaside lawn) to 2017's hullaballoo in Austin, which at one point saw rapper Vanilla Ice swinging onstage with a concerned expression and 50 dangerously excited construction professionals who had climbed up there to join him.
"The first Groundbreak, at the offices in Carpinteria, was before we were clients," Jeff says. Like most people from out of the area, he pronounces Procore's hometown like 'cafeteria'. His sugar-free manner quashes my impulse to correct him. "What stood out to us was definitely the company culture; the positivity and progressiveness. There was a great speaker, a construction app guru (ConTechCrew podcaster and JBKnowledge consultant Rob McKinney) who really opened our eyes to everything in the software market that could be useful to our industry. The idea of having everything on a mobile tablet in the field, or even just your phone—it was made clear to us that the interest of Procore is to adapt to their clients' needs." At that time Dimeo Construction Company was using Primavera Expedition for their technology platform, and for financials a DOS-based accounting system. "It was evident we were behind on that front," Jeff says frankly.
Cool! So thanks to Groundbreak, Procore was able to charge in like the cavalry and save the day! Just what we like to hear. Jeff continues. "The second Groundbreak, while still a great experience…I felt some of the sessions went a bit over our heads."
Um…
"It didn't seem as constructive for our industry. It was a little more techie-based. Our industry has come a long way, but it still comes down to bricks and sticks, you know?"
Yeah…
"…Like talking about data, data storage, and all this stuff. Hey, that's great for the IT people of our businesses, but for the operations side? It was lacking."
Yeah, thanks, D'Attilio. I get it. [Whew!] Jeff's "South of Boston" frankness takes some getting used to. Where's the sugarcoating? Out here in sunny California we like our rainbow-colored sugar sprinkles. Bro.
"But last year, we felt that Groundbreak really stepped it up a notch. All aspects; the speakers, the innovation lab. It was amazing. I thought Mike Rowe was absolutely fantastic. I think everybody would agree with me on that. I went in thinking, 'Okay, so it's the guy from dirty jobs'. But he came in and told his story and totally captivated the audience for probably an hour and a half." He pauses and pivots "So the exact opposite of Mike Rowe was Steve Wozniak."
Jeff means this in an awestruck way—speaking of the Apple co-founder's massive intellect as it manifests in a public setting. "He got a little lost in his thoughts, but you saw his incredibly brilliant creative mind at work. That was very interesting to watch, basically a giant in the computer world thinking out loud up there."
Yeah, I offer agreeably. Funny how geniuses get a pass in a public speaking setting! Jeff sets me straight. "Look, the guy has been building computers since he was seven years old. I mean, he's amazing!" I counter with sprinkles.
"I know, right?"
Summiting
"Procore puts the event on, but this is really a construction technology summit in my mind," Jeff says. "Dimeo Construction Company have been clients since after we went to the first Groundbreak. We like the Groundbreak Innovation Lab. The last Groundbreak, my Dimeo colleagues and I got to sit down with one of the actual programmers, which was cool because we got to get into the programmer's seat and understand what code has to be written to solve a problem that we have. We like the testimonial-type sessions, where somebody comes in to talk about how they've used Procore." Jeff pauses.
"It's not just a Procore conference. It's all of the other elements that add into it, all the different speakers from different parts of the industry, the new products that you can see integrating with Procore. To me that's what it's all about, and that's what makes it professionally and personally worthwhile for people to go."