Leveraging Predictive Analytics to Improve Business Planning: Key Product Announcements From Groundbreak 2022
Procore's annual Groundbreak conference came to a close on November 9 and having been involved with countless in-person events I can confidently tell you that few experiences come close to the magic of Groundbreak. The construction community is special and it was a privilege to gather together with over 3,000 members of the construction community, representing 20 different countries and every key stakeholder, to discuss new ideas about how we can continue to push the construction industry forward.
The opening keynote was hosted by Tooey Courtemanche, Procore Founder, President, and CEO, and Wyatt Jenkins, SVP of Product. Over the course of the keynote, Tooey and Wyatt celebrated the work of our customers and walked our audience through all of the product investments we've made to make it easier to connect everyone in construction on a single platform.
With our customers at the heart of everything we do, these investments are driven by our time spent listening to feedback so we can develop and deliver the most impactful solutions to help solve the industry's most pressing challenges. Check out our Groundbreak 2022 highlights below:
Payments
Procore is working with Goldman Sachs Transaction Banking to embed payments functionality into its platform. The result is Procore Pay, a new service launching in 2023 designed to solve one of the industry's largest issues. According to the 2020 National Construction Payment Report, 80 percent of companies report spending a significant amount of time chasing down payments.
Key benefits of Procore Pay include:
Reducing payment friction by expediting invoice review and providing payment options powered by Goldman Sachs.
Saving time by removing a point solution and associated data entry, integration and payment process friction.
Streamlining lien waiver collection via an automated lien waiver exchange.
Preconstruction
According to FMI and Procore's State of Preconstruction survey, investing in preconstruction can provide tangible returns on profit, schedule and client satisfaction. Additionally, it can alleviate the burden of the ongoing labor shortage by minimizing rework and optimizing the current workforce.
To help customers streamline preconstruction, Procore developed Procore Document Management, a solution that provides a reliable, secure and performant single source of truth to access, manage and collaborate on documents from anywhere in the world. The solution features an integrated markup experience with custom approval workflows and granular file level permissions, helping customers meet common data environment requirements and ISO compliance standards.
Procore also introduced Bid Forms and Bid Leveling, which help users manage and compare scope and cost information to easily streamline the bidding process. The addition of Bid Board helps users manage their bidding and estimating pipeline, with a single view of all jobs they have been invited to.
Procore Construction Network (PCN)
Speaking of preconstruction and bidding, a critical element to great preconstruction is being able to find the right people at the right time for the jobs that need to get done.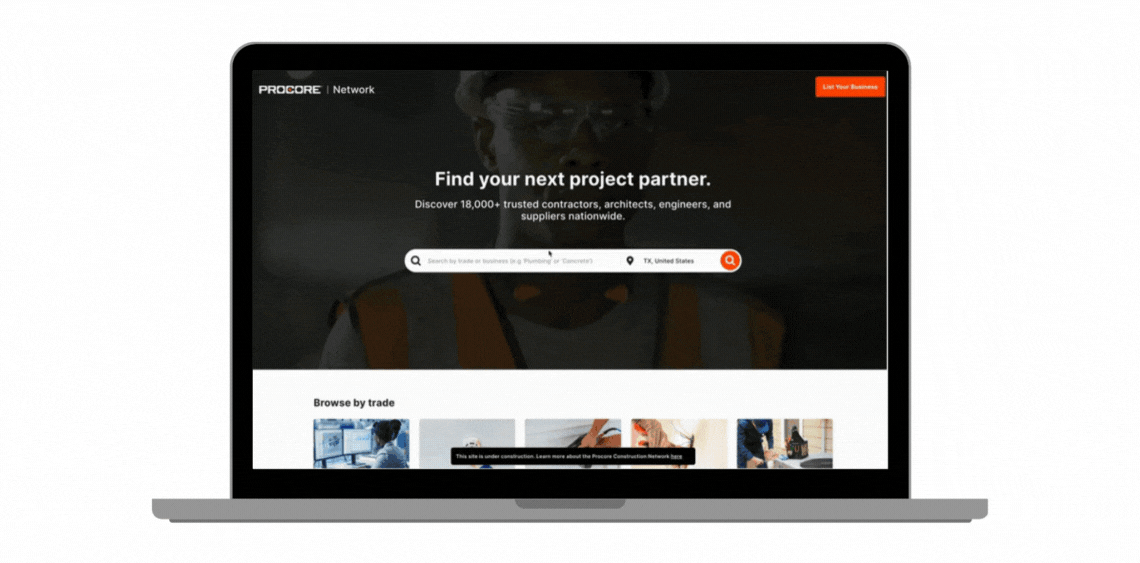 That's why we created the Procore Construction Network. Now, Procore customers can easily submit bids directly to PCN listed businesses, making it easier and faster to find and win more work.
Procore Connect on Drawings  
In today's increasingly competitive market, stakeholders need greater collaboration and communications capabilities across the entire construction project lifecycle.
Coming in 2023, Procore Connect on Drawings will enable teams to securely connect to projects in other stakeholders' accounts and synchronize data to reflect the most up-to-date drawings – all without leaving their own account. With this new functionality, users will be able to ​​work off the latest drawing revisions across teams, helping to deliver more projects on time, reduce rework, and minimize risk.
"Procore Connect is a great start to being able to connect across platforms on Procore. It strengthens our ability to connect with the customer and utilize a single source of truth for drawings, so we're all working the same revision," said Brad Mohler, virtual construction manager, ColonialWebb.
Procore Conversations
Today, informal communication lives on every project across multiple solutions like group text, email and more. These communications are necessary, but often disconnected from the rest of a project's data. That's why Procore introduced messaging that's built for construction and integrated into the project, making collaboration efficient and easy.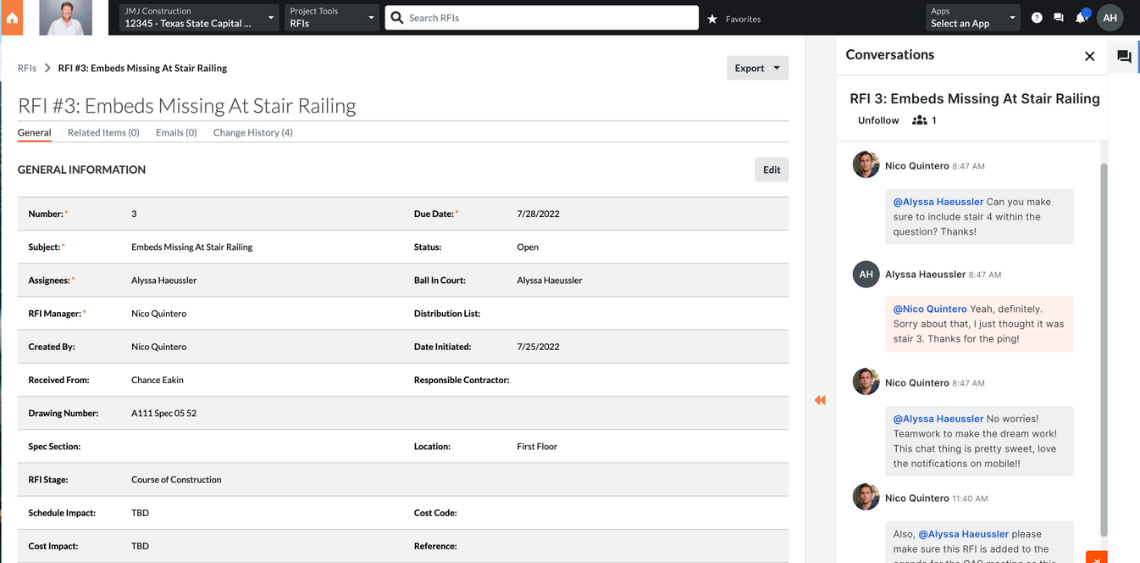 With Procore Conversations, users are now able to track, standardize, and reference project communication housed alongside key project items.
Project Financials
In 2022 we made a number of enhancements to Project Financials, giving users more configurability and flexibility.

To ensure all Procore customers receive accurate financial information, Procore has developed Work Breakdown Structure so teams can categorize and define costs for more granularity. With Self Service Workflows, users can now quickly create approval processes for financials that align to how their business is set up. Procore's new Budget Changes tool allows customers to proactively manage change with greater financial control to ensure the budget always matches the reality of the project.
Advancements in Mobile
Procore is focused on creating unique experiences for every stakeholder. For many, that experience starts with the phone in their pocket.
In order to better connect the field and office, Procore is bringing new innovations to mobile. Quick Capture helps field teams significantly cut down the time to log items in the field with voice-enabled input technology. The android mobile viewer now enables BIM information to reach the hands of those installing, validating and tracking the work, decreasing the risk of installation issues that can affect the schedule, quality and cost. Users can also leverage their own personal QR code to scan and invite collaborators into a project quickly and easily.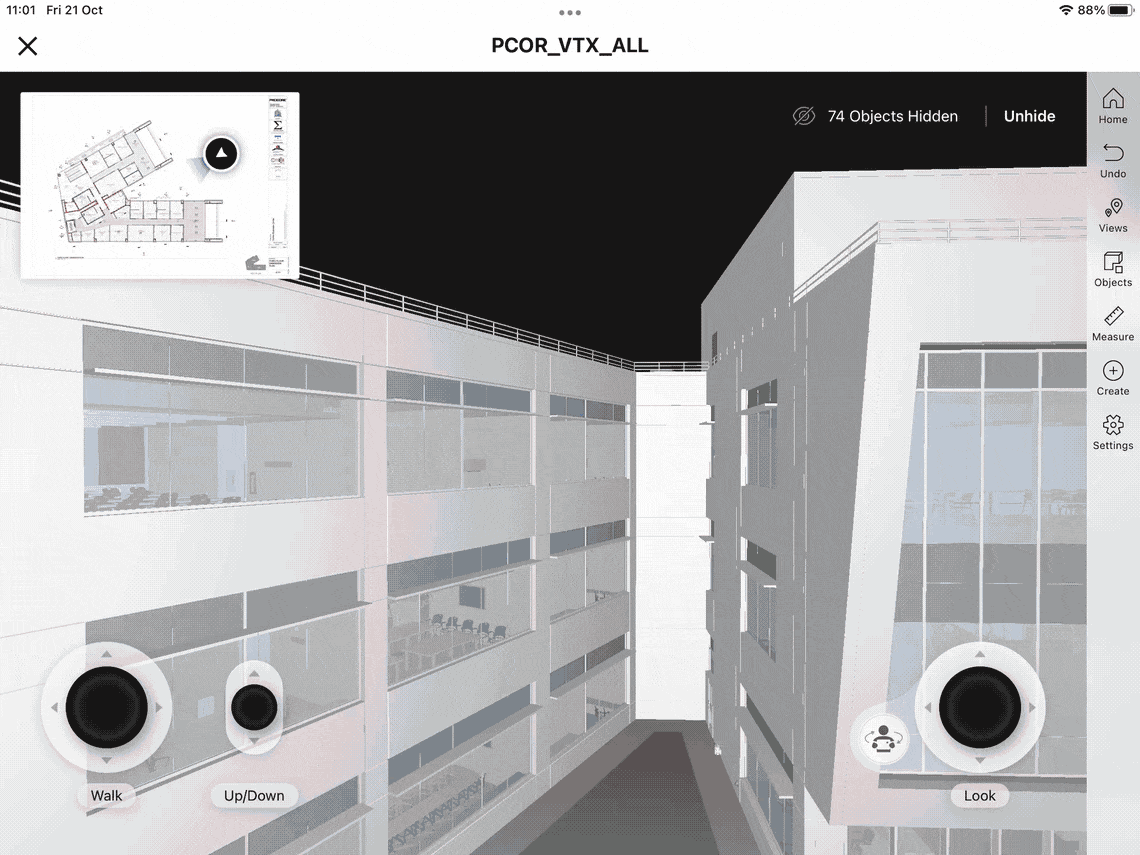 Lastly, with the new dynamic 2D views for floors, field teams can easily see specific dimensions of floors on a coordinated model, ensuring that everything can be installed exactly to plan and improving quality and safety.
Construction Intelligence
Procore continues to evolve construction intelligence by unlocking new data, analytics and artificial intelligence
Procore is working to enrich our products with AI technology by creating tools to give users the ability to run projects smarter, safer and more efficiently. Our Search function reduces time spent looking for items by understanding the context of your search, and having autocomplete functionality. Auto-Area Takeoff in our Estimating tool gives teams the ability to bid more efficiently, and accurately for concrete and roofing trades.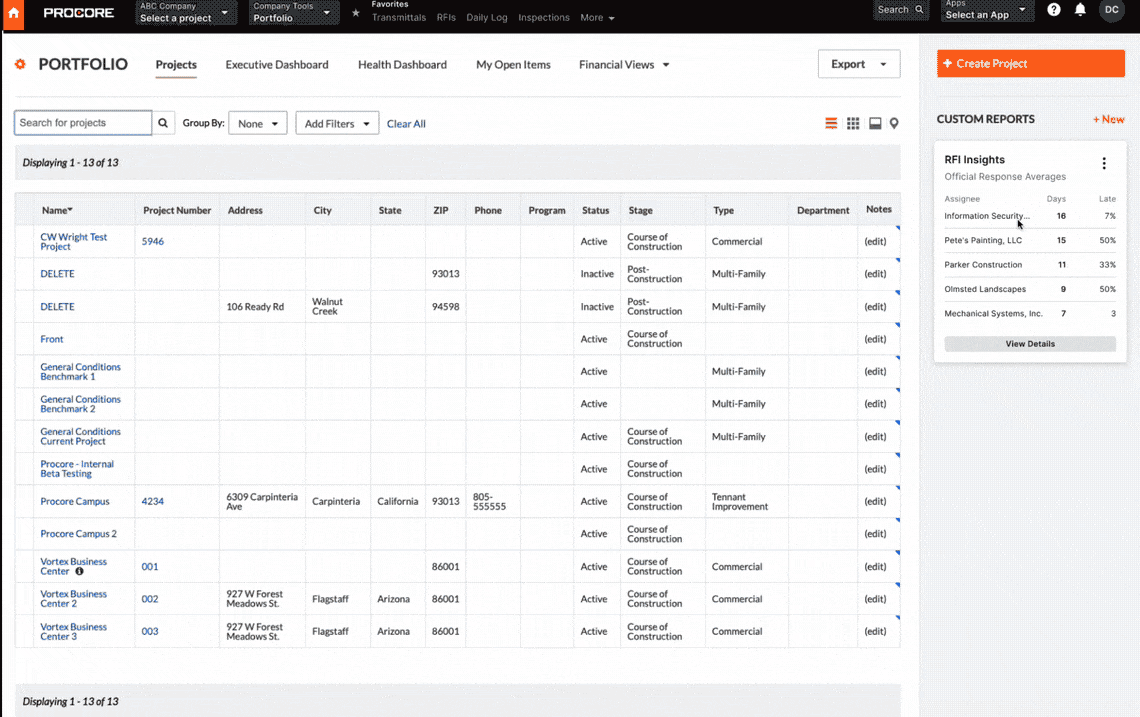 Currently in pilot, Procore Insights provides high level information on the trends of RFI's and General Conditions budgets in comparison to historical projects within a user's instance. This information provides clarity on common RFI's to understand where the most time is being spent on a project, and alerting to potential of overspending on general conditions to make sure users are accurately aligning budgets across the lifetime of the project.

Want More?
In addition to these announcements, Tooey and Wyatt also provided insight into Workforce Management and Project Execution.  
More information can be found on the Procore Pressroom, and images from Groundbreak, including product images, can be downloaded from the Groundbreak press kit.