New Year, New Home for Procore Toronto
The Procore Toronto team started the new year off by moving into a brand new space. We've settled into an open but cozy WeWork office within the city's downtown core in the Financial District. And of course, we broke in the new space Procore-style with a champagne toast and some cake. The office space itself is over 1,600 square feet, and the building comes equipped with loungey common space and is steps away from Union Station, the city's central transportation hub.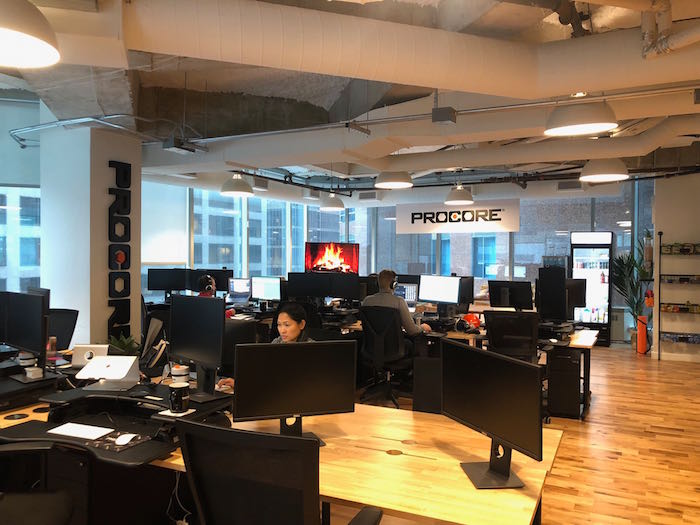 View of Procore's newest office space.
Procore first entered into the Canadian space with an office in Vancouver and quickly expanded with a second office in Toronto in December 2017. Around this time last year, we had 4 full-time staff in the office—we've since expanded the team to over 20 people and will be continuing to expand our headcount throughout the year. The Toronto office is currently comprised of Sales, Marketing, Sales Engineers, Customer Success and Implementation teams.
"With the expansion of the Toronto office, it really gives us an opportunity to solidify roots in the Canadian tech and construction communities," Jas Saraw, VP of Canada says. "This expansion of the office makes room for increased collaboration, and for us to nurture and promote talent."
"The collaboration and the way the teams encourage each other—the camaraderie being built in the office—really fills me with warmth and pride," Jas adds.
We've expanded our management team with Harry Battu, Director of Marketing, and Andrea Bumstead, Director of Customer Success. We've also built strong inroads into Quebec—we now have designated French Customer Success Managers and content. One of the main focuses this year is to continue developing our French resources and assets. By focusing on French localization, we hope to provide a level of service across all of Canada.
"Canada is an incredibly strategic market for Procore. The expansion is a direct result of the ever-growing demand for a construction tech partner that takes a customer-centric approach," says Dan Miller-Smith, VP of International Markets. "Canada is home to some of the most innovative builders in the world and Procore is honoured to support these organizations as they build coast to coast."
We look forward to growing our client base in Canada as Procore expands further into the international market. We've made significant investments to localize the product specifically for this market; we ultimately hope to deliver a Canadian product supported by local teams.
If you're interested in joining our expansion into the international market, explore our open career opportunities here.