Probuild Partners with Procore to Boost Quality & Safety Management
We're excited to announce that Probuild, one of Australia's largest construction companies, has selected Procore as its technology partner for health, safety and environment (HSE) and quality management.
Probuild delivers some of the most significant construction projects in the country and we are pleased they have selected Procore's cloud-based, mobile-first construction management platform to manage quality and safety requirements on sites around Australia. Procore will enable Probuild to continuously collect project data that can be used to mitigate risk, track performance, and improve quality and safety processes.
Probuild engaged Procore when it realized it needed a new HSE & Quality system to meet the organization's focus on lean processes and growing collaborative needs. Probuild sought a cloud-based system that required little manual intervention, and significantly reduced double handling of data and processes.
Taking the opportunity to participate in Procore's first Innovation Lab for Australian users in Sydney last year, Probuild learned about Procore's Quality & Safety product. The experience also allowed Probuild to understand Procore's key differentiator: we are committed to helping Australian construction companies meet quality and safety objectives, with the continuous improvement of our platform in consultation with local industry.
The developers were quite open, showing the processes, explaining their approach, and diving into how they do things. That was so refreshing and it stems from the Procore culture where collaboration is key. We all want the same thing in the end; we want a product that is going to come make construction jobs easier." – Martin Davies, Senior Quality Coordinator at Probuild
Through an RFP process involving eight other vendors, and a live trial, testing the core functionality of the solution against one other vendor, Procore was selected to become Probuild's technology partner for quality and safety. Procore proved that its solution can help Probuild achieve its objectives of handing back time to its project delivery teams through the provision of in-field technology, removing overly manual processes, and reducing double handling of data.
Probuild is now implementing Procore for HSE and Quality with project teams throughout Australia.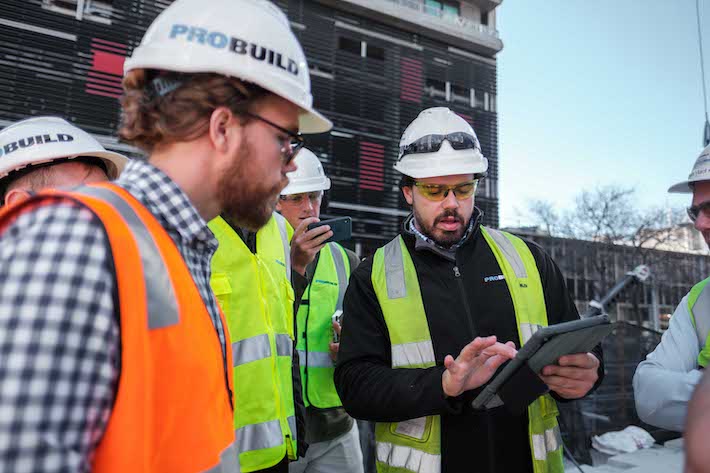 "One of the reasons we decided to work with Procore was because of their willingness to partner with us according to our needs. We've been really impressed with the Australian team and their commitment to innovation in consultation with the local market, as well as their expertise in implementation and training." – Ross Murphy, Group Manager – Systems at Probuild
As Procore Australia goes from strength to strength, we're looking forward to working with an industry leader like Probuild, where we can have a direct impact on their business operations, extending across their ability to deliver quality projects and attract and retain the best talent.