Procore Leads the Leaders Category in 2017 FrontRunners Data-Driven Assessment
We're proud to be among the Leaders in this year's FrontRunners assessment of Construction Project Management software, with capability and value scores of 4.29 out of 5 and 4.51 out of 5, respectively.
This assessment is based on a number of factors many of which come from user-driven signals - ratings from end users, internet search behavior, and size of user base.
As the #1 most widely used construction project management software, we are thrilled to be recognized in this context for our early and ongoing efforts to modernize the construction software industry. Our FrontRunners scores are a strong indicator of the benefits of putting the unique needs of end users first, whose insights we rely on every day to keep our mission in focus.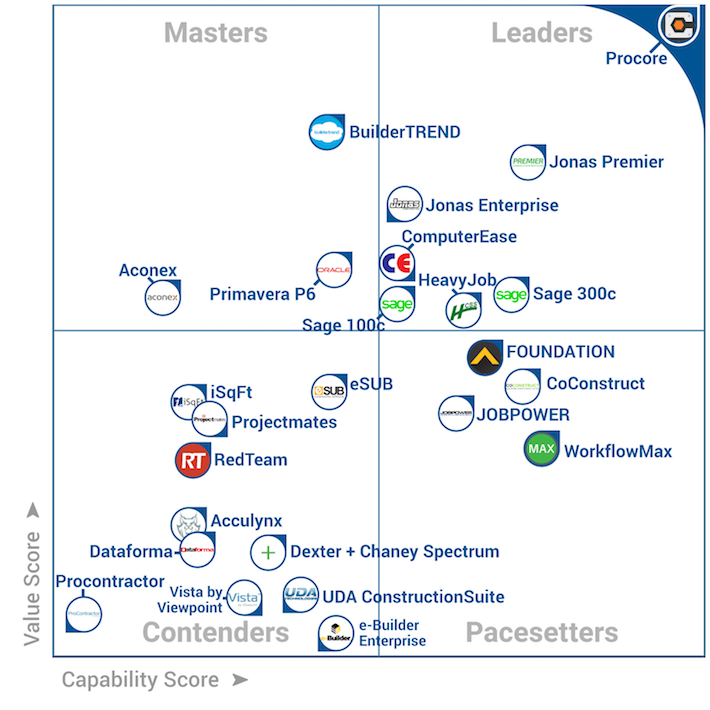 The FrontRunners report assesses the capabilities and value of the available software options as relate to small business, and identifies the top 25-30 products. Per the report, "Leaders are all-around strong products. They offer the highest value and capability in that market."
The content for the FrontRunners quadrant is derived from actual end-user reviews and ratings as well as vendor-supplied and publicly available product and company information that gets applied against a documented methodology; the results neither represent the views of, nor constitute an endorsement by, Gartner or any of its affiliates.