Procore Partners with MRI Software to Create an Open & Connected Ecosystem for Owners
In a year plagued by uncertainty, CRE companies have found that accurate forecasting and reliable financial processes across all projects in their portfolio are vital to business health. A recent survey of over 500 construction project owners, conducted by research firm IDC and commissioned by Procore, concluded that a large majority of North American construction projects are being delivered late and significantly over budget compared to the owners' original plans. Construction owners can overcome this challenge by leveraging technology to provide a connected platform of digital project data, processes, and controls for all stakeholders.
The shift towards connected technology solutions can help. That is why Procore has partnered with MRI Software, a global leader in innovative real estate technology, to help our customers improve efficiencies, increase transparency, and execute their business as successfully as possible.
MRI's real estate software solutions give organizations the freedom to transform the ways communities live, work, and play. MRI serves more than two million users worldwide with its comprehensive, flexible, open, and connected platform, as well as its rich partner ecosystem.
At Procore, we place a high value in partnering with the most innovative technology partners to further our mission of connecting every project stakeholder on a global platform. Our connected platform brings together entire project teams, from the office to the field, so they can focus on what they do best – delivering the projects that keep businesses running.
"It was important for us to partner with Procore at the most strategic level," said Sean Slack, Vice President of Partner Connect at MRI Software. "Both MRI and Procore are committed to delivering scalable, trusted, and customer-focused technology. Our partnership will drive success for our clients by synchronizing financial data across the life cycle for all their projects, enabling actionable insights from real-time, reliable data."
Real estate owners and operators are part of both Procore and MRI's customer base. This partnership is a joint commitment to the success of our customers and improving the industry at large. The Procore and MRI partnership, including the recently released integration discussed below, connects Procore's project and cost management solutions with MRI's property accounting ERP to synchronize data and business processes across the two platforms.
"Project management and accounting are both mission-critical technologies for real estate owners, but the process of manually entering data into disconnected systems is prone to errors and delays," said Riggs Kubiak, who was the founder and CEO of Honest Buildings and later became Procore's SVP of Owner Strategy after Procore acquired his company. "Seamless integrations across systems will continue to enable the next generation of owners and set them apart. It's a game changer."
The new Procore and MRI integration will help transform project data siloed across emails, shared drives, ERP, and spreadsheets, into a cohesive platform. It simplifies commitment, change order and invoice processing, and provides access to the most up-to-date project cost data, at any time, for all projects in the portfolio. This connected ecosystem increases efficiency and collaboration between stakeholders from project management, accounting, finance, and beyond.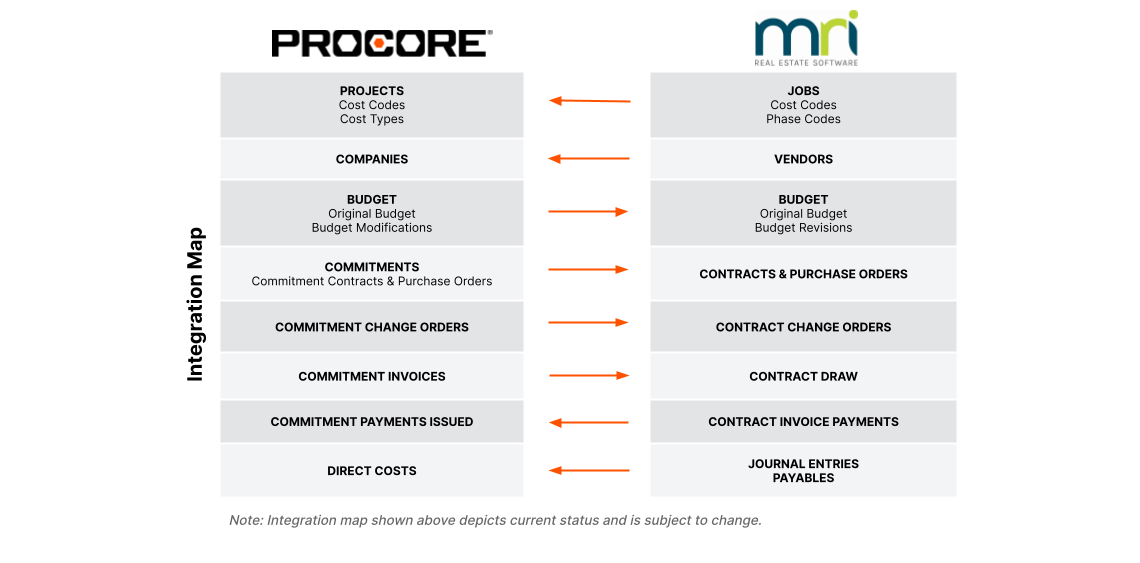 To learn more about how Procore and MRI are partnering to connect project management and accounting, register for our upcoming webinar presenting the integration in greater detail, and visit the MRI Integration page in Procore's App Marketplace.