Procore's L&D Program Recognized As One of the World's Best
We're excited to share the news that Procore ranked #57 in the 2018 LearningElite List of best Learning and Development (L&D) companies in the world. Procore is recognized alongside industry pioneers like Visa, AT&T and Deloitte. Of the 400 global companies that applied for the prestigious award, only 75 companies were awarded as finalists - Procore being one of them.
LearningElite applications are peer-reviewed and judged. After applying to the competition, each applicant then judges two of their peers' essays based on a criteria provided by the LearningElite organization. Judges (all senior learning solution executives) rate organizations in each of the five LearningElite model categories: learning strategy, leadership commitment, learning execution, learning impact and business performance results.
A piece of our LearningElite essay submission included highlighting why Procore L&D deserved this level of recognition. As the application author, it was a challenge to narrow down the number of stories we could tell about investing in our people over the last year. For example, in 2017, Procore invested in building the Procore Learning Center (PLC). The PLC is made up of two buildings totaling 34,000 sq. feet. The space is solely dedicated to the learning and development of Procore employees and the local community.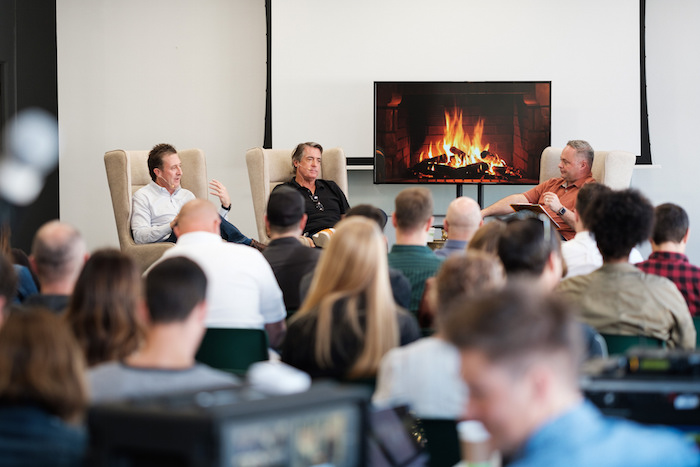 Pictured above-PLC in use on Procore's CORE Day during a leadership team fireside chat.
"We sincerely believe that when our employees are learning and growing, they will be most engaged and do their best work for Procore. What is best for our employees is also best for the company," says Procore Vice President of People, Michelle Greer.
Last summer, Procore also moved from a two-and-a-half day new hire orientation experience (with little product focus), to a new five-day program including extensive product and industry knowledge. Depending on their role, each new team member also experiences an additional week-long new hire training specific to their area of the business. This means overall, the average Procore new hire undergoes 80-100 hours of training and development within their first month of employment. At the start of Q3 in 2017, 250 new hires had been onboarded through the new orientation program.
Procore has overwhelming executive support and sponsorship for the L&D mission.
According to Steve Zahm, Procore President & COO,
"If you took the learning and development organization out of the company, it would be like taking out the electricity. This business moves too fast to not have learning as a constant focus. By continually developing and investing in employee learning, we are ramping up our employees faster which in turn leads to ramping up and supporting our customers faster and more efficiently with a better product. We are rapidly improving the knowledge base of our employees…who then do the same for our customers".