Specialty contractors streamline workflows with Procore's centralized platform
In today's construction market, projects of all sizes are often at risk of delays and cost overruns due to frequent communication failures. Without a central repository for project stakeholders and project information, teams are left with scattered information and data silos—leaving minimal room for collaboration and maximum room for error.
Information is stored across multiple systems—which may or may not have mobile functionality—often delaying critical and time-sensitive information being delivered to the field. As a result, this can impact schedules, budgets, and overall profit.
Procore's mission is to connect everyone in construction on a global platform in order to eliminate these silos, and provide a single source of accurate and up-to-date information. By bringing all project stakeholders into a single platform, teams can focus less on data management and more on construction management, so they can do what they do best—build.
Connect Your Teams
With a single, central place to store all information, specialty contractors can better manage labor, improve field-to-office communication, and simplify change management.
Even the most robust tech stack of specialty contractor tools will be useless if they aren't integrated. This is because disjointed solutions prevent teams from effectively communicating and efficiently managing workflows between the field and office.
In contrast, Procore brings everything together in one place by providing a secure, configurable system that connects all your business applications, people, devices, customers, and partners in one central hub. This enables teams to easily collaborate and share critical project information from multiple solutions. Plus, with Procore's unlimited user license model, Procore enables all collaborators to access the information they need, when they need it.
"Procore is easy to use, and having everything in one spot helps a lot. You only have one piece of software," said KSC Project Manager Jon Belleau.
Streamline Your Workflows
The benefit of a true integrated platform is that data can flow back and forth from tool to tool as you navigate from one product to the next. With Procore's platform, teams gain access to data and actionable insights across solutions, giving them a more comprehensive view of project performance. Teams gain full visibility into updated project information so they can identify risks or areas of improvement in real time and course correct before it's too late. This enables them to make better decisions, reduce rework, and maximize profits.
This month, we released a new feature that further strengthened the existing connection between Procore Field Productivity and Procore Project Financials. This means that as soon as labor and production data are submitted into Procore, it automatically updates the budget—helping you understand the financial impact of labor costs and productivity in real time.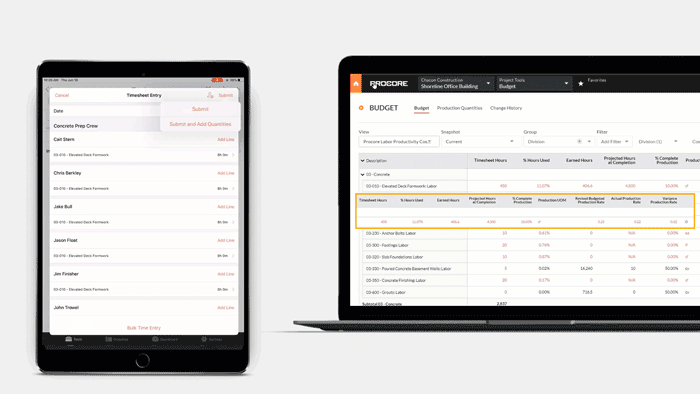 Productivity can make or break your budget, and managing labor and production costs can be a pain. Many companies often have to wait 1-2 weeks after payroll is completed to receive this information.
However, with Procore this real-time insight into productivity enables teams to identify at-risk scopes of work and act fast to make informed decisions.This helps businesses protect both budgets and profitability—while staying ahead of the competition.
Consolidate Your Solutions
As your business grows, your needs change, multiply, and become more complex. Procore's robust, secure platform stitches all your applications together seamlessly.
Unlike legacy solutions of the past, platforms are built on reliable, scalable, adaptive, and secure frameworks through which they can evolve to meet users' changing needs. Their flexibility also gives them the unique ability to easily adapt to new developments in the construction industry. Better yet, a platform offers an ecosystem of partner applications that expand core capabilities. This enables businesses to consolidate all construction tools—including accounting, scheduling, and productivity tools—in one location without having to log into multiple systems or worry about reliability.
With our open interface, Procore connects to over 200 top construction and office applications that help teams get the job done right. It allows teams to simplify project management and administrative tasks while still using the tools they love. Integrations such as Esticom and LaborChart allow teams to access their favorite third-party construction applications directly within Procore. With customizable workflows and embedded applications, you can equip your teams with tools and workflows that are designed specifically for how they work.
"Esticom has vastly improved our transition from estimating to operations. The ability to utilize the Procore connection and embedded application during this process is a great benefit for our team," said KSC Vice President, Ben Smith.
Leverage Your Data
Through the Procore platform, you have the ability to leverage your data through advanced reporting and data insights. Procore draws data from across the platform and connected systems, simplifying data extraction and analysis with clear visualizations and easy-to-create reports. These provide a holistic view of project and business performance. Teams can take this one step further and put data to work with Procore Analytics, an analytics solution that turns project data into business intelligence.
What's more, businesses can ensure data is safe with industry-standard protocols. With AES-256-bit encryption, continuous data backups, granular permission levels, and automatic user tracking, teams regain control of their data—and who has access to it.
"Automating and optimizing and digitizing all of these things—it's definitely saving a lot of time out there which gives them more time to push production and oversee safety, quality of work, labor production, and focus on customer service," said Hassan Tabatabayee, Business Intelligence Leader, Trio Electric.
Procore's platform has helped thousands of specialty contractors connect their teams, processes, and data across the construction project lifecycle. Sign up for a live demo and see how Procore's centralized platform can help your team build better and get paid faster.