Stewart Smits May Just Be Procore's Valedictorian
Stewart Smits is Vice President of Compliance for Inland Builders. He is also a Project Manager currently overseeing Inland's flagship $32M project––a gorgeous contemporary 10 story mid-rise condo tower in LA's Koreatown, featuring 89 residences.
This story, though, is about Stewart's unofficial third title—Supersonic Student of All Things. Naturally curious—and a sponge-like learner for as long as he can remember—Stewart's latest episode of extreme self-education involves Procore certification. In early 2019, Inland Builders took on the premier construction management platform and asked Stewart to become the Procore expert-in-residence. They had no idea how avidly he would run with the opportunity.
Stewart recalls the moment of revelation when he contacted Procore while sharing a screen. "I'll never forget it," Stewart says. "She was talking me through it, and she showed me a little question mark up in the right-hand corner of the screen. She said, 'Click on that and then scroll down. There's Procore certification.'"
Stewart pauses.
"That changed my life. It really did. It changed my management style. It changed my ability to quickly train others and have the resources right there, right at my fingertips…"
To date, Stewart Smits has digested the entire Procore library. All of it. To put it another way—the man has completed 206 Procore courses. In about a year.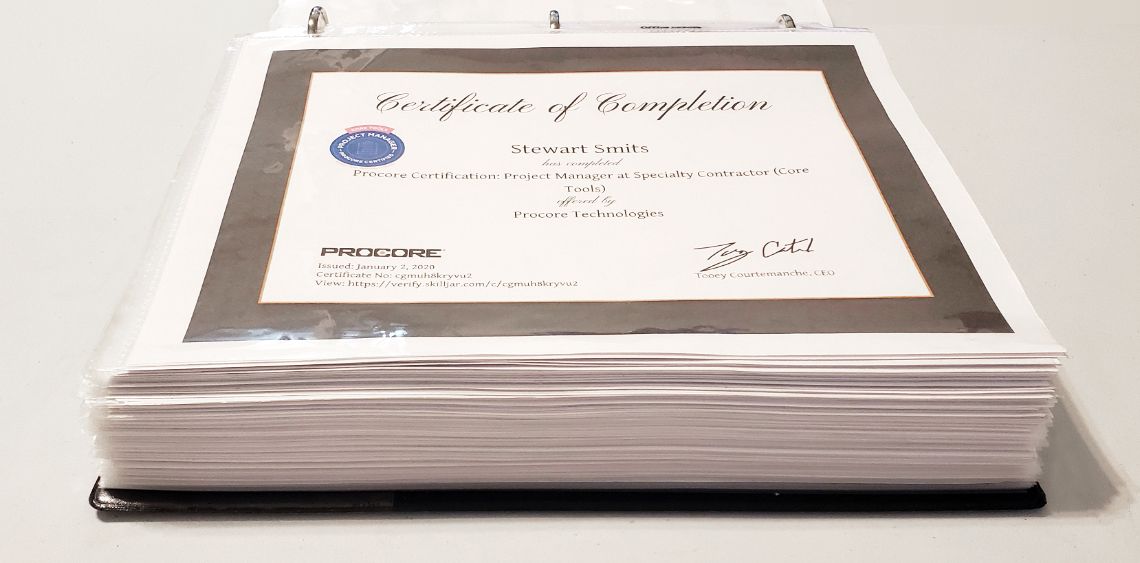 Cracking the Books
"Well, how do you get to that number?" Stewart asks rhetorically, taking the words right out of my mouth. "If you actually add up the courses, it comes to 171," he says blithely. "When the course content became dated, courses were taken down for renewal. When they reappeared in revised form I retook them again."
Are you getting the picture? "Then you've got your new Procore admin course, which is a three to four-hour course. Well, that's in two different sections, so I took both areas…"
In a little over a year, Stewart Smits has consumed and metabolized a knowledge base that would render a lesser student bedazzled––or at least dazed. How did he manage this scholastic feat—while project managing a $32m condo tower and overseeing Inland Builders' compliance responsibilities?
Answer: he put his mind to it.
"I love to learn, and I'm really goal-oriented. I mean, there's so many layers in Procore. I wanted to learn it all in the best way I could. I looked at it in terms of time-economy. I sat down and considered how I could most efficiently learn Procore. I calculated what I felt was a realistic pace—you know, 'I can put in two hours per night during the week, and on the weekends I can double that.'" Stewart looks at me and grins. "And that's what I did."
Construction Academics
Stewart is what's called a Lifelong Learner; a plain little term that scarcely addresses the mission. Attempting to get one's arms around all the learning the world has to offer is like hoping to whittle down Mt. Everest with a teaspoon.
People like Stewart Smits are undeterred, addressing the challenge with three words and a shrug. "Let's get started." And where curiosity yields mastery, you have the perfect storm.
"Let me put it this way," Stewart says. "You build that foundation. You build that knowledge base, you see? For instance, when I started my OSHA courses, I'm telling you I was set. I already had 60% of the knowledge from Procore's safety courses. Forty percent may have been unique to OSHA, but Procore's courses prepared me for the majority of that OSHA training."
The Whole Construction Professional
In the same way a "Classical Education" aims to produce a well-rounded individual, Procore's curriculum addresses what could be called the Whole Construction Professional. Stewart's construction academics included such classes as Growing an Organic Workforce in the Skilled Trades, Procore Safety Qualified: Fall Protection, and Cold Climate Window Insulation.
Classes like How to Make Your Construction Company Relevant on Social Media even address attracting business. On the attracting business front, the courses are a value-add, promising immersive, self-paced learning for field and office.
"We'll go into those meetings with executives, we have Procore up on the screen. So why would you want us as a contractor above the others? I'll get on the screen, I'll walk them through it, telling them 'if you want to really have a better bottom line right now, Procore has free courses for your people to take advantage of. They currently have 40 webinars.' By the time we're done with that meeting, we've basically got about 50% of them signing on because most of the construction sites don't have a good management system."
Both Sides of the Desk
Inland Builders, a company truly on the rise, seems perfectly positioned to parlay Stewart's Procore expertise.
"Our CEO Ivano Stamegna has been at this for quite a while. He and his partner, Brandon J. LoCascio, design, do residential work and perform large-scale concrete structural work. We have operations across Southern California. We have separate land entitlement development divisions as well. And so beyond that, they're actually planning master communities. We're really a well-rounded company."
And having a well-rounded Procore expert like Stewart Smits onsite doesn't hurt either. Learning for the pleasure of it is one thing. When the desire to learn leads to a mastery that can be shared with others, you're onto something. And Stewart understands the innate value of learning—from both sides of the desk.
"I taught at a private school for several years. Loved every minute of it. Loved the kids. I taught senior high school and I loved the seniors."
Stewart pauses.
"These Procore classes were like finding gold for me because of my love for learning. And It can't be said enough—if you have a chance to better yourself and better your understanding, do it."
Continue learning and start getting Procore certified now.