Supporting our employees while we all practice social distancing
Procore employees, like much of the world right now, are following advice from health experts and practicing social distancing. On Thursday March 12th, we mandated a work from home policy for all of our employees – more than 2,000 Procorians across 14 office locations globally.
Procore is in a fortunate position, as we are able to continue to run our business remotely. As we've transitioned into this new reality, one where many of us work alongside roommates or have children and pets joining our video conferences, we've introduced several initiatives to help our employees as they continue to support the construction industry.
Prioritizing communication and connection
It's important for us to communicate things that create clarity and connection. We've transitioned from a quarterly to a weekly cadence for executive-led, all-company meetings. This allows our senior leaders to share priorities, discuss timelines, and also highlight some of the creative ways employees are staying connected – like optional company-wide virtual yoga classes.
We host these all-company meetings on the video conferencing app Zoom, which every employee at Procore has access to and uses to get face time with colleagues. Along with our all-company meetings, customer implementation calls, and daily team check-ins, we also used Zoom last week to facilitate our first-ever, all-virtual New Hire Orientation class.
In addition to virtual meetings, we continue to collaborate on projects through G Suite and Slack. Each Procore office has its own dedicated Slack channel so that local employees stay connected with one another just as they did previously at the office.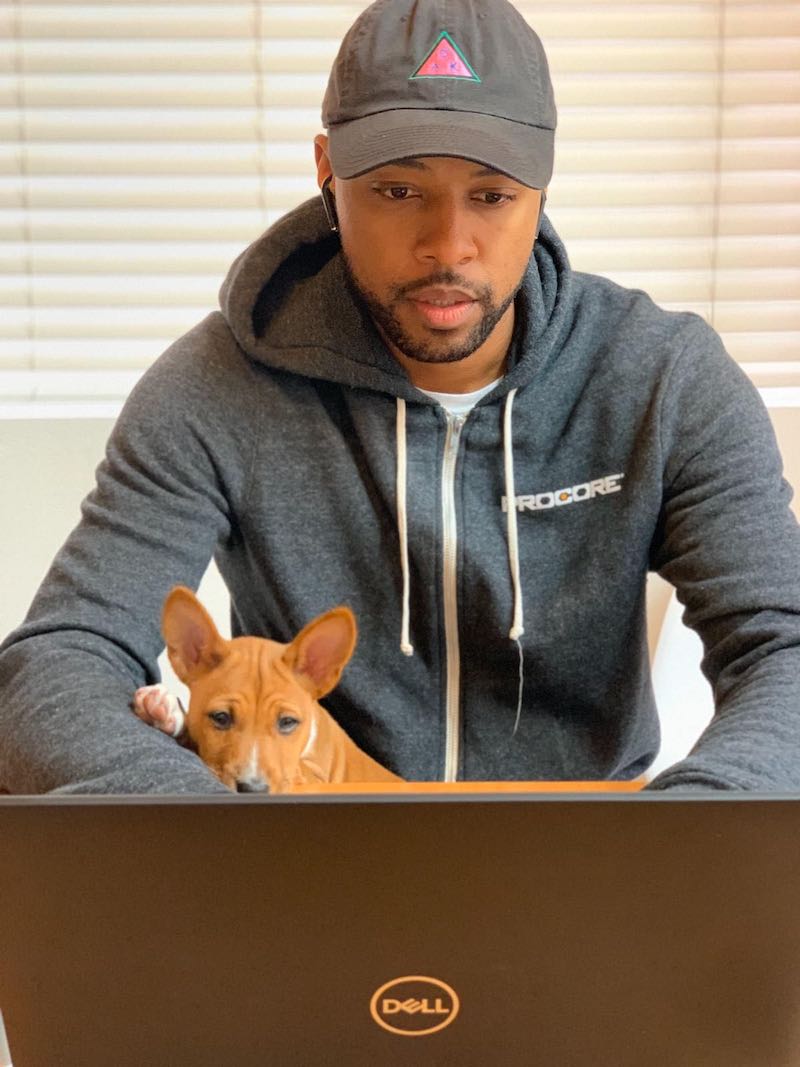 Living our values
Procore is a people-first company, and I'm proud of the way Procorians are living our values of ownership, openness and optimism in these challenging times. Some of our recent employee culture highlights are:
Employees sharing their tips on working from home,
The launch of Procore TV, a place where all Procorians can connect, collaborate, and stay engaged,
A mindfulness Slack channel offering daily meditations and ways to stay grounded,
A gratitude Slack channel where people share what they're thankful for,
"MTV Cribs"-style humorous videos of employees showing off their home workspaces,
A "Life at Procore" Slack channel, offering a daily dose of employee-generated feel-good content,
Virtual singalongs for the whole Marketing Team, tapping into Procorians' musical talents,
And, of course, the sharing of many memes that remind us to smile.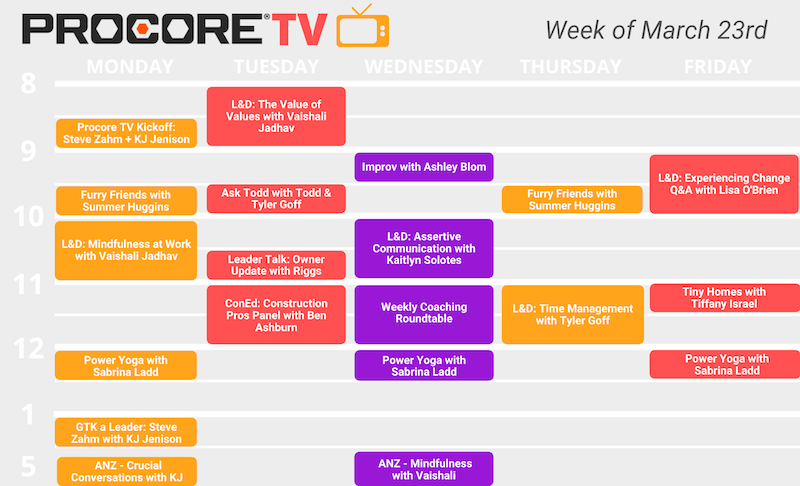 Ongoing Tech and Facilities support
We're continuing to provide our employees with the best IT and facilities support possible given the circumstances.
Not all home workspaces are created equal, or even exist, so we've made it possible for employees to put in requests to our IT and facilities teams for needed equipment such as monitors, keyboards, and even desk chairs. The technical resources of our IT team remain available to troubleshoot issues or walk through support virtually throughout this period of working from home.
We've also provided a monthly stipend to each employee in order to help cover the cost of home Internet and Wifi services.
Creating space for working parents and caregivers
For some, working from home means doing so while also caring for children or others that depend on their support. With this in mind, we've created a resource center on our Intranet for Parents and Caregivers, with relevant information and services available to help them. Most importantly, we're practicing empathy across the board. That means understanding others' needs for flexibility when it comes to work hours, and having a buddy system with teammates to balance the workload and make sure everyone gets the family time they need.
Realizing our mission
As it stands today, construction has been deemed essential work in states like California, Illinois, and New York, where the local government has issued mandatory shelter-in-place orders. Procore is committed to the health, safety and productivity of our employees, so that, in turn, our business can operate without disruption and we continue realizing our mission of connecting everyone in construction on a global platform.
Our top priority remains the health and safety of our employees, their families, our customers and our partners. We are all in this together.